It has been almost three decades since the world was captivated by the movie Cool Runnings, the true story of a Jamaican bobsled team who dared to enter the 1988 Winter Olympics. Since its release in 1993, many fans who felt the rhythm and rhyme back then are still very much enamored with the heartwarming film. Here are some facts about Cool Runnings you may not have known.
1. It was originally a drama called Blue Maaga.
Before its release as a comedy named Cool Runnings, the movie was originally pitched as a drama called Blue Maaga. "Maaga" is the Jamaican term used to describe someone who is very thin.
2. Denzel Washington and Eddie Murphy turned down major roles.
Washington and Murphy reportedly wanted a lot more money than what was offered.
3. Several big name actors auditioned for starring roles.
They include Tupac Shakur, Jeffrey Wright and Cuba Gooding Jr.
4. The real life Jamaican bobsled team was welcomed with open arms.
Despite the drama surrounding opposition from other teams that unfolded in the movie, the Jamaican bobsled team was welcomed by their counterparts. In fact, the team was even offered a backup sled to help them qualify. Money was never an issue either.
5. Rawle D. Lewis lied to get the job.
Lewis, who played the part of Junior Bevil, was supposed to read lines for one day. He got the job after lying on his resume, overexaggerating his acting experience in native Trinidad.
6. John Candy accepted a lower salary for his role.
Candy was reportedly eager to play the role of Coach Irv and (correctly) predicted that the film would be a huge hit.
7. A "spliff" scene was cut after the cast protested.
Cast members voiced their objections to the scene that involved a spliff being put in a snowman's mouth. The scene was later cut from the movie.
8. Disney wanted the actors' accents to sound like Sebastian The Crab.
Disney executives reportedly complained that the Jamaican accents were hard to understand. Insisted, the actors should sound like "Jamaican Aladdin" or similar to Sebastian, the singing crab in The Little Mermaid.
9. The real bobsledders gave the movie a thumbs up.
The team members made a deal with the filmmakers that Cool Runnings would not portray them or Jamaica in a negative light. The movie got the okay after they viewed some of the scenes that were shot.
10. Actor Doug E. Doug didn't think the movie would make much money.
Cool Runnings earned $154.8 million worldwide, three times what Doug E. Doug estimated it would earn.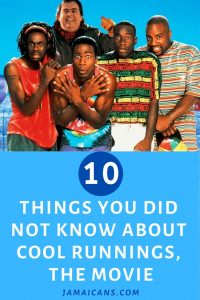 Featured Image Courtesy: Walt Disney Studios