If you think Jamaica is just some Caribbean Island for all-inclusive beach holidays, you have to read this blog and explore Jamaica for yourself! Besides beaches in Ocho Rios and Montego Bay you'll find numerous beautiful, unknown coves and idyllic bays in Negril Jamaica and all over the island. Inland Jamaica is extremely beautiful too, with its waterfalls, rivers, caves and Blue Mountains; also for hikers and mountain bikers a real challenge. Come and explore 3 days in Negril Jamaica: culture, nature and fun!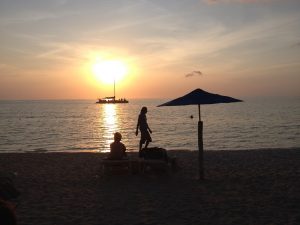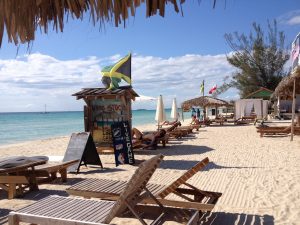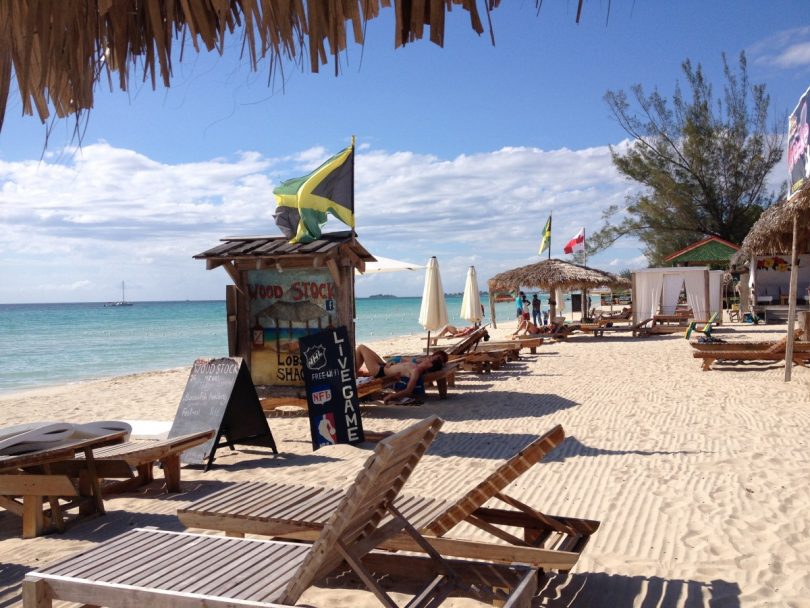 Negril in the far west
Travellers who like adventure and nature and are curious to meet locals, will be surprised of the richness Negril has to offer: Negril is famous for its beaches, blue holes, caves and rivers.
Get inspired by the enthusiastic and positive vibes of Rastafarians as they are very hospitable. They'll show you the history of Jamaica, its culture, its plants and its herbs with their medicinal use. Rastafarians are excellent chefs and love to cook 'Ital food' (natural) and yes, they like music, dancing and singing, ready to perform any time. Explore the hidden treasures of the coastal village in the far west of Jamaica, once a huge swamp, nowadays a lively area: Negril!     
  
1. Negril Jamaica: Seven Mile Beach & West End
Unique in Jamaica and therefore a must see is Negril with its long stretch of white sand. You will find joggers in the early morning and sunbathe lovers all day through, because of the stunning view and the clear, blue-reared ocean which cools you down. There are plenty bars which offer tasty rum cocktails and Red Stripe Beer, hotels and local food restaurants. Seven Mile Beach is perfect for sunbathing, swimming and spectacular sunsets.
Don't miss the bustle of nightlife. After nine live music and karaoke at bars as Roots Bamboo, Alfreds, Travellers or Bourbon Beach can be heard. Dance and sing along with the relaxed reggae tunes, watch the dance hall dancers in the clubs and let yourself go!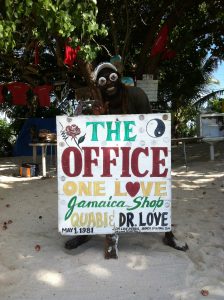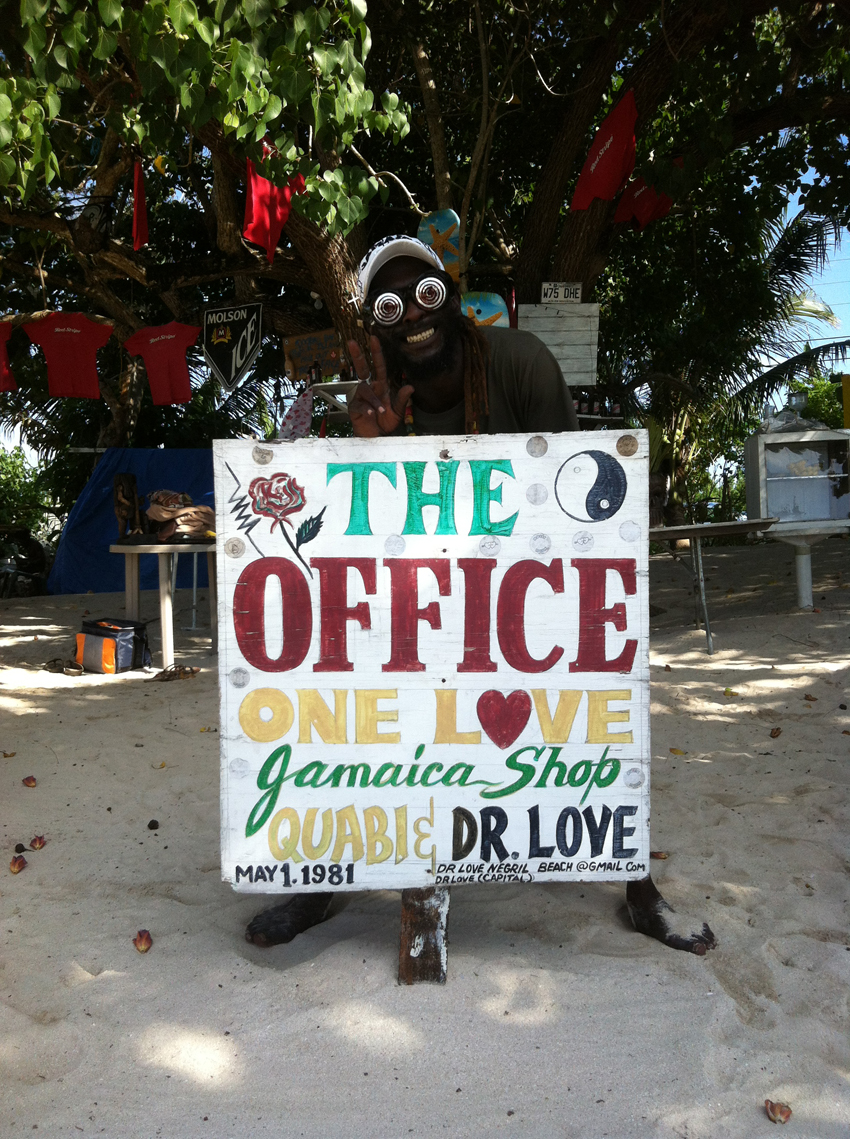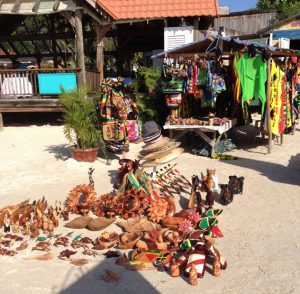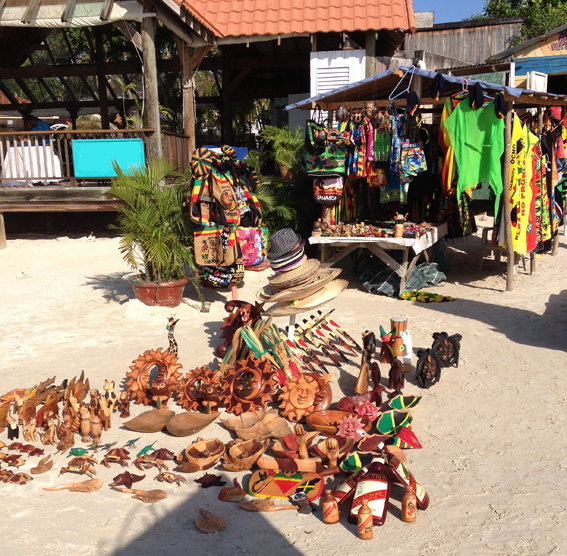 Dr. Love at the beach tree bar
Use the early morning for a nice long walk, away from the hotels to visit a tiny beauty bay behind the little bush and grassland. You'll meet the most famous carver of Negril, 'Doctor Love', at his tree bar. Have a chat and a laugh with Rasta Dr. Love, take a look at the carvings while quenching your thirst.
Souvenir hunting in Jamaica
There are many arts and craft markets on the beach and there is a lot of choice at Dr. Love. But when you missed it all or need some nice arts & crafts gifts, have a look at the local arts & craft market which is just before the fishermen and behind the roundabout. What is there to find? Colored cloths, hats, bracelets, all kinds of jewelry, and also beautiful carvings, such as masks and animal figures. What about a bikini in the colors of the Jamaican flag?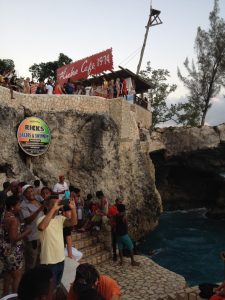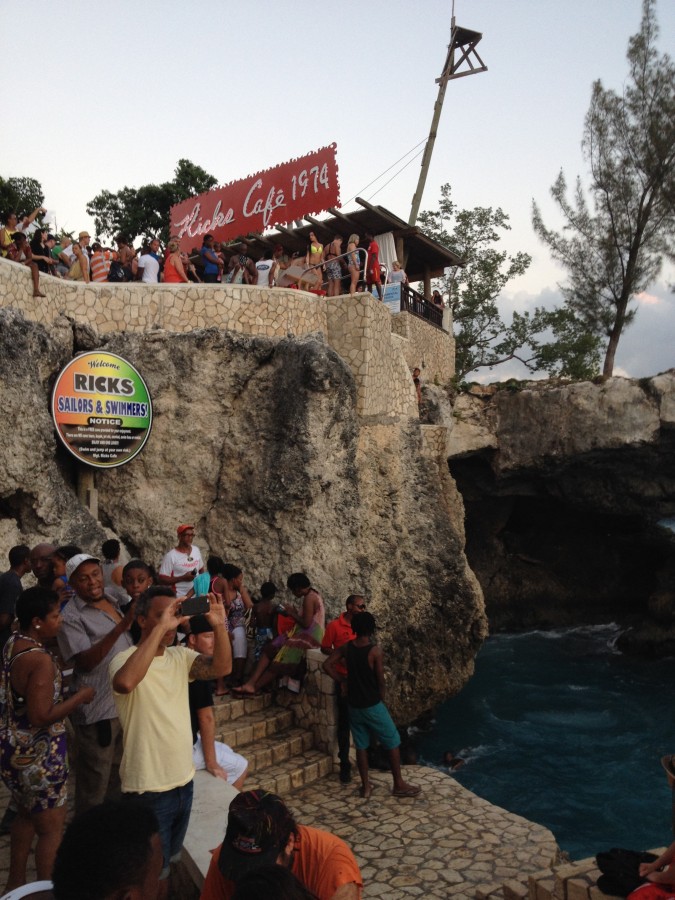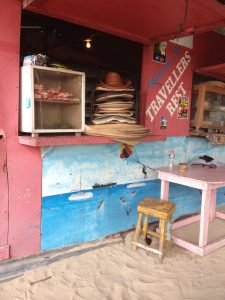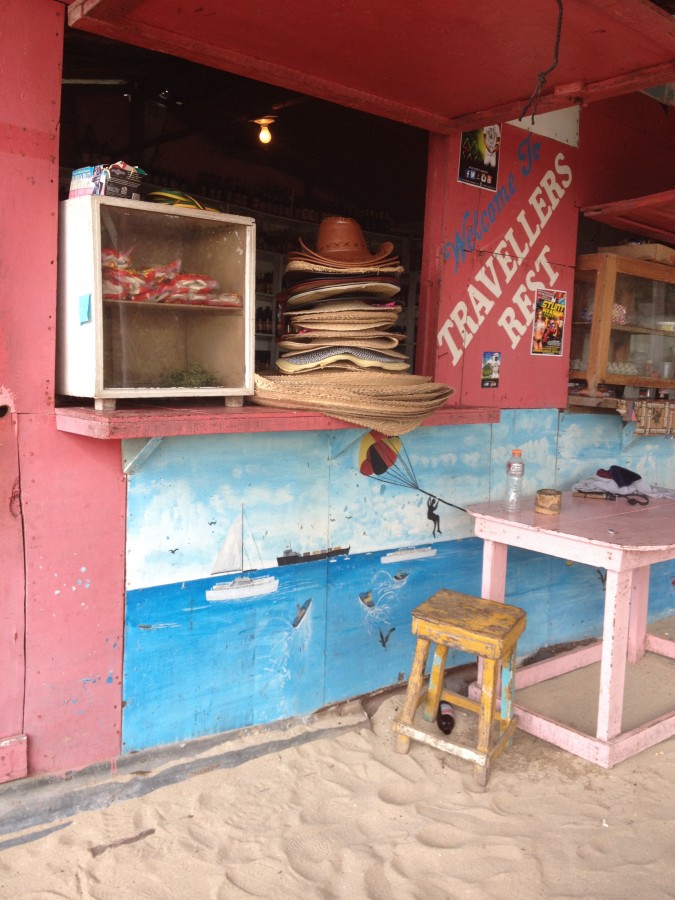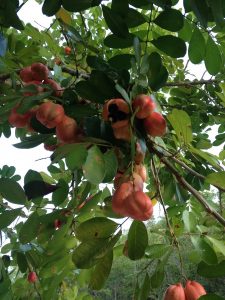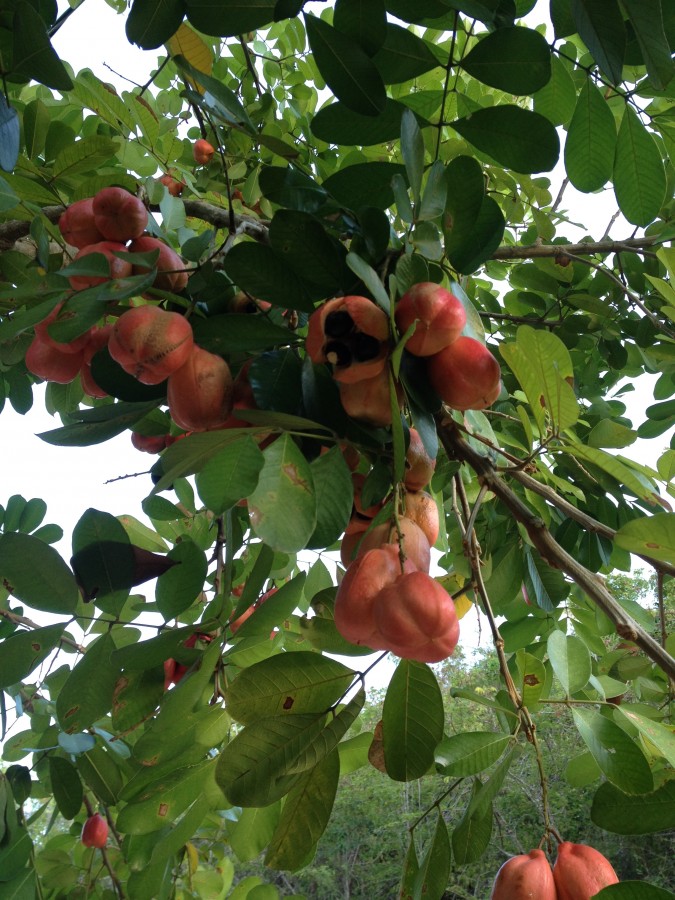 On the 'scooterbike' to West End 
West End, Negril, Jamaica is known for its cliffs, the lighthouse and Rick's Café, which is good for cocktails, live reggae music and most of all famous for a jump of the cliffs.
Flexible as you are on the 'bike' it is excellent for some sightseeing. You can make stops at bars, shops and viewpoints, make awesome pictures and have some chats. In addition I recommend a stop at 'Love Lane' for 'Ital' food. Ital is natural, healthy food, prepared on a natural way; Rastafarians use very little salt, eat vegetarian and do not use ready-made foods. They love wood fire and clay or steel pots. Food is prepared with fresh herbs grown from their own garden. 'Delicious, a dat mi say!'
Snorkeling at fishing village Little Bay
Following West End Road you will end up at Little Bay, or even Brighton, an old fishing village with a relaxed atmosphere. This is the place to be for snorkeling and diving near the Sandy Beach, it's a beautiful tranquil bay with coral reef. Nowadays it is possible to have overnight stays as there are nice cottages and camping possibilities. Blue Hole is not far away as well, and juming in th ehole, swimming in the pool or having a drink at the bar, gives a great pause.
Bob Marley loved it over here for relaxation and new inspiration. The place is privatized now, but you can imagine why he choosed to be here when he needed an escape out of the busy Kingston atmosphere.
    
2. Negril Jamaica: Roaring River Cave Park
Leave the beach and bars behind and visit the mineral bath in the caves of the Roaring River Park. Beyond the capital of Westmoreland (Savanna la Mar), you'll see the green hills inland.  In about 1 – 1.5 hour from Negril Jamaica you'll reach Roaring River Park, the Beckford family heritage, through a pot holed-road. Pay the entrance fee at the gate, it'll benefit the community.
Roaring River Park has a large underground river, a source of mineral and limestone caves surrounded by flowers, herbs and fruit trees with lime, mango and banana. The local guide will show it all and you will smell the herbs and flowers which otherwise would remain hidden.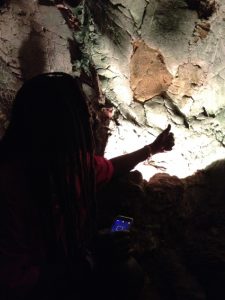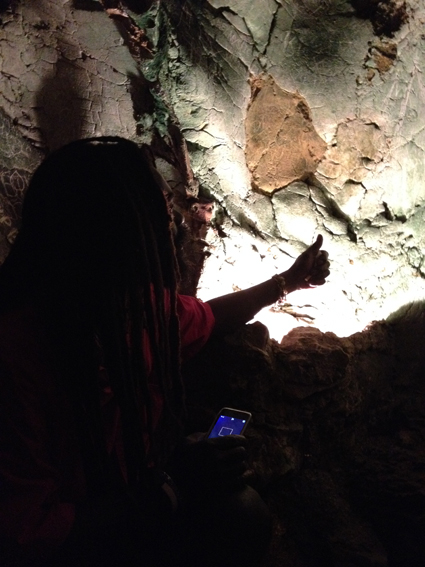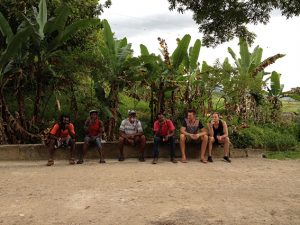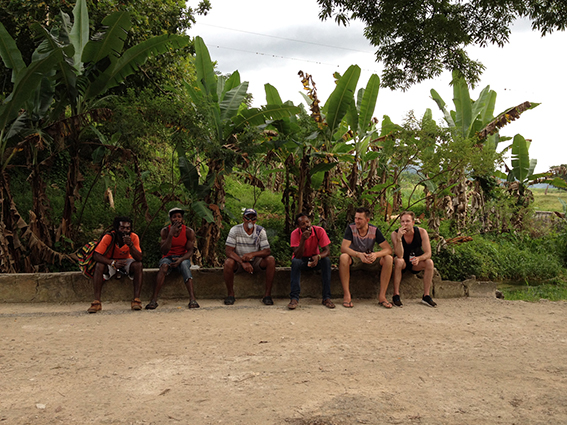 Mineral bath of Roaring River
Formerly the caves at Roaring River Park were a refuge and escape route for slaves. They have also been used for meditation and ceremonies. You can experience the quiet and special atmosphere inside the caves. Sit down and take a moment of silence when you enter the big room. It gives you a serene, calm, inner peace which stays with you the rest of the day. Some tour guides can arrange drum sessions in the cave which will be a special experience for sure!
The natural mineral bath in the cave is deep and the water is cool. Jump in, if you are looking for a thrilling experience and get a natural neck massage halfway where water flows firmly in between the rocks into the pool. This is so refreshing and relaxing: a real healing process for your skin and an energy boost for your whole system.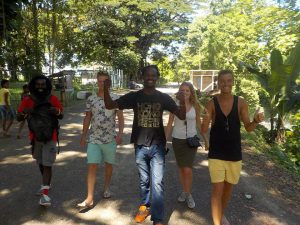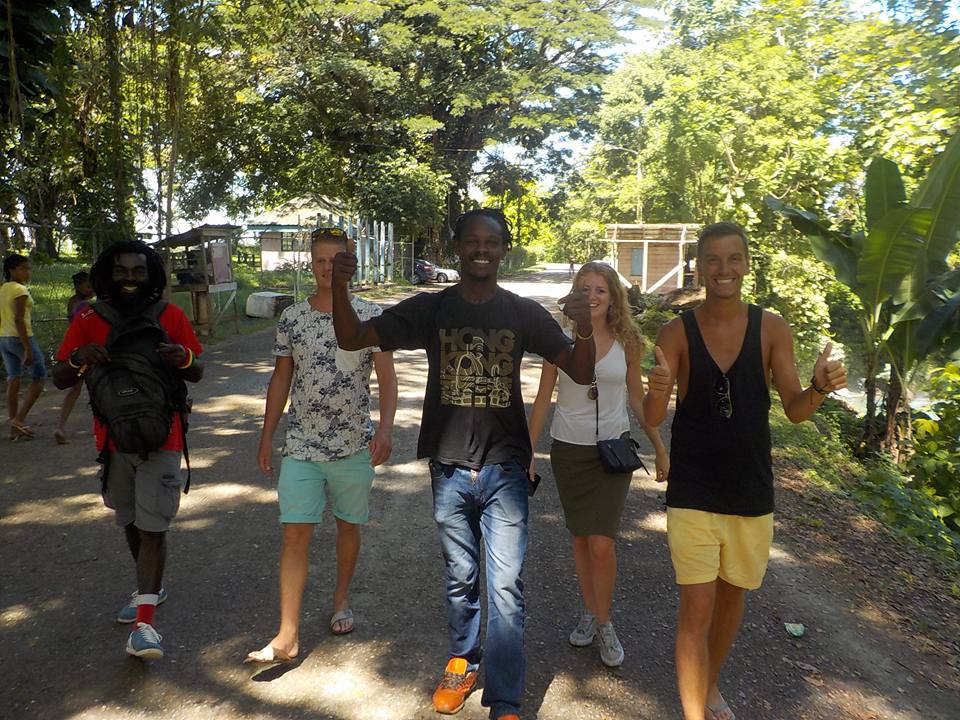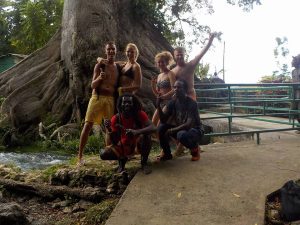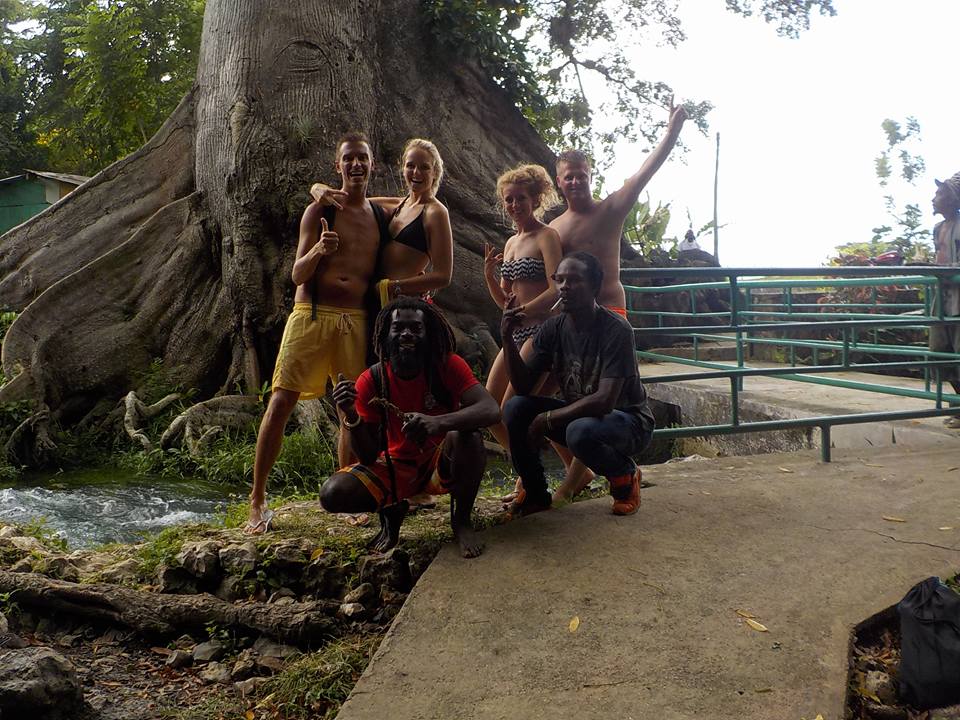 An extended visit to the village is possible when you love to see rural life; the tour guide will take you on a little walk, passing some bars and local restaurants, the blue hole and even the 'plantation' furthermore in the 'bush'. Here you will get great views over the hills, with 'The Three Sisters' and farmland as far as you can see. In addition you can relax at the river outside the cave, try a local lunch and listen to lovely stories of your tour guide and local people around.

3. Negril Jamaica: On the bike to historically Lucea
Lucea, built in the 18th and 19th centuries, was very prosperous because of the natural harbor and the export of sugar cane and bananas. From Fort Charlotte (1716), a national heritage, you have a beautiful view over the ocean. Another historical site to discover in the center of the village is the old clock tower, dating from the same time.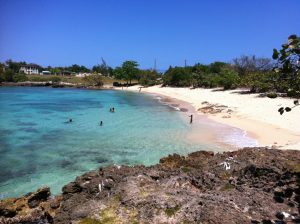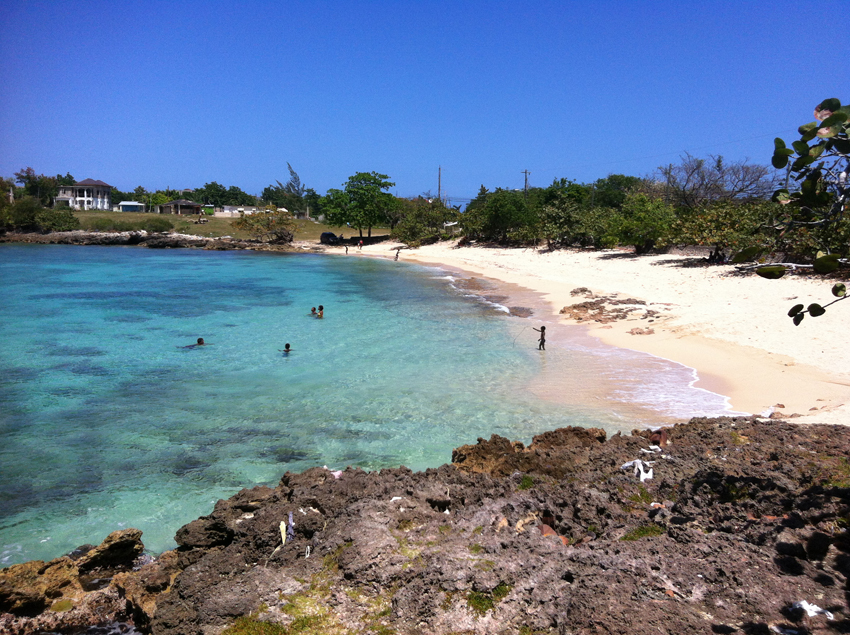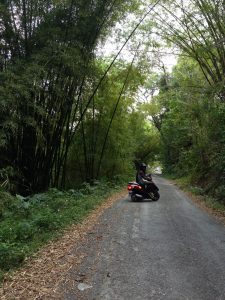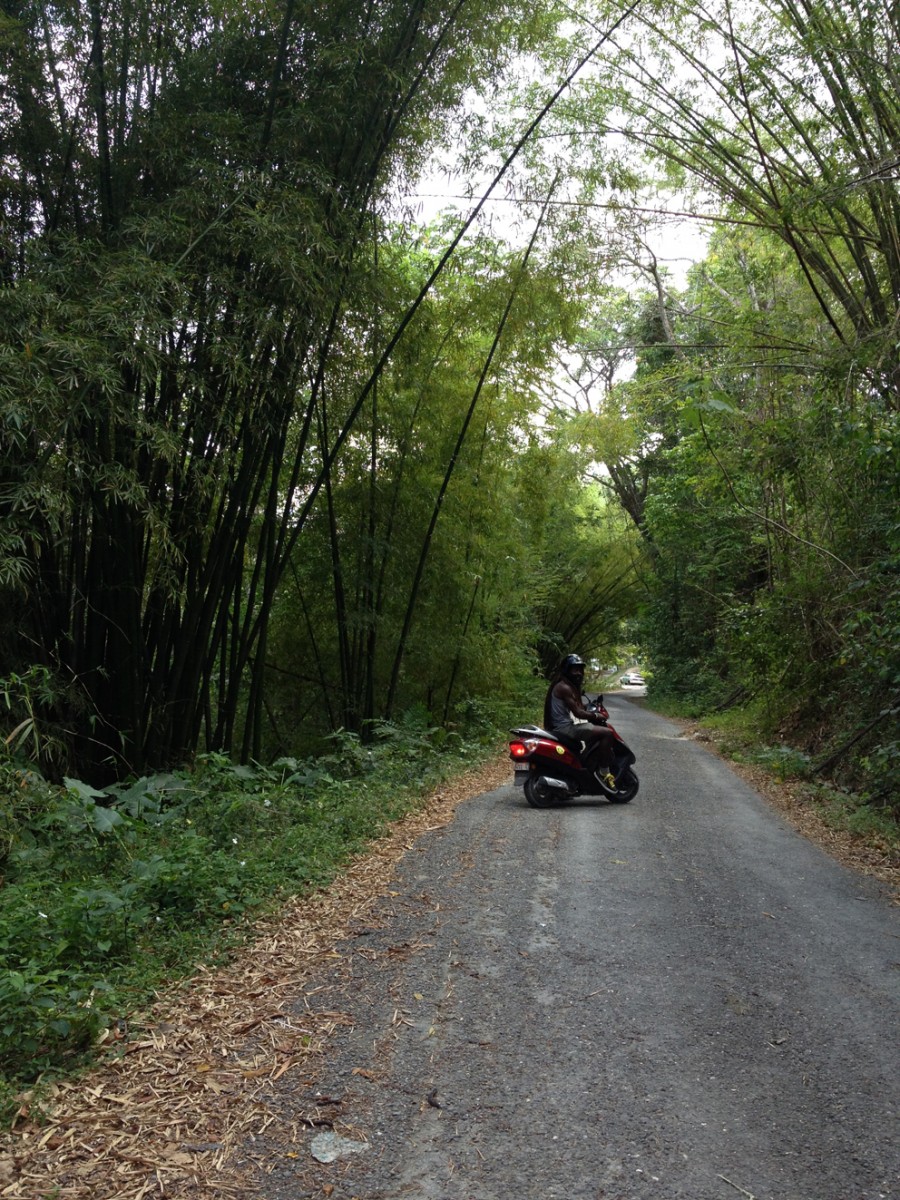 Museum Blenheim and the little Bamboo Avenue
Enter a dirt road to the right just before reach Lucea, and up-up-up you go into the hills for a wonderful view over the bay of Lucea and a superb drive through bamboo forest. This is amazing rural life with wooden houses, trees, and beautiful flowers. Don't worry about getting lost, ask the way around and soon you'll be on your way again. Finally bump into a little 'tini' for a snack and a drink. Tini's are a little shops, you will find them everywhere, if you are able to recognize them, and you can buy all kind of drinks, snacks, food and cigarettes.
Let's continue with a visit to Blenheim. This well-known national heritage is the birthplace of Sir Alexander Bustamente, a Jamaican national hero. The museum is open to the public and located in a beautiful garden surrounded by flowers and trees.
Little bays, refreshing ocean
In the afternoon, while driving down to sea level again, look out for little bays on your way back to Negril. Take a break in the shade, cool off in the blue ocean and 'full-joy' magnificent views.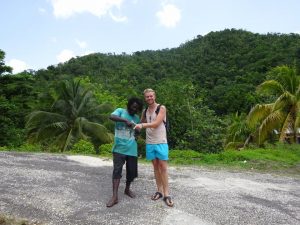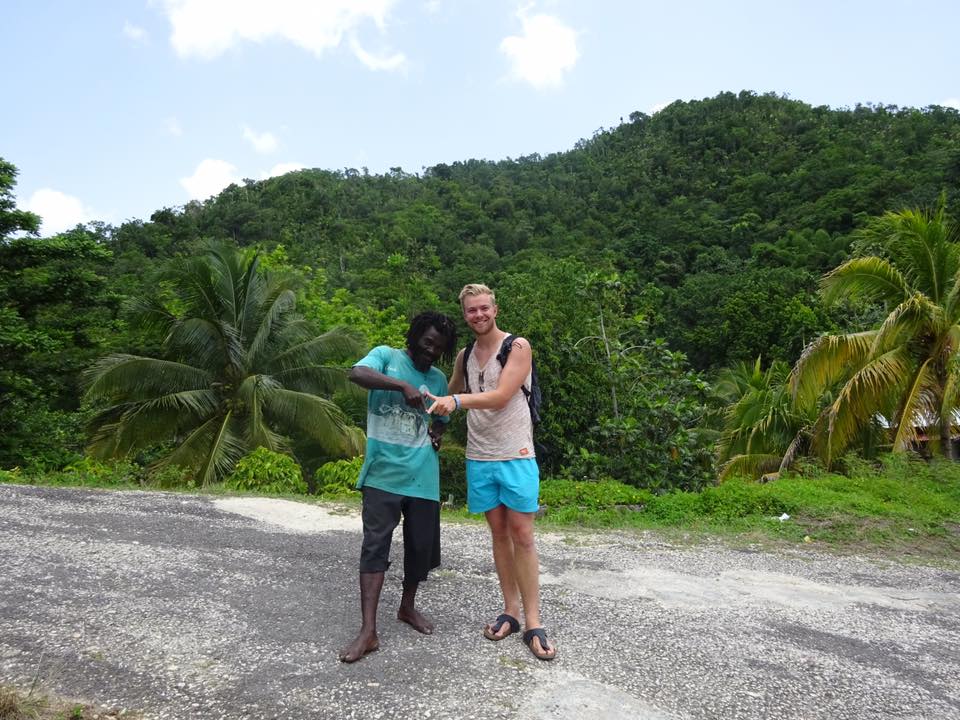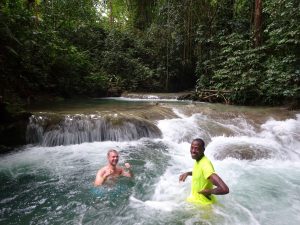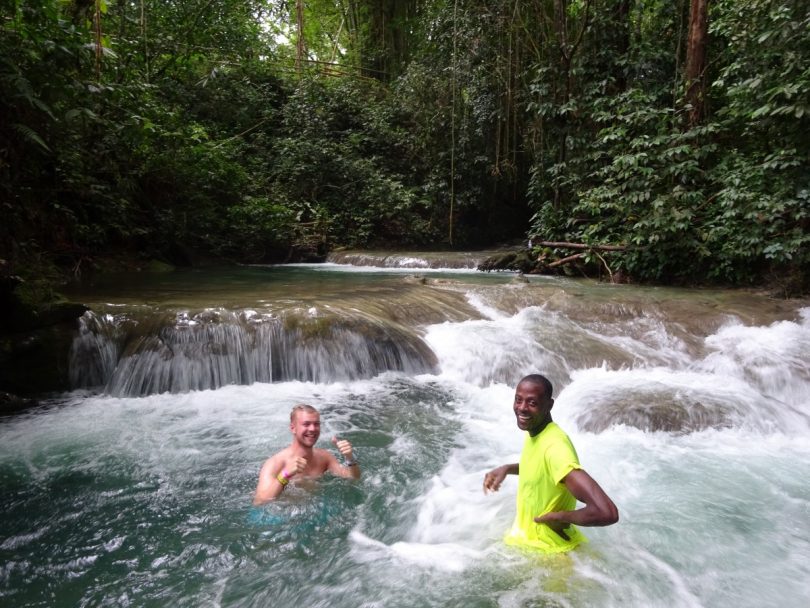 Not so much a biker? Go to Mayfield Falls today!
An awesome drive through hills and villages takes you to the nice and quiet waterfalls of Mayfield Falls. It is my favorite one because of the beautiful views, the people, a delicious restaurant on the way, the experienced tour guides and most of all the relaxing vibes.
On your way back your tour guide can drive you to Blue Hole before arriving at Negril. If you dare to jump just give it a try, otherwise watch others while zipping your own Red Stripe Beer. Blue Hole is private area now with bar, guesthouse/hotel and swimming pool.
Yeah man, Mayfield Falls is having the real, natural vibes: 'going with the flow'. It has a bit action, a little relaxation, some excitement and all together a lot of peace and harmony!
When you are having time and love to 'go with the flow', a real Jamaican tour guide will show you other hidden gems on the way, for instance rivers and local bars.
    
Nuff plenty!
Negril Jamaica has plenty nature and attractions to offer. You would easily be able to stay a couple of weeks. Black River Safari, Belmont Blue Fields Park, Pelican Bar, Ys Falls and Peter Tosh are easy to visit.
Also Kingston, Blue Mountains, Nine Mile, Pinnacle and Ocho Rios can be visited in a day when staying in Negril during your holiday. Rastafarians say: "Plenty nature, plenty relaxation, plenty fun, nuff plenty."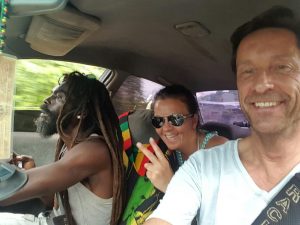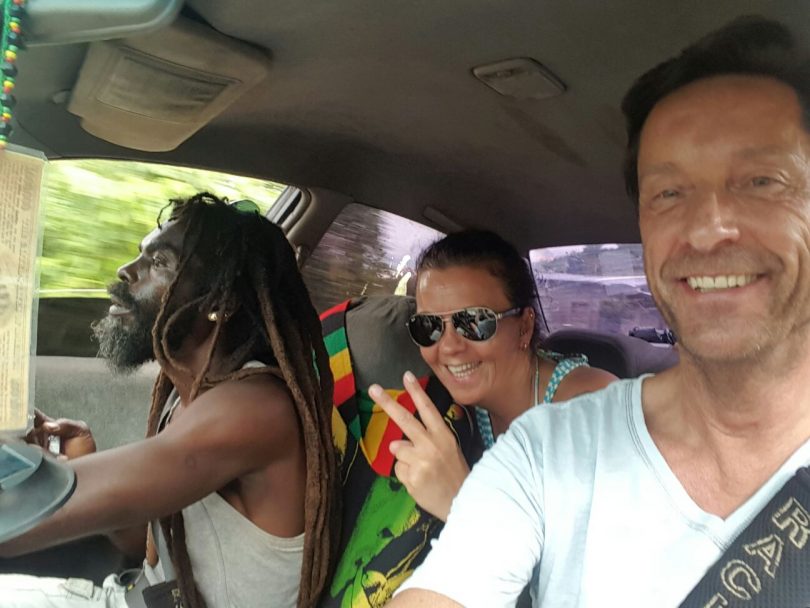 Adventurous travels all over Jamaica to explore nature, culture and history, most of all with plenty laughs, fun and relaxation: FB Rappa Rasta (Tours) http://www.rapparastatours.com/