Following her initial appointment by the Minister of Foreign Affairs Thara Johnson-Reid was nominated to serve a second term on the Diaspora Council.
In her first term, Thara was selected by the United Nations High Commission for Human Rights, as a leader to act against sexism and racism. Thara understands that social equity is an integral element of Jamaica's sustainable development.
With her colleagues, Thara wrote supporting documents of the transformative National Diaspora Policy, since ratified in parliament. Thara facilitates philanthropy at the High Commission in Kensington, London, and led successful efforts to raise $50,000,000 for the island's healthcare infrastructure. Thara read Biology at the University of Leeds and is an active member of the Planet working group. As the small island developing state (SIDS) experiences rapid urban development and Kingston undergoes climate departure in 2023, the protection of Jamaica's natural environment is pertinent. With the United Nations International Organization for Migration, Thara leads projects to improve Jamaica's climate resilience.
Following concerns raised by diasporans, Thara was delighted by Jamaica's accession to the Madrid Protocol, to protect the intellectual property of Jamaica in the international arena. Thara's commitment to Jamaica and our diaspora in the United Kingdom is informed by her experience of both countries and conversations with Jamaicans in inner-city, rural, and hillside communities. She became engaged with the diaspora council after observing hemorrhagic emigration from Trelawny and St.James and continues to work towards a Jamaica that all citizens can return to and enjoy.
Thara is a communications consultant for leading multinationals. She was educated at Altrincham Grammar School for Girls, The University of Leeds, and The University of London.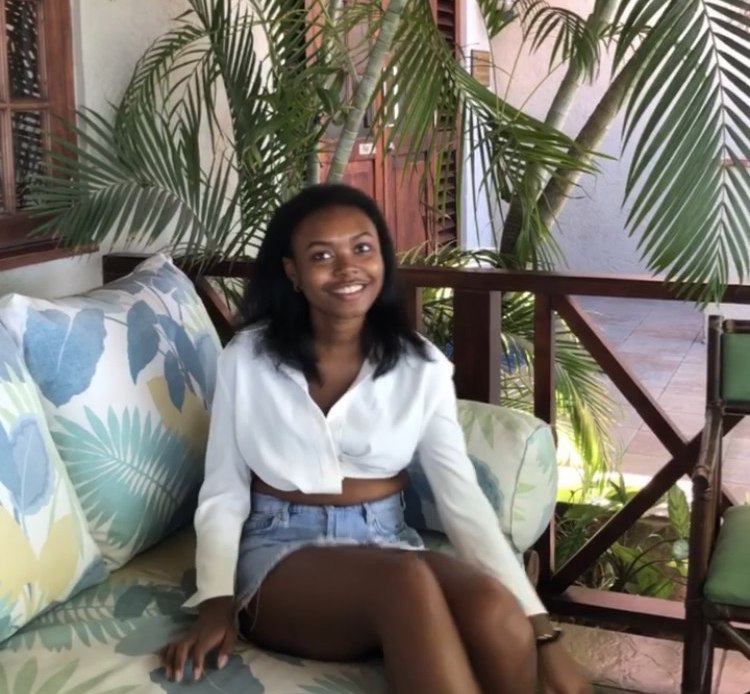 What is your connection to Jamaica? Have you been involved in the Jamaica Diaspora Movement or Jamaican-related organizations before?
I'm a Jamaican by birthright. Although I'm also British and live in London, Jamaica has been a part of my formative experience since early childhood. My parents are from the north coast and their identity has informed mine; I've also been privileged to travel to Jamaica throughout my life. I briefly attended a prep school and a basic school there when I was young, and as I grew older I traveled across the island – so far I've seen nine parishes. All of these experiences have informed my understanding of and connection to Jamaica.
Anyone who has visited the island understands why people are enamoured with it the world over. My connection to Jamaica is one of a citizen with an active interest in the country's sustainable development.
In 2019 I was appointed to the diaspora council by Senator Johnson-Smith. It's been a great honour to serve as part of an advisory and consultative body of the Ministry of Foreign Affairs and Trade.
If elected what will be your main goal in this role for your constituencies?
My role in the previous term and my goal in the forthcoming term is to advise the Government of Jamaica, particularly regarding policy that affects diasporans and national development. In communicating directly with the executive, I also understand my responsibility to advocate for Jamaicans who live abroad.  For example, many of the key issues that Jamaican nationals face in the UK emanate from hostile environment policies. I support the work of the UN Working Group for People of African Descent, in gathering evidence and providing policy recommendations to the UK government, against racism.
When intellectual property is protected, it can drive economic development. This is why I advocated for Jamaica to join the Madrid protocol. The Jamaican government worked consistently to achieve successful accession in 2022. Jamaica is now better able to protect its vast cultural capital in the international arena.
I'll continue to recognise the issues that affect people and advocate for transformative policy.
Many in the Jamaican community abroad don't know much about the Jamaica Diaspora movement and its goals. What will you do to change this perception and get all Jamaicans in the Diaspora involved?
The term 'diaspora movement' is not yet popular, but every Jamaican understands migration. To be Jamaican is to have ancestors from Africa, Europe, the Middle East and Asia, to have family who moved to work or study in Panama, the US, Canada and the UK. Every Jamaican understands the movement of people and every Jamaican stands to benefit from greater civic, ethnic and national ties across the diaspora.
The involvement of the diaspora is clear in remittances, Jamaicans sent home 3 billion US dollars last year. The diasporic identity of Jamaicans is undeniably strong, we've affected culture in the farthest corners of the world, but diaspora is more than that; it has three parts. Professor Daniel Naujoks of Columbia University has described the elements of diasporic identity as Civic, National and Ethnic, in the paper 'Diasporic Identities – Reflections on Transnational Belonging'
Our ethnic affiliation with Jamaica is profound but civic understanding and national identity in the diaspora is less strong. This matters because the engagement of citizens is directly tied to the development and sovereignty of a state
For example, during my first term on the council, more diasporans applied to access their right to Jamaican citizenship, than has ever been recorded before. That's an example of civic engagement. The pattern was reported by Jamaican embassies and led to 230,000 arrivals from the UK to Jamaica in 2022. When diasporans visit Jamaica they strengthen national diasporic linkages – social and economic relationships with people and institutions on the island. The sum of these elements is a diaspora.
When the diaspora is more engaged in the ethnic, civic and national aspects, sustainable development is inevitable.
In my second term on the council, I'll continue to engage diasporans by collaborating with existing networks, including Jamaican Societies, takeaways and bakeries which are the natural focal points of our community.
Recently there have been some who have expressed concerns about the lack of funding of The Global Jamaica Diaspora Council and if the position has any power without direction from the Jamaican Government. Do you have any thoughts on this?
The work that the council conducts has significant value. Having completed a full term I'd like to serve again, with the understanding that the terms of appointment are subject to change only when a motion is passed within the council.
Dedicated Jamaican multinationals, individual citizens and friends of Jamaica have supported initiatives of the council in a myriad of ways and I'm grateful for their interventions.
Jamaica is a democracy, the legislature is elected to make law and the council serves only in an advisory capacity. As the second term of the council begins, we'll continue to work and improve the institution.
Is there a goal that you believe the global Jamaican Diaspora can rally around?
The goal is the sustainable development of Jamaica. This involves social progression and equitable economic development. Right now I'm developing projects with the United Nations to engage our diaspora, government, private sector and civil society. We're building capacity to transform land management and improve climate resilience in Jamaica. I'm always interested to hear from Jamaicans and friends of Jamaica, about the work they're doing to build our island nation.