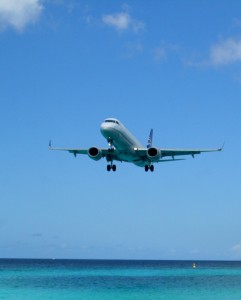 Did you know that your Jamaican getaway doesn't have to be expensive? If you are willing to spend a few extra minutes shopping around and make small adjustments to your itinerary, then you could snag those plane tickets for much less than what others pay. Take a look at these 5 tips for getting cheap plane tickets to Jamaica.
1. Be flexible
You are less likely to get deals if you plan to stick to a rigid schedule for travel. If you can adjust to leave a day early or a day late, you would be surprised at how much that little change could save you hundreds of dollars in flight, which means more spending money in your pocket to enjoy the island. Flexibility in flight dates, airline or even the airport you land could make all the difference in the price you pay for tickets.
2. Best day to fly
Whichever time of year you travel, travel experts agree that Saturday is the best day to find the cheapest tickets to fly to Jamaica. In addition, incredible flight deals can be found if you are willing to fly midweek on a Tuesday or Wednesday. Tickets purchased on these days can be as much as 40-50% lower than on other days. Bear these days in mind if you are working with a small budget.
3. Best months for travel
Tourist visits to Jamaica drop significantly during the off season of April to November which is good news for persons seeking cheap tickets. Book your tickets to fly between April and June, or from September to November. During these months, cheap tickets can usually be paired with accommodation deals from some of the best hotels on the island. Airline fares usually rise in the summer months of July and August so travel in these months should be avoided if cost is a factor.
4. Book late
Some airlines offer heavily discounted fares months in advance. But if you missed out, then the best course of action is to be on the lookout for last minute deals. Airlines are very serious about flying with empty seats so if you don't mind the slight possibility of being bumped off a flight then booking last minute is a great way to score cheap tickets.
5. Best place to book – when to book online and when to call
Aggregate travel sites like Kayak are a great place to compare ticket costs and book the best price online. Some experts say booking on a Tuesday at 3pm is when the best flight deals are available online. However, many of the major airlines also offer competitive prices on their website that sometimes cost way less than travel sites. You may also be able to get a better price by calling the airline's reservation desk and asking about any specials that are not posted online.