Britain's Next Great Five Star Chef is Chef Dominic Taylor, who is of Caribbean Heritage. His shot to fame followed the television premiere of reality chef competition Five Star Kitchen: Britain's Next Great Chef competition on UK's Channel 4. The series is now streaming on Netflix worldwide. Chef Dom's Caribbean heritage derives from his parents – his mother is Jamaican and his father is St. Lucian. In a candid interview with Jamaican.com after the premiere of the show's season finale, Chef Dom shares more about his Caribbean heritage, his passion for Caribbean cuisine and the launch of the first-ever Caribbean restaurant, the Good Front Room at the prestigious Langham hotel in London.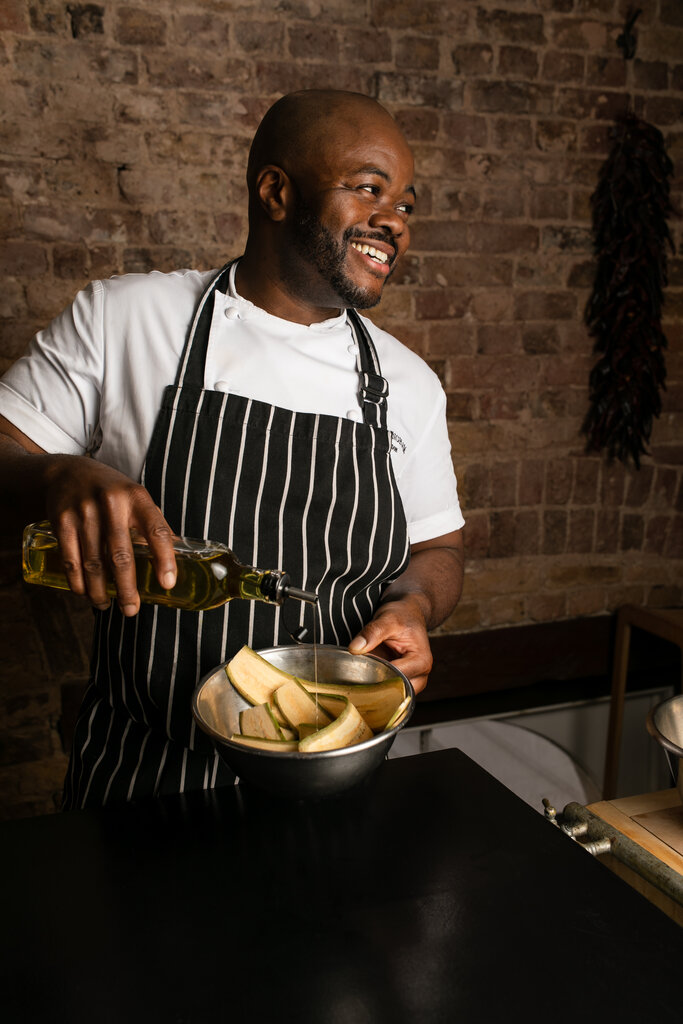 First of all congratulations on this monumental achievement. I was rooting for you from the start of the show. At any point in that competition did you feel like you weren't going to make it?
You know what, most of the way through. I got there from day one and I was like, 'what am I doing here'…I saw the other chefs and I saw what they were doing and I really thought, 'Is my food good enough? Do I belong here?'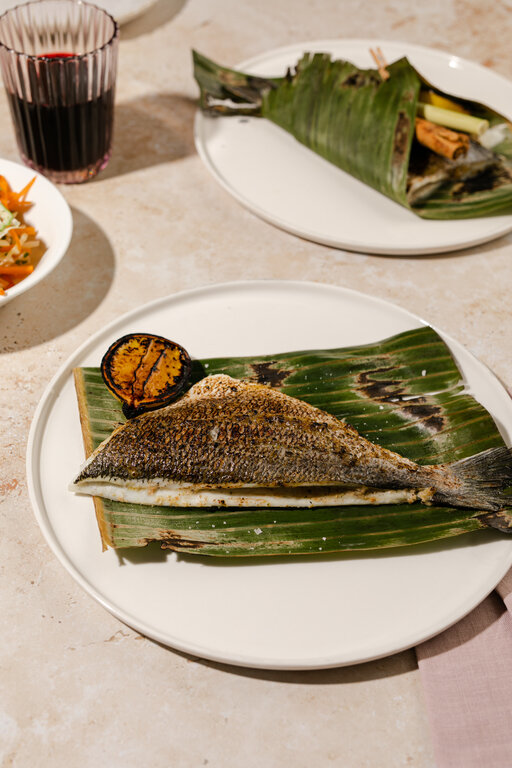 I remember initially that Michel Roux (chief judge of the competition) was not interested in your food. He was like, 'this isn't really five star' and when you started to lead the brigade and you were preparing the curry goat dish he got really interested especially in the taste. 
You know what, as I watched the show back I get a different emotion from the one I got on day one. He said something to me on day one that instantly made me think that he really liked me…and he had somewhat researched me so he knew who I was as a chef. So there was almost like a secret smile with me. And Mike (other judge)..understood the cuisine from a different point of view. He knew what I've done with these ingredients, he knew how humble they were, he knew that the Caribbean community, at least in the UK, was really going to respond to this well. The amount of response I've had from Jamaica has blown my mind.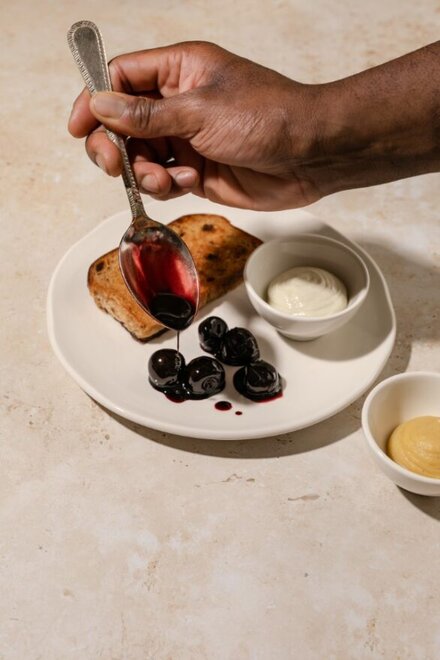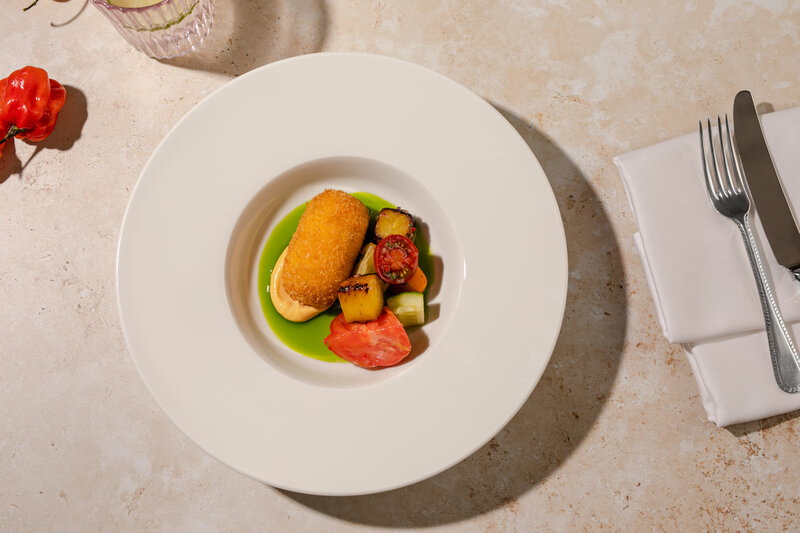 Awesome! Of all the dishes you prepared for the competition. Any one stands out as a challenge or a learning experience?
All of the dishes I've done in the competition and are now on the Good Front Room's menu feel like they are all my babies because the menu is so small. They are all signature dishes. For example, the jerk chicken really speaks to me as a chef…putting jerk chicken on the menu doesn't really feel  revolutionary because we've been eating jerk chicken every day since the beginning of time (chuckles). So, I think because I paired it with a plantain jam and it goes with plantain crisps and I made a dressing that's with chilli and lemongrass, all of sudden, I've made this dish different. This feels different, this feels news, this feels like something I've never had before. So, I feel very proud of that.
And the ackee and saltfish cakes, this feels like something you'd have at your wedding. It's colorful…tidy…it feels news but it still feels recognizable and nostalgic and all the things you want from ackee and saltfish. And you want something that you're proud out and something to impress your guests.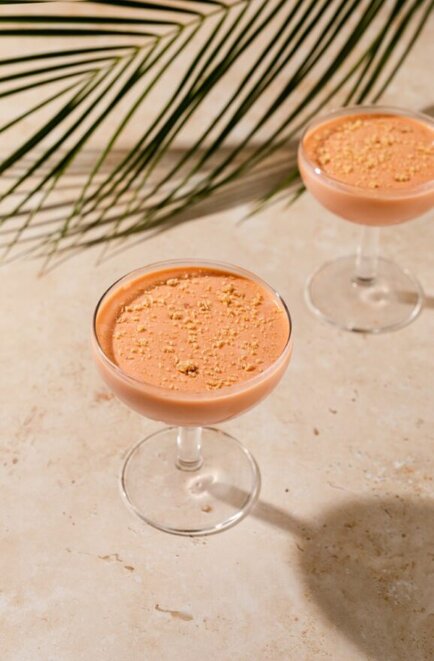 Amazing, Caribbean food is definitely five star. Let's talk about the name of your new restaurant, The Good Front Room. What was the inspiration for the name?
I thought about this room in my great grand aunt's house that we were never allowed into but it was dressed so immaculately as if one day the queen was going to come and I know you know the room I'm talking about (laughs).
(Laughs) Yes, the room that you're not supposed to go in and don't touch anything. 
Yes, it was glamorous and when you look at the Langham, it is so fitting.
Wow! And especially when you tell that story, that is what will make the restaurant so successfully. Let's shift gears a bit. When you visit Jamaica, is there a specific spot you must visit.
I like to travel and I've been to Jamaica about 6 times in my whole life. And there were so many other places I wanted to visit so I think 12 years had passed and before you knew it, I was like, 'I haven't been to Jamaica in so long.' So when I came last year, I travelled the whole island but…in St. Elizabeth, my friend's mom lives there, we had the best time. Really, really nice!
St. Elizabeth is definitely a lovely parish. Thanks for chatting with me Chef Dom and hope to see you in Jamaica soon!
Photo – Sauce Communications