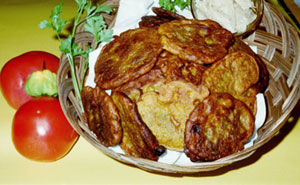 Creamy bananas mixed with flour, milk, cinnamon, and nutmeg make a special Jamaican treat. Banana Fritters is the classic way that Jamaicans use all those bananas growing in the neighborhood. Satisfying and easy to make. Try our Banana Fritters recipe.
INGREDIENTS :
3 bananas
2 tablespoons sugar
1 1/2 teaspoons baking powder
1/3 cup milk
6 tablespoons flour
1/2 grated nutmeg
Get our recipes on your mobile phone. Buy our iPhone or Android Recipe App.
METHOD:
Crush bananas till they are creamed.
Combine flour, baking powder, sugar and nutmeg.
Add milk and bananas then mix.
Dip a large spoon in oil and spoon scoop batter into frying pan.
Deep fry in a frying pan till brown and crisp on the edges.
Drain on paper towel and serve