The Jamaica Reggae Industry Association (JaRIA) announced the recipients of its 2022 Honor Awards on Sunday, February 27, 2022, at the Footprints Café in Kingston. There are 28 total awards in 18 categories, which will be broadcasted on April 17th, 2022. Among the awards are three special Lifetime Diamond Jubilee Awards to be presented in 2022 to mark Jamaica's 60 years of independence. These will be given posthumously to Marcus Garvey, Bob Marley, and Louise "Miss Lou" Bennett-Coverley.
One recipient of the JaRIA award is the Jamaican online community website Jamaicans.com, which will be presented with an Honor Award for its "Extra Ordinary Impact on the Reggae Industry (New Media)" for 2022, one of just four awards given by the organization in the media category. Other local media awards from the Association will be given to Winford Williams of "On Stage TV," Nadine Blair of "Love 101 FM," and "Riddim Magazine."
The 2022 JaRIA award honorees include the British record label Pama Records. The label was active in the Sixties and Seventies and described itself as the home for "all things ska, soul, rocksteady, and reggae." Pama Records will receive the JaRIA Lifetime Achievement Award. The 2022 Gregory Isaacs Foundation award will be presented to Neville Garrick, who designed some of Bob Marley's most iconic album covers. Two other awards will be given posthumously to Hopeton Lewis and Lee "Scratch" Perry for their contributions to music.
Barrington Levy and the late Jacob Miller will be recognized in the Male Icon category; JC Lodge will be presented with the Female Icon award. The Abyssinians will receive the Icon Award for duo or group, while Ruff Cutt, a band formed in 1980 and based in the United Kingdom will be honored for its outstanding contributions to the reggae industry. Awards for Breakthrough Artist of the Year and Song of the Year are presented on the basis of public voting at the JaRIA website. Nominees for Breakthrough Artist of 2022 are Skillibeng, Yaksta, Joby Jay, Diyani, Nation Boss, and Moyann. Song of the Year nominees are "Go Dung Deh" by Spice, featuring Shaggy and Sean Paul; "Run, Run" by Shenseea; "Ambition" by Yaksta, "West Indies" by Koffee, "Virgin" by Jahvinci, and "Dirt Bounce" by Laa Lee.
Awards will also be presented to guitarist Earl "Chinna" Smith, producers Tony Kelly and Neil "Mad Professor" Fraser, audio engineers Rohan Dwyer and Paul Barclay, songwriter Mikie Bennett, and promoter Linval Gibbons. Gospel music's Glavia Robinson and Jermaine Edwards will receive awards, as will instrumentalists David Madden and Hux Brown. Honors will be presented to sound systems The Mighty Crown and Lloyd Matador.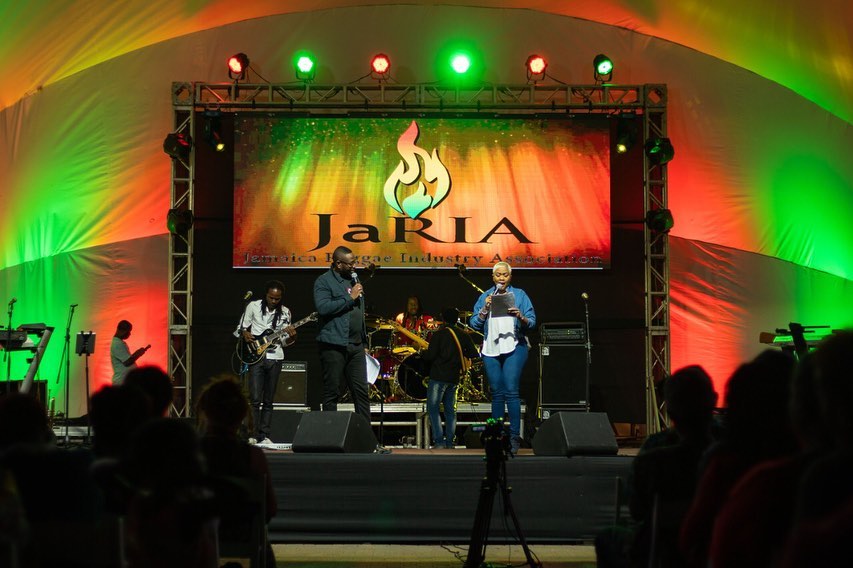 The association's program featured several guests who were specially invited, including Juliet Holness, the wife of Jamaica's Prime Minister Andrew Holness and member of Parliament; Olivia Grange, Jamaican Minister of Culture, Gender, Entertainment and Sport; JaRIA founding members Donovan Germain and Howard McIntosh, and sponsors. Ewan Simpson, JaRIA chair, noted that there was a particular reason for the presence of Juliet Holness at the ceremony. JaRIA is presenting three special Diamond Jubilee Awards in 2022 to mark Jamaica's 60 years of independence. The three posthumous awards will be given to Marcus Garvey, Bob Marley, and Louise "Miss Lou" Bennett-Coverley. Miss Lou was from East Rural St. Andrew, the constituency represented by Juliet Holness in Parliament. Holness remembered meeting Miss Lou on a Sunday morning when she was supposed to be singing in church but instead went to the "Ring Ding" television program hosted by the legendary folklorist.