Are you ready to break away from the traditional way of cooking Callaloo? The leafy vegetable, Callaloo (amaranth), is a popular Caribbean dish and has its origins in West Africa. It is served in different ways across the Caribbean. In Jamaica, it is typically cooked with cod fish (salfish). Callaloo Seasoned Rice takes a Jamaican favorite and adds a new spin to make a one-pot meal. It can also be used as a great side dish.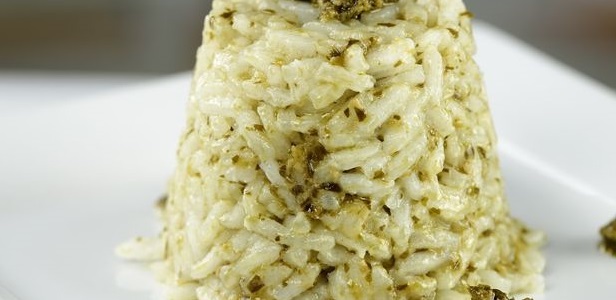 INGREDIENTS
4 cups of freshly chopped callaloo (washed and stripped) or canned callaloo
1 cup coconut milk
1 small onion (chopped)
1 teaspoon pimento
3 cups  water
2 sprig thyme
2 small scotch bonnet pepper
2 tbsp. soft margarine
3 clove garlic
2 stalk escallion
4 cups rice
1 ½ teaspoon salt
¾ teaspoon black pepper
Optional – Add Cock soup mix for additional flavor
Get our recipes on your mobile phone. Buy our iPhone or Android Recipe App. Buy the cook book "Simple Jamaican Cooking". Looking for Jamaican recipe ingredients & seasoning Shop Now in our online store.
METHOD:
Melt the margarine in a pot. Saute the garlic, onion, pimento thyme and escallion for 2 minutes
Add the callaloo and saute for about 2 minutes
Rinse the rice 3 times to reduce stickiness
Add water and coconut milk to the pot (Add Cock soup mix)
Add the rice to the mixture (the liquid mixture should be 1 ½ inch above the rice. Add more water if necessary)
Add salt and black pepper
Stir the ingredients then add the scotch bonnet peppers in the pot. Cover the pot and allow the rice to steam.
Cook on a low fire for 10 minutes
Cook until all the liquid has been absorbed and rice is cooked.
Serves 8.