Cassava Toto is similar to Coconut Toto and includes many of the same ingredients. Toto (pronounced toeto) is a Jamaican traditional desert that is served at most family gatherings. It is a favorite of Jamaican at home and abroad. Toto is one of the easiest Jamaican dishes to cook.
Toto has it's origins in slavery.  At night time slaves were hungry from being underfed. They would use coconut, molasses and flour to make totos.  It was baked the traditional way with fire coals place on top of a metal sheet covering the cake pan and fire beneath the cake pan. This style of baking is where the Jamaican term "fiyah a tap an fiyah a battam" and "hell a tap an hell a battam" comes from.
Ingredients:
2 cups wheat flour
1 cup cassava flour
¼ tsp salt
3 tsp baking powder
1 tsp nutmeg
2 tsp mixed spice
1 cup coconut milk
1 beaten egg
½ cup melted margarine
1 Teaspoon vanilla
1 ½ cups coconut, grated
Raisins (Optional)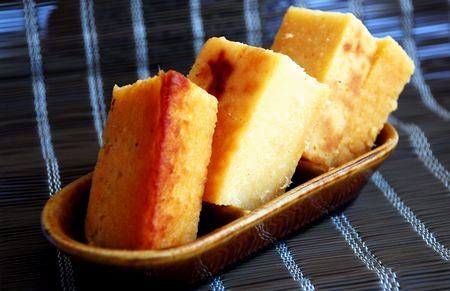 Method:
Preheat oven to 350°F (180°C).
In a large bowl, combine the flours, baking powder, spices, and salt.
Set aside. In another bowl, mix the sugar and the coconut milk, then add the beaten egg, vanilla, melted margarine, and grated coconut to the mixture.
Add the liquid mixture to the flour mixture and stir lightly.
Pour the resulting batter into a greased pan and bake for 30 to 35 minute, or until tester inserted into the cake comes out clean.