You will never have chicken fried rice till you have Jamaican Chinese Chicken Fried Rice.
INGREDIENTS :
4-6 cups cooked rice (cold)
1 cup cooked chicken chopped
1 sweet pepper (Bell pepper) chopped finely
2 stalks scallion chopped
1 large onion chopped
2 eggs
2 cloves of garlic
2 tablespoon oyster sauce
1 tablespoon Soy Sauce
Black Pepper (optional)
1 tablespoon 0il (Avocado oil recommended)
A pinch of salt
Shop Now for Jamaican recipe ingredients & seasoning in our online store.
METHOD:
Heat oil and add garlic
Saute the chicken, onion, sweet pepper, scallion in the cooking oil in a large non-stick pan.
Add egg beaten to pot and stir
Add rice and mix well.
Add a pinch of salt, soy sauce and oyster sauce gradually stirring the mixture after each addition until rice is colored and sufficiently heated.
Garnish with scallion. Serve hot.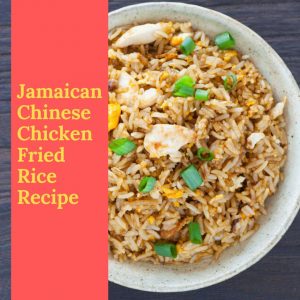 Photo source: 123rf