CHINA including TIBET
My husband, my daughter, and I visited China including Tibet in May 2014.  Our trip began in Beijing then on to Xining, Lhasa, Shigaste, Dingri, and ended in Chengdu.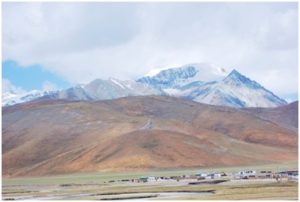 I like the fact that there was no air pollution and the scenery in Tibet was awesome.
The best part of the trip was visiting :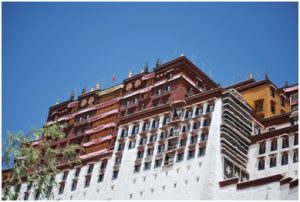 ( 1) Potola Palace in Lhasa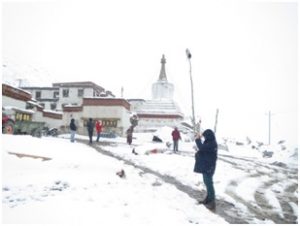 ( 2) Rongbuk Monastery  ( altitude at 17, 200 feet ) near the base of Mount Everest in Tingri County of Tibet and is the highest monastery in the world.  It was snowing when we got there. We also visited the world's highest Post Office  in the same area.
.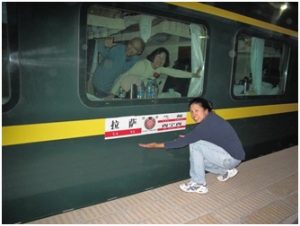 ( 3) We traveled on the world's highest railroad for 23 hours from  Xining to Lhasa. We went through beautiful landscapes and as the train passed, people on ground stood at attention and saluted the train.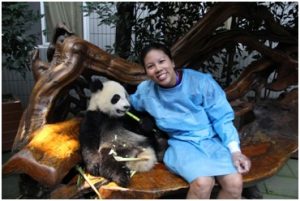 ( 4  ) Chengdu: Panda Reserve where Tracey got to visit with a panda.
I was surprised at the poverty in Zemukh Village ( on the way to  Mt. Everest Base Camp )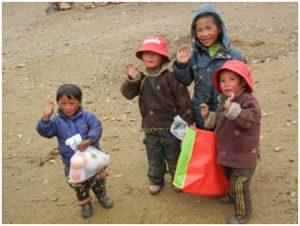 We stopped and gave fruits and snacks to some children.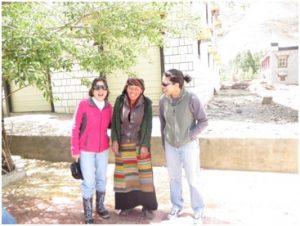 People were very friendly ( Tracey, village lady,  and me ). We bought ALL her fruits so she was happy to take a picture with us.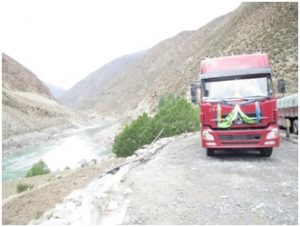 We went through Zemukh Village by 4-wheel jeep where there were no roads and no rail guards going up steep inclines on the way up to Mount Everest base camp. It was very scary driving but the drivers were very skilful. Going up was scary and I wished we did not have to come back the same way but there no other way. The trip reminded me of driving up and down Spur Tree Hill in Jamaica only 10 times worse.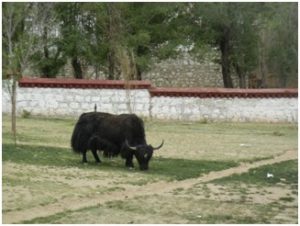 I do not recommend the food. The only meat available in Tibet was yak meat which is very tough. Yak butter and yak milk have a very strong, peculiar smell, none of us tried it. I recall there were eggs and bread as that is what I ate. Bring your own snacks!
Attractions that I would recommend are ( 1) Potola Palace in Lhasa,  However, you have to walk up over 300 steps to get to the palace entrance.
(2) North Base Camp of Mount Everest.  It was a 4 – hour drive on unpaved / gravel roads uphill, downhill.  It snowed so hard the shuttle to the Base Camp was canceled due to the weather, so we did not see Mount Everest.

On a clear day Mt.Everest can be seen from the spot we were standing.
One tip for travelers going there is that this is a strenuous and altitude sickness may hit you. Bring medication. You go through altitudes as high as over 20,00 feet through some of the passes.
Spending two nights in a hotel in Tingri with no hot water reminded me of Jamaica. On the second night we got a thermos with hot water to freshen up.  The thermos had a wooden cork  just like one my father owned. It was raining, cold,  and snowing. We pretended we were camping
I would not visit this area again this was a once in a lifetime trip