Devon House Ice Cream Jamaica announced that it has gone mobile with a van that will be serving its world famous ice cream flavors to customers in towns around the island. The ice cream parlor is an iconic landmark, source of national pride, and has been named to a variety of top lists including The Daily Mail's World's Best Ice Cream Parlors and the National Geographic Traveler's Top 10 List.
The announcement came via the shop's official Twitter account page Scoops Unlimited, Ltd., Makers of World Famous Devon House I-Scream. "We are now going mobile!!! That's right, your favorite I Scream got some wheels and we will be hitting the road to bring you your favourite ice cream flavors. Check our various social media pages to see where we will be next! See you soon!"
The ice cream company's flagship parlor is located on the grounds of Jamaica's first black millionaire, George Stiebel who made his fortune in Venezuela gold mines. The company specializes in flavors crafted with uniquely Jamaican ingredients and has perfected a process of ice cream creation that has taken its place on the world stage.
Tropical flavors are a favorite and customers can try exotic tastes such as Rum and Raisin, along with those that incorporate Devon Stout and Blue Mountain Coffee. While the taste is the primary attraction, the sweet treat is made in such a way that it doesn't quickly begin to melt and run in Jamaica's heat. Portions are large and filling.
Devon House Ice Cream Jamaica has branches in a variety of the nation's towns and cities, and the demand for the exclusive treat continues to grow. The company's new "I" Scream van will succeed in bringing the world-famous frozen treat to visitors and residents alike in towns around the island where shops haven't yet been established.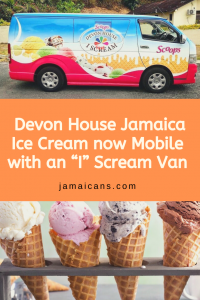 Photo Source: Devon House/Scoops Twitter