Say the name Diana King and music fans the world over think, Shy Guy, the block buster three million worldwide selling single from her first album, the 6 Million selling CD 'Tougher than Love' comes to mind. Say "Kingsinga" and you get blank stares and the reaction, huh? King, whose new moniker is "Kingsinga" was a hit on two continents back in the 90's when her name and monster jam, Shy Guy, which was certified gold in the US, crested at #13 on the Billboard Hot 100 chart in the US, #1 on the European Hot 100 chart and # 2 on the UK chart made her an house hold name across the globe. Shy Guy was also featured on the soundtrack of the movie Bad Boys, staring Will Smith and Martin Lawrence. Her last successful musical outing on this side of the Atlantic was in 1997 when her 'Think like a Girl' album entered Billboard's Top Reggae Album chart at # 1 and her cover of "Say a Little Prayer for You", featured on the soundtrack of the movie "My Best Friend's wedding', entered Billboard's Hot 100 Top 40.
Diana's soon to be released CD, the first in number of years, titled 'Spanish Town Blues" is a tribute to her birthplace, Jamaica's first capital, Spanish Town or Saint Jago Dela Vega. On 'Spanish Town Blues, King, flexes her considerable production skills along with world renowned producer/musicians Sly and Robbie.
Senior writer Stan Evan Smith talks to eclectic King about, her growing up, her music, being sexually abused as child in Jamaica, and the way females are treated in the music industry.
SS: How long have you been singing professionally?
DK: I've been singing professionally for 10 years.
SS: Who were your major influences, internationally and locally?
DK: Many, many people but I loved the big voices of Chaka khan, Whitney and Patti La-Belle, The lyrics and style of Bob Marley and the dancehall vibes of Shabba and Super Cat and Michigan and Smilie. I loved "MISS LOU"
SS: How would you describe your music, which genre best describes your sound?
DK: I'm yet to find one word that describes my sound but I'll go with Jamaican Soul.
SS: What are some of the obstacles you as female artist have encountered in your career?
DK: When I started one of my biggest challenges was being respected. I know that something U earn but mutual respect has to be there from the get go. It was and is still very hard for some members of the opposite sex to view us as anything other than a sex partner or someone to cook and clean. Your brain or creativity is never acknowledged till later. It's always feels like a battle of the sexes.
SS: Does your gender play any part in helping or advancing your career?
DK: It's great being a woman but I believe it's harder. Let's face it, I'm black, I'm Woman and I'm Jamaican. The work is three times as much. U constantly have to prove yourself over and over again. Being all of that isn't always embraced. It takes a lot of mental strength.
SS: Do you think that radio, TV and the concert stage offer the female artists the same opportunities to be seen and heard as your male peers in reggae?
DK: No….Up to this day, even with years of experience and hits I don't get called much. You still have shows that are 99% male artiste. Reggae Sun splash US ( this past summer) and not 1 female artist. It has gotten better with radio and TV but still a long way to go for JA female artistes. I give thanks for the improvement though.
SS: What are some of the things you think the reggae industry could do to make it easier for female artist to break into the industry or succeed?
DK: Don't treat us like an after thought. More promotion is given and more money is spent on male artist and that's not fair. Give us the same attention. Believe in us a little more. And pay us what we deserve. Ha-ha!
SS: What can female singers/dj do to improve and increase their visibility on stage and on record?
DK: Well I'm old school at heart (not in age LOL) and I do believe that somewhere, somehow a lot of female artist/DJ and women in general have lost the respect for themselves. We need to remember where we came from and how hard it was for women before us and represent with the utmost respect. There was once a time when men used to ask if they could touch or hands; now there's nothing left to the imagination. And then we wonder why we always get dissed. We were once Queens and princesses and now we answer to Bitches and Hoe's.
SS: What can the males do to help females' artists get more exposure?
DK: Just give us respect, the same support and treatment that a male artist would get.
SS: What is, or has been the biggest obstacle you have faced as female artist?
DK: Just being respected. Your ideas, your input in your own career, your strengths. It took years for me to able to say I produced my own music. I have always done that but it was never acknowledged. I never got the credit. That's not right.
SS: Why do you think that promoters shy away from booking female artists?
DK: Even though we are just as good, we are dubbed "emotional" That's not coming from me but from men I've asked. I agree that we are different but we can definitely work together. I've had the same band (men) forever. What they shouldn't do is categorize us. We don't all have the same personalities and work ethics but this is not only a Music industry problem it's also a corporate one. On the other hand I do sometimes believe they just don't want us "UP THERE" with them, in the back cooking some food maybe but not "UP THERE"
SS: List your most successful singles or album?
DK My 1st CD "TOUGHER THAN LOVE" (6 million in sales) and singles "SHY GUY" and "SAY A LITTLE PRAYER" also my live CD "TOUGHER AND LIVE" sold 3 million in Asia/Europe.
SS: Do you have difficulty getting air play for your music, if so, in what radio formats?
DK: I do…. I have a lot of problems because my music doesn't have a category. When U listen to my CDs U get a little bit of a lot of different types of music. That's what I love and that's who I am but it doesn't sit well with radio. I guess that's why they invented remixes LOL. U have to take what U created and then remix it to a category that is accepted.
SS: Why do you think this happens?
DK: The people at radio are GODS. They really dictate what people hear. Only in America though do I see this happen. I have so many American fans and they complain to me all the time. They had to order CD's from Japan and it was so expensive etc. I (just me) tour every year in Asia and Europe to sell out shows. That's truly appreciated or I'd be singing on the streets begging quarter in a hat.
SS: Do you think females are given equal or enough opportunities to showcase their talents in Jamaican music?
DK: It's so much better than it was when I stared. I had only a handful of female Jamaican artist to look up to. Now there's so much more an "dem wikid". I'm very proud. Most of them have me as their idol/inspiration so I have to set a good example at all times. Plus the music (reggae/dancehall) is getting a lot more attention and popularity. I hope that now they can accept that the music is not a FAD or PHASE but here to stay. On my myspace page my top 8 is all JA female artistes and that makes me feel good. They have my 100% support.
SS: What are your professional goals as singer?
DK: I'm currently working on 2 projects of my own. One (is a) covers CD and one original CD on my label "Think Like A girl". I've just set up my home studio, something I've always wanted to do but never got the time, so I'm very excited. I hope in the future to write and produce music for other female artiste, own my own Record Company that caters to unique artistes like myself "without a category" LOL. Mi naa tell no lie. I'll B singin till I die. That's where I feel the most alive.
SS. What has Diana been doing since your last hit?
DK: I took some time off to spend some quality time with my kids but I still do my tours. My biggest fan-base is Asia and Europe so I do a yearly sometimes twice a year tours. I've been doing this for awhile now and have released a few more cd's in those regions. Unfortunately my Jamaican, Caribbean and American fans haven't seem me as much so I made the decision to focus at this time on my original fans. I started to feel disconnected. So I had to go back pon base. Yu kno…. Back to di roots.
SS. What does a typical day for Diana King look like?
DK: Typical…hmm. Well it always starts with coffee and sometimes ends with it. If I'm not, (I am) in the studios, on tour or I'm being mom. It's hard to juggle both but I do my best. I love to sweat so I try to find the time to work out. I've been in ja for few months now away from where I reside in the U.S. so it's mostly work. But I love it. I miss my kids alot but a single mothers life is never easy. I love quiet so I take a moment everyday to listen to my heartbeat and to what's in my soul. Pretty lo key boring stuff huh?
SS. What about Diana king if the public knew they would be surprised to learn?
DK: I'm rarely seen because I'm extremely "shy". I have a phobia of crowds. And I don't like loud music. Go figure….lol. I also smoke cigarettes before, during and after everything. Shhhh!!
SS: Why did you choose to record "Bad for the Night" and "Love Triangle" were these tunes written from personal experiences?
DK: Most of my songs are my personal experiences. I guess u could say I can't keep a secret about myself, so if u want 2 know something listen to my lyrics. A few of them are about my friends or close relatives. Sorry guys…lol
SS: Is there a message for men about women in these songs?
DK: Not intentionally. I'm just being real. Women can b just as good and bad as men…i believe we are just more covert if we choose to be bad.
SS: On issues of female sexuality you push the envelope in the same way Tanya Stevens, or Patra and Grace Jones did, you even advocate for men think like a girl, why is this issue so important to you?
DK: That's just me endorsing one of the most common phrases that women say about men….but it's close to impossible for men to think like women and sometimes I wonder what the creator was thinking as we r like night and day on many issues. But if we could relate on that level I do believe the world would b better. He who feels it knows it.
SS: On your song "The Real SXXX" you say "they took my innocence pin me against the cold floor, I hung my head so low" is that an indication of sexual abuse in your life?
DK: Yes.
SS: Can you talk about this, and tell me how it affected you as female and your self-esteem?
DK: This is a loooong story that will b coming in my autobiography but yes…. As a young girl u already have self esteem issues from just the everyday pressures of life and the abuse only made it worse. I was like a walking zombie for many years. I was fortunate to not have gotten into drugs or become suicidal as a result, but I soon realized I had to let it go or it would b my downfall if I allowed it to consume me. I learnt that instead of thinking of it as a stumbling block I would use it to b my driving force to b the best I can b. And on many levels it is what led to my becoming a singer. Singing saved me. It became my passion. Some are not as lucky. I felt so ashamed that I ran away from home when it happened. Most people assumed that I ran away to sing but it was quite the opposite. I was only in the seventh grade or 1st form. To sing was the only thing I could do to take care of myself financially and the only thing I didn't feel ashamed of. For that reason alone I remained positive and just pushed on through. After that, it was as if I was possessed…as if I was just born 2 sing and that I had to have had that experience to lead me to it. I always wanted 2 b a doctor but I believe your destiny is already carved out and it can be far and different from what u think u want 4 yourself. I wrote that song for myself and all the women I've met over the years who've been where I was and who made me feel like and know that I wasn't alone. 90% of women have been sexually, physically and mentally abused and we deal with it quietly. That's the real sxxx. But to heal… It's all about having no fear, no boundaries and no limit. It's about forgiveness and finally loving yourself. It's all about owning your power as a woman and a queen.
SS: Who are some of the producers that worked on the upcoming album?
DK: This is actually my 1st time producing myself or rather getting the credit for doing it…lol…. I'm a free agent now and will b releasing my muzik on my own label "think like a girl" I've also been doing some work with Sly and Robbie. But I'm mainly working with my band members Norris Webb, Paul Kastick and Richie Barr who've been with me since the beginning. But I'm still open to other producers or writers submitting their work 2 me, u never know where the next hit may come from. I wouldn't want 2 miss it by being closed-minded.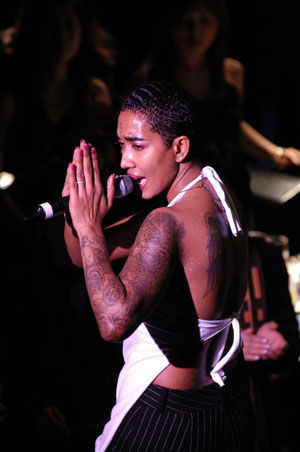 SS: What is the focus of the new album musically, is it dancehall friendly?
DK: I never really think of being friendly. I'm versatile. I always go with my vibes. That would b like putting yourself in a box. My fans love my style because it's unique and unpredictable. I love all types of music and I will not b limited to what one group of people wants or think I should do. That's like wearing the same underwear everyday.
SS: Is there any significance to you choosing the "cuss cuss" rhythm for "Spanish Town Blues?
DK: I think it chose me. Sly sent me that riddim 1 year ago and to b honest I wasn't feeling it. I wanted to write a song that I would sing but it wasn't coming. A good friend of mine heard the riddim one day while I drove myself nuts trying 2 come up with a hook or something, anything and said. "King, yu fi dj man…yu wikid when yu dj ee nuh" and as soon as he said that the song came 2 me. I wanted 2 finally big up my original fans from my hometown "Spain town' yeahhh!!
SS: Is there any collaboration on the album, if so with whom?
DK: So far I've done duets with "gentleman" "Tessanne Chin" and "toots" from toots and the Mytals. I have my eye on a few other artistes that I love. But I don't want to flop miself so I'll keep them on the hush hush for now.
SS: You say, you want to work with other female artist why that is so important to you?
DK: As a female artiste who's been out there, I know how it is. Everyday I see record deals, monies being spent, stage shows and concerts with 99 male artiste and one female. No player hating it's jus that it's no where near equal so I want to do my part in changing that so we the female artiste can "eat a food to" because we r jus as good and sometimes better. Right now in Jamaica there are so many talented women out there who r not getting the opportunities they deserve in the entertainment industry.