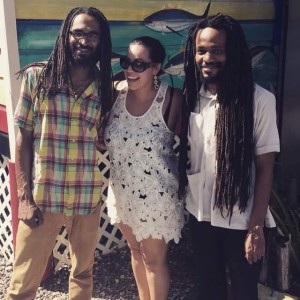 Ximena Ungureanu has lived in Jamaica for a year and works for a small newspaper in Spain. She is the administrator of the Facebook pages Kingston Expat Market and Kingston Expat Jamaica.  Ximena is a passionate traveler who  loves a great adventures and provides travel tips on ViviendoAventuras.  She recently started a Spanish food catering business in Jamaica called "Tapas". Ximena tells us about her experience as an Expat in Jamaica, including advice to others who may consider moving to the island. What are Ximena's likes and dislikes about Jamaica? Find out in our conversation with Ximena.
1. Where are you from originally?
We're are an European family: I'm from Spain and my husband is from Romania and before coming to Jamaica we lived in Belgium and Dominican Republic.
2. How did you end up living in Jamaica?
We're living already in the Caribbean in Dominican Republic for almost three years. i moved there with my husband anxious to know the nice weather, beaches, people, food and discover all the magic places hidden here. All started with an unexepected phone call. We had plans to move back to Europe during the summer of 2013.
My husband received a proposal for an amazing challenge to work for Digicel group as Group Chief technology Officer for 26 countries in the Caribbean area. Here I saw an amazing opportunity to discover first of all Jamaica, but as well the other countries in Caribbean and Central America. We said yes without thinking a lot !!!!
3. What do you like the most about Jamaica?
We knew already the beauty of an island from the Caribbean area. So the beauty of an island blessed by the sun all year, paradisiac beaches were not a surprise for us, I falled in love on the unspoiled nature from Jamaica, very green, wild, untouched, provocative to discover it every day. I like the mountains and the views of Kingston from the hills .
But what impressed me more was the expat community from Jamaica: a community which is very unite, ready to help you from the first day you're arriving in the country and they never let you alone.
4. What do you like least about Jamaica?
The lack of places where you can go with a kid, the limited choices for shopping and the high prices on supermarkets 😉
5. What is you funniest experience in Jamaica?
The most adventure moment that I can share is a boat trip around the island. I was with other couple of friends cruising the sea and we launched a line to see if we can catch some fish. After a while, one of the lines started to unwind with a incredible speed and the boat was moving on all directions…we understood that was a big catch and three mens fought almost 30 minutes with the fish who was strongly fighting against us. Finally we started to see our big fish: it was a 200 pounds MERLIN !!! The three guys fought with the fish to put it on the boat untill finally the capture was ours ! All this can occur only on Jamaica….
6. What was the biggest adjustment that you had to make living in Jamaica
Driving a car on the left side of the road and the spicy food… which I really adore now!
7. You favorite Jamaican food
Ackee with saltfish, jerk chicken (my husband is buying me from the street directly every Thusrday, the smell is incredible and is impossible to resist it)
8. You favorite Jamaican attraction is:
A trip on Rio Grande using a bamboo raft seeing a sunset; Dub Club on the Sunday night, eating a vegetarian burger, listening to reggae music while admiring the incredible views of Kingston on this eclectic and chill out atmosfere.
9. What is the thing you miss the most when you leave Jamaica?
Jamaica is our home so when I'm abroad what i'm missing more is … my house and my dog.
10. What advice would you offer to an expat moving to Jamaica?
All the new experiences at the beginning are difficult but Jamaica is making it so easy so I recomend to come with an open mind, enjoy the virgin nature and the possibility to have contact with a different culture