Caribbean-American, Show Stopper Cake Popper and Event Planner Shauna "Smiley" Bernard, #instafamous for her custom cake pops that taste as good as they look and her posts modeling signature corresponding nail art, is the only Black speaker at the first annual SoFlo Cake and Candy Expo on Saturday, April 11th, 2015, 1 p.m. – 2 p.m. at the Miami Convention Center. With dessert bars and candy tables being all the rage, her "Eat With Your Eyes" demonstration showcases ways to present goodies visually as how treats look is the first criteria to determine the impulse to taste.
"I am thrilled to share my expertise beyond cake pop making to instruct on edible arrangement; it's my event planning model trifecta of stunner theme, surprise treats, and styling twists. I am also proud to represent my community." Bernard is the proprietress of CanVis Events, a full service, South Florida-based business that provides cherishable experiences accompanied "with a smile" through uber creative event planning. Her cake pop show-stopping, intricate designs are topped off by deliciously addictive flavors and moistness and showcased on social media with her signature "thumb nail" in custom, hand-painted, matching gel nail art.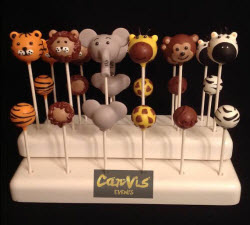 The @canvisevents Instagram following is approaching 6,000 that includes celebrity cake poppers and event planners as admirers of her work. Requests and respect for her creativity is spanning in South Florida and outside the region with clients including Indique Hair Miami boutique, Swiss watch maker Ulysse Nardin Boca Raton boutique, Miami Heat Udonis Haslem son's themed birthday of WWE The Undertaker John Cena Sin Cara, and Jacksonville headquartered Creme of Nature #CourageousBeauty breast cancer awareness campaign. National top bloggers such as Myleik Teele of Curl Box and many others tweet her sweet praises. Bernard bakes, makes, and stages an event like no other.