Following her third-place finish in the finals of the Women's 100-meters at the 2023 World Athletics Championship, multiple-time world championship medalist Shelly-Ann Fraser Pryce is now the first Jamaican woman to lead the World Athletics medal tally.
Breaking Usain Bolt's Record
The 36-year-old Jamaican sprinter finished the race in 10.77 seconds behind Jamaican sprinter Shericka Jackson, who took the silver medal in 10.72 seconds. The gold medal went to US sprinter Shacarri Robinson who completed the race in 10.65 seconds.
Fraser-Pryce's third-place finish propels her past the storied medal count record of legendary Jamaican sprinter Usain Bolt. She now claims 15 medals in the World Championships in comparison to Usain Bolt's record of 14 medals, 11 of which were gold.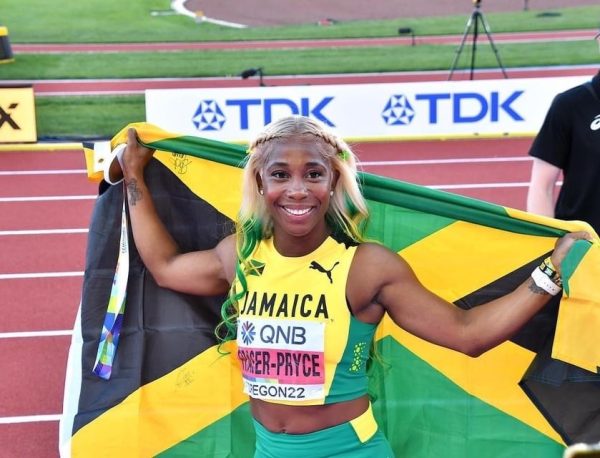 Victory Despite Knee Injury
Fraser-Pryce's third-place finish is also significant as she continues to recover from a knee injury she sustained in May. Recently, Fraser-Pryce demonstrated her steadfast resolve by achieving times of 10.82 seconds at the Spitzen Leichtathletik meeting in Lucerne and 10.83 seconds in Madrid, a few days apart.
This bronze medal marks a pivotal moment in her career, as she attains a world championship milestone that's different from her accustomed gold and silver. With a string of Olympic and world championship titles along her journey, this third-place triumph carries a unique resonance, a testament to her tenacity, her unyielding character, and her unwavering commitment to her skill.
As the World Athletics Championship continues, the spotlight turns to Shelly-Ann Fraser-Pryce as she gears up for her upcoming race – the Women's 4×100 Metres Relay heats scheduled for 25 August.
Photo – Facebook