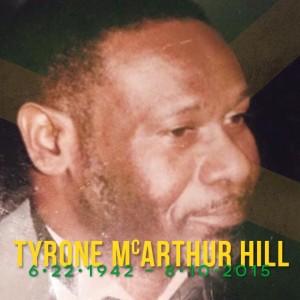 Fund to Benefit Students in Need at St. Jago High School and University of Technology
In honor of the recent passing of Tyrone McArthur Hill on Monday, August 10, 2015, as a loving father, diligent construction/engineering professional and outstanding former student at St. Jago High School and University of Technology (CAST), the Hill family established the Tyrone McArthur Hill Memorial Scholarship Fund to be awarded to students who have overcome life's obstacles.
Affectionately known as Madikes or Giselle to his schoolmates at the College of Arts & Sciences (C.A.S.T., now known as the University of Technology in Jamaica), Tyrone McArthur Hill was born to the late Lindsay Hill and Lillian Gibson Hill in Spanish Town, Jamaica on June 22, 1942. Despite losing his parents at very young age, Tyrone was a gifted student in the sciences and engineering. Tyrone received his basic education at St. Jago High School in St. Catherine, Jamaica. Due to his stellar academic standing and economic need, he received scholarship support from the St. Jago High School Past Students Association. He married CAST classmate, Yvonne Gordon, in 1966. In Jamaica, he previously worked with Ffolkes & Harrison architects, ALCAN, and the Bureau of Standards. He migrated to the United States in 1983 where he continued to pursue a career in the fields of construction and engineering. He worked diligently with Baptist Hospital Systems, Miami-Dade County Housing Agency, and the Miami-Dade County Library System. He retired from the County in 2009. He last resided in Homestead/Miami, Florida. He is survived by brothers Stanfield Hill and Carlton Hill, his former wife Yvonne Gordon Hill, four kids, Marc Hill, Dr. Michael Hill, Marlon Hill, Misha Hill; four grandchildren, Brianna Hill, Brandon Hill, TJ Hill, Braxton Hill; nieces and nephews, and other friends and colleagues.
To be eligible, applicants must be a graduating primary school or high school student and have been accepted to attend St. Jago High or University of Technology. Awarded scholarships will support underwriting costs of tuition, books, or other academic expenses. Each applicant must present a copy of the acceptance letter(s) with their application. A Scholarship Advisory Committee will review and rate the applications and make final decisions on scholarship awards.
The following elements will be considered in evaluating applicants. – Scholarship Statement that describe circumstances related to your family's financial status – Personal Statement/ Essay about personal obstacles and their positive impact on your life – Letters of Recommendation
Scholarship award(s) will be made to the St. Jago High School Alumni Association, Inc. or C.A.S.T./U. Tech Alumni of Florida, Inc. in care of the selected student.
For scholarship information and a copy of the application, applicants should contact Marlon A. Hill, Hamilton, Miller & Birthisel, LLP, 150 S.E. 2nd Avenue, Suite 1200,Miami, FL 33131, 305-379-3686, or [email protected]. Deadline for submission: September 25, 2015 at 5 p.m.
The public is welcomed and encouraged to support the Fund with checks payable to The Miami Foundation, 40 NW 3rd Street, Suite 305, Miami FL 33128 (Memo: Tyrone McArthur Hill Memorial Scholarship Fund); via credit card at http://bit.ly/1P9w2kS; or via wire transfer to The Miami Foundation: JPMorgan Private Bank – DE, 500 Stanton Christiana Rd, Newark, DE 19713; EFT/ACH ABA #267 084 131; Wiring ABA # 021 000 021; Account of: The Miami Foundation; Account # 403251668.