Jamaica's Reggae Boyz 1-0 exhibition match victory over the USA on June 5th at Audi Field in Washington, DC was is the second U.S. home defeat to the Caribbean nation and Jamaica's third victory against the USA. Jamaica last defeated the US 2-1 in the Gold Cup semifinal at Atlanta in 2015. This exhibition was a chance for both teams to experiment with their lineups.
The Reggae Boyz substitutes Shamar Nicholson, who debuted against the U.S. in February 2017, netted Jamaica's lone goal. He beat goalkeeper Zack Steffen from 22 yards out, just the penalty box. In the 60th minute.
Head coaches Gregg Berthalter, USA and Theodore Withmore Jamaica, said they were satisfied with their respective team's performances. Coach Berthalter possession-oriented strategy resulted in a three-man per touch possession strategy in the first half. However, the USA's attacking strategy failed to create enough scoring opportunities as they failed to convert chances including Josh Sargent a point-blank shot that went wide in the 71st.
The Reggae boyz solid defense contained them by controlling the pace of the game. Coach Berthalter expressed him was disappointed in his team lack of aggressiveness.
The nonappearance of Bundesliga club Bayer Leverkusen dynamic left winger Leon Bailey, disappointed many of the seventeen thousand seven hundred and nineteen in attendance. The controversial new Reggae Boyz acquisition looked great. He spent half time playing one-touch man in the middle, on the side with his teammates. Head coach Withmore said during the press conference he chose not play the star left winger because Bailey is recovering from injury.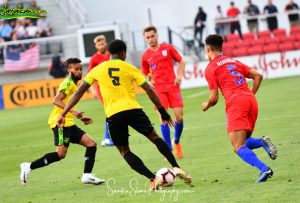 The game was the Reggae Boyz' final international friendly before their Group C match against Honduras at the National Stadium on June 17. This is part of the expanded CONCACAF Gold Cup schedule from 12 to 16 teams beginning from June 15 to July 17. This the first time member associations in Central America and the Caribbean will host matches.