Jamaican-American Sofiya Ballin, award-winning journalist, writer, producer, curator, and filmmaker, appears on a huge billboard, promoting the graphic design platform Canva's campaign for personal websites.
Announced On Her Facebook Page
Work With Canva Began in Philadelphia
Canva previously got Ballin placement at Philadelphia's City Hall for a week, for which she thanked the company for noticing her love of the city, redesigning her entire personal website, and putting it on their platform. During the process, Canva asked her what role her Jamaican heritage played in her chosen visuals, the colors she like, and what photographers she wanted to work with. Ballin praised Canva for delivering on all of her preferences and noted the special care taken as Canva is based in Australia, a situation that required working with a 14-hour time difference, late-night meetings for her, and early morning meetings for them. "It was clear that they wanted to make sure all assets were authentic to me and it's not something I take for granted," she added in her Facebook post. Ballin went on to write, "So happy with how everything turned out and beyond grateful for everyone who made it possible. Especially grateful for the people who cheer me on. This was a surprise my spirit really needed."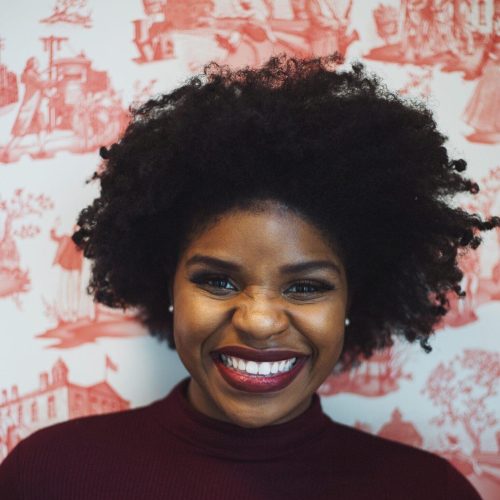 Previous Work
A graduate of Temple University, Ballin is the creator of the award-winning multimedia project, "Black History Untold," an identity series that shares previously untold stories of Black history via personal interviews that feature diverse viewpoints from across the Diaspora. She has also written about recent trends, including cuffing season and Black Twitter. She has also covered major news stories like the local protests against police brutality in Ferguson and Baltimore, photographed and produced digital fashion features, and written opinion pieces.
An Inspired And Independent Creative
Early in her career, Ballin worked as a Features Reporter for the Philadelphia Inquirer newspaper. She has interviewed many celebrities ranging from Tyler Perry to Tamron Hall, and her writings have been featured on Huffington Post, Okay Player, Essence, Ebony, Shondaland, and FADER. In her early work and as an independent creative, Ballin has sought to humanize all walks of life, stating, "All my life, I've learned that there were stories untold and that not every legend was etched into bronze. My goal is to tell their stories." Ballin notes that she is "inspired by her heritage, fueled by passion, and guided by intention," and through "Black History Untold, she has become a testament to the power of Black media makers who take control of their narratives.
Honors and Achievements
Ballin's dedication to her craft has brought her numerous honors. She was named the Philadelphia Association of Black Journalists (PABJ) Journalist of the Year in 2017 and a Caribbean American 30-under-30 Emerging Leader. She received a citation of honor from the City of Philadelphia and was also named one of Temple University's "30 Under 30 Owls to Watch." She was commissioned to produce videos for the Brooklyn Nets, iOne Digital, and the American Civil Liberties Union (ACLU).
Photo – Official Facebook Page for Sofiya Ballin