Do you like banana bread and coffee? How about combining them. This easy to make Jamaican Coffee Banana Bread Recipe is the perfect way to combine two things you like. It is a moist bread with a subtle coffee flavor. Eat it as a snack or for breakfast.
Ingredients:
1/3 cup soft Margarine
1/2 cup White Sugar
3 ripe Bananas
2 cups Flour
3 tsp. Baking Powder
1/4 cup Red Label Wine
1 tsp Vanilla
1 Medium Egg
1/2 cup Raisins
1/4 tsp. Nutmeg
1/2 tsp. Salt
1 tsp. Almond Extract
2 tbsp. White Rum
Method:
Cream butter and sugar.
Add well beaten eggs, vanilla and extract. Mash ripe bananas.
Sift flour, instant coffee,baking powder, salt, nutmeg, adding alternatively with mashed bananas.
Fold in raisins. Mixture should drop easily off spoon.
Add a little milk if the mixture is too stiff.
Scrape into greased loaf pan and bake for 40 mins. or until golden brown.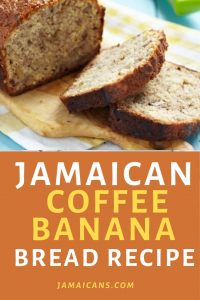 Photo Source: 123RF