The Jamaican Community in Australia was abuzz this week with various activities to mark the arrival of Jamaica's non-resident High Commissioner designate to the Commonwealth of Australia, Her Excellency Shorna-Kay M. Richards.
On Monday, 27 March 2023, the High Commissioner designate presented her Letter of Introduction in Canberra to the Honourable Anthony Albanese, Prime Minister of Australia, formally accrediting her as non-resident High Commissioner for Jamaica to Australia.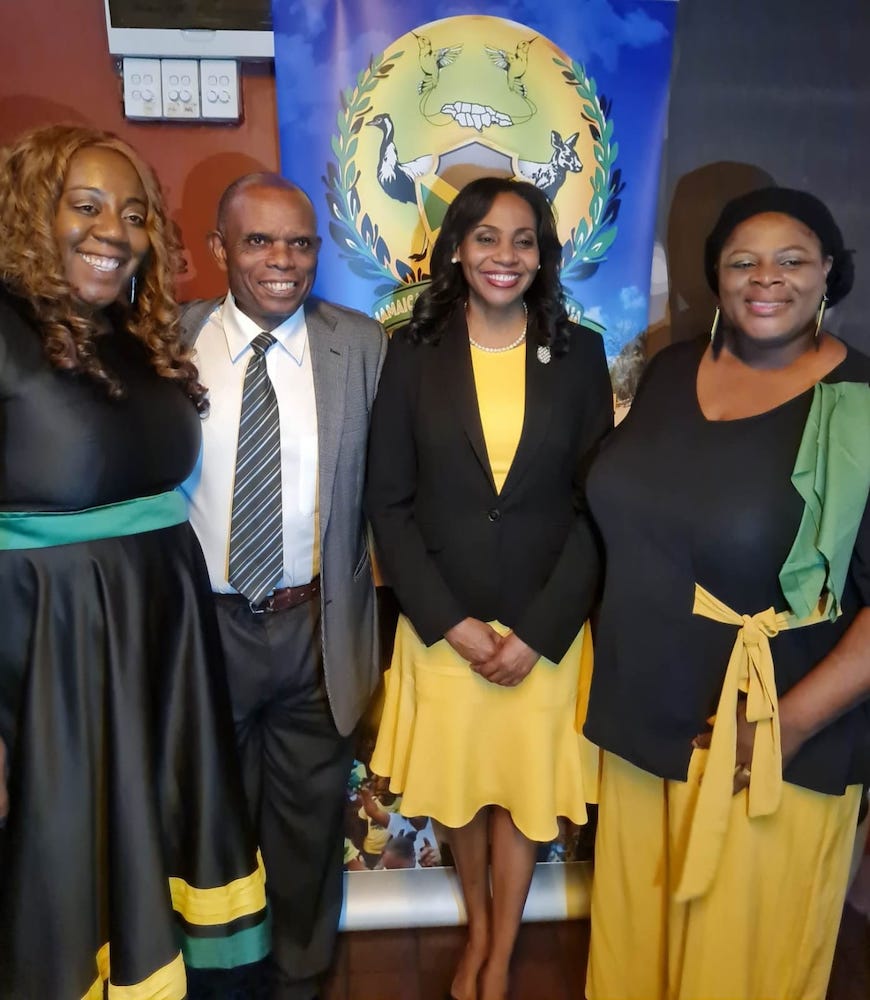 Speaking of her meeting with the Prime Minister Albanese, High Commissioner Richards said, "I am honoured to have presented my credentials to Australia's Prime Minister this week and welcome our discussions on that occasion. Jamaica and Australia continue to enjoy a fruitful bilateral relationship and meaningful engagement at the multilateral level as member of the Commonwealth."
"Our countries' interests and priorities align in several areas including sports, climate change, oceans, development finance, trade, disarmament and international security. With those synergies, we look forward to partnership with Australia to upscale the relationship especially since 2024 will mark 50 years of diplomatic relations", she continued.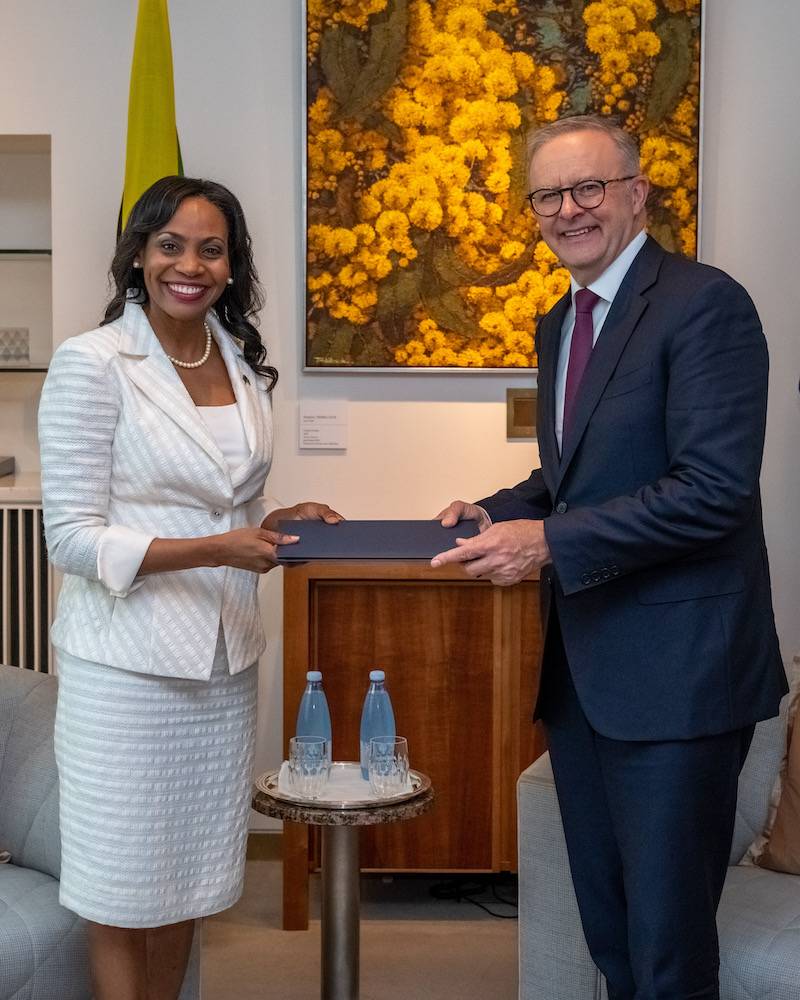 During her visit to the Nation's Capital, High Commissioner Richards participated in various high-level meetings arranged by the Latin American and Caribbean at the Department of Foreign Affairs and Trade (DFAT). The engagements included a call on the Honourable Tim Watts, Assistant Minister for Foreigner Affairs. The High Commissioner also met with several senior officials at DFAT, the Australian Trade and Investment Commission (Austrade) and the Department of Defence.
Diaspora Engagement
The Jamaican Diaspora in Australia was delighted to welcome the High Commissioner, whose official visit to Australia was delayed by the COVID-19 restrictions in place since 2020, when she took up office at the Embassy of Jamaica in Tokyo. To celebrate her arrival, the Jamaican Association of Australia (JAA) collaborated with the Jamaica's Honorary Consul in Sydney, Mr. Marco Breakenridge, to organise a series of events.
The main event was a welcome dinner and meet and greet held in Sydney at a local restaurant, with catering provided by a Jamaican-owned and operated company, Jamaican Delight!
Community members were excited to finally meet the High Commissioner, who used the occasion to update the community in developments in Jamaica and other Diaspora related matter. This included updates on the National Diaspora Policy, economic developments and news of the process underway to establish Jamaica as a republican state. The High Commissioner also had a similar opportunity to meet a small group of Jamaicans living in Canberra, the world's southernmost capital after Wellington.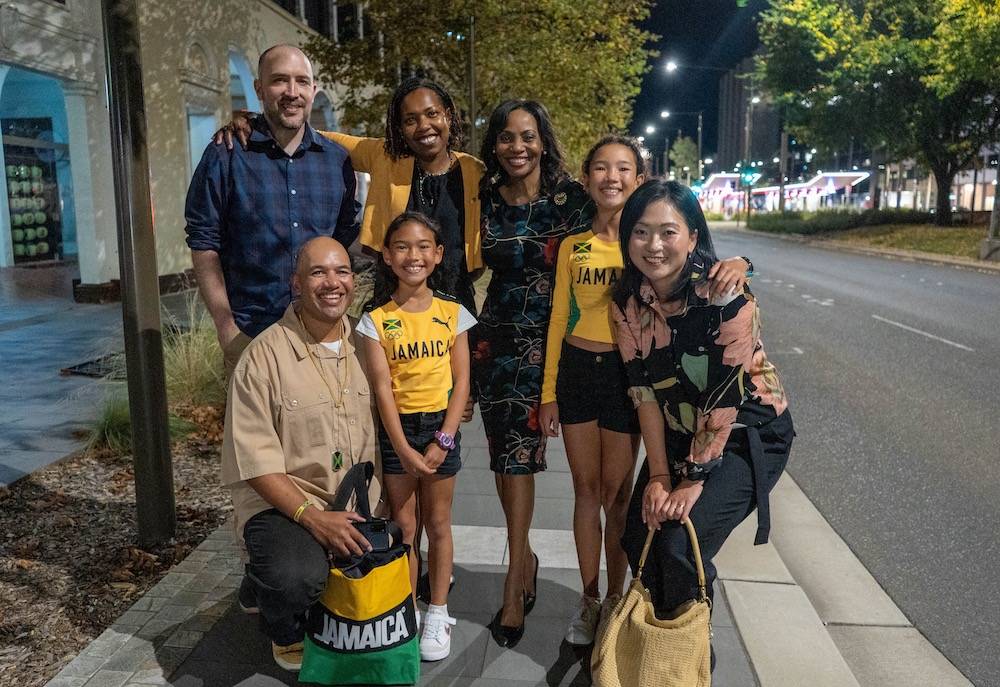 According to President of the Association, Dr. Stephanie Fletcher-Lartey, "The High Commissioner has been actively engaging with the Diaspora in Australia since her arrival in Tokyo. We appreciate the work of the Embassy in ensuring all Jamaicans in the region are aware of what is happening and ensuring no one is left behind. For our part, the JAA has been working closely with the High Commissioner and Honorary Consul to host various events, including several events to mark Jamaica's 60th anniversary of independence in 2022."
Honorary Consul for Jamaica to Australia, Mr Marco Breakenridge, expressed his delight that the High Commissioner's visit allowed for meaningful engagement with the community. He added: "Throughout the pandemic, the Embassy connected with us online to host cultural events and information forums on consular affairs, trade and other topics. Her visit was a welcomed opportunity to bring the community together face-to-face."
Jamaica and Australia established diplomatic relations on 06 January 1974. Jamaica provides representation to Australia from the Embassy of Jamaica in Tokyo. The Australian High Commission accredited to Jamaica is located in Port-of-Spain, Trinidad and Tobago. Jamaica and Australia will commemorate 50 years of diplomatic ties in 2024.