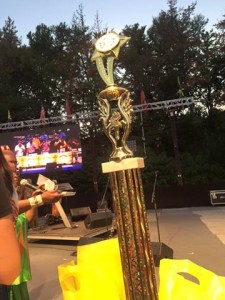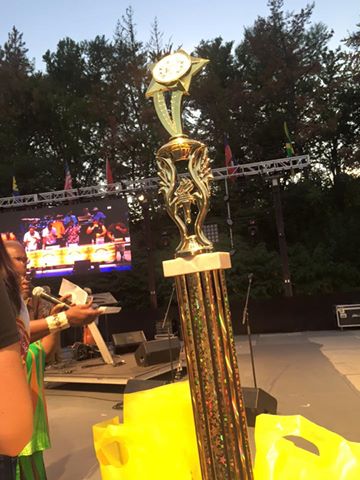 Thanks to a Jamaican businessman Brooklyn Borough President Eric Adams can add another paragraph to his storied listing of accomplishments since becoming the leader of Kings County.
He crowned the first king of a patty eating contest during the 48th annual West Indian American Day Carnival Association Labor Day revelry.
"I am proud to host the first annual Golden Krust Caribbean Bakery & Grill National Jamaican Patty Eating Contest, partnering with the small business that has elevated the patty to the heights of the Big Apple itself," he added.
"Experiencing Caribbean culture on Labor Day weekend, one of the most vibrant elements of Brooklyn's diversity, deserves a celebration of all the senses and sensations that make this community one-of-a-kind, including our proud culinary tradition," Adams continued.
He crowned 30-year-old Wayne Algemio, king for a year.
Algemio swallowed seven and a half Golden Krust specialties in less than five minutes.
Ironically, Algemio hails from Jamaica.
Not the Caribbean island, but the New York borough alternative in Queens.
"My tummy takes me places," the winner said before leaving the stage.
The fast-chewing champ beat out his all-male contenders to win the impressive trophy handed to him by the BP.
"The Jamaican patty is to Labor Day what the hot dog is to the Fourth of July, and it's time that this staple of New York City street food culture has a top-flight competition of its very own," Adams said.
Adams emceed the pre-Labor Day weekend 2015 event held on the grounds of the Brooklyn Museum and prior to fulfilling his duties said: "This is one Brooklyn battle you won't want to miss!"
Jamie Andejar, 38, of East Flatbush and Crown Heights resident David Caicedo, 28 could not out-chew or out-swallow the medical technician who easily won the challenge.
Jamaica-born Lowell Hawthorne, CEO of Golden Krust Caribbean Bakery & Grill did not reveal whether or not his collaborative participation with the BP and WIADCA included all the most popular varieties of ground beef, chicken, seafood and vegetable.
But said "Brooklyn is home to almost 30 Golden Krust restaurants" and that he was certain each bite was "enjoyable ."
Allegedly an average 54.8 million Jamaican patties are consumed from Golden Krust every year.
The following day, Labor Day, Jamaicans who usually interject their home-grown reggae genre into the mix of soca/calypso sent their flag flying using drones that hovered over a number of floats.
Although reggae seemed absent from the parade this year, enterprising Jamaicans used the mobilized hover-craft to register presence and creativity.
To add to the spectacle, one of the operators wore a black, green and gold T-shirt, marked by a borrowed logo from a recent hit film which read "Straight Outta Jamaica."