Jamaicans are once again expecting history-making performances by Jamaican athletes at the 2023 World Athletics Championship in Budapest, Hungrary.  800-meter specialist Natoya Goule-Toppin takes the stage at the Championships with an aim to secure a medal in her event. No Jamaican athlete has ever secured a medal in the women's 800 meters at this prestigious event, but Goule-Toppin is determined to change that.
Aiming for the Record Books
Goule-Toppin is set to step onto the track for the first round of the women's 800 meters on 23 August. This 32-year-old athlete has her eyes set on not just reaching the final, but claiming a spot on the podium. A medal win would not only mark a personal achievement but also make her the first Jamaican to triumph in this challenging event.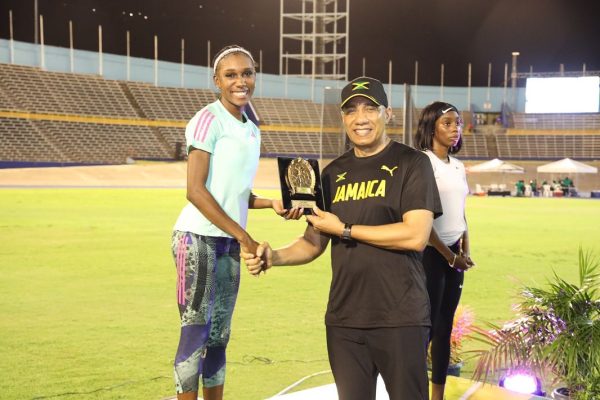 Read: Meet the Complete Jamaican Contingent to the 2023 World Athletics Championships in Budapest
Formidable Form and Determination
Goule-Toppin's journey to this point has been marked by resilience and remarkable performances. Despite finishing sixth in Doha in 2019 and fifth in Eugene the following year, she has shown incredible progress this season. As the national record holder with a time of 1:56.15, Goule-Toppin's dedication to her craft is evident.
She has been a force to be reckoned with on the Diamond League circuit, participating in five competitions and securing a leading position with 30 points. Her consistent efforts have been rewarded with impressive results – a fourth-place finish in Rabat, third-place finishes in Paris and Lausanne, and a second-place finish in Silesia and London. Notably, her performance in London, where she achieved a season's best time of 1:57.61, showcased her potential for greatness.
Favorable Opportunity
With Athing Mu of the United States, the defending champion, unlikely to defend her title in Budapest, the path is clearer for Goule-Toppin. Currently ranked fourth in the event, her chances of making history have been bolstered by this absence. The stage is set, and the Jamaican athletics community eagerly awaits Goule-Toppin's quest for a historic medal in the women's 800 meters.
Photo – Official Instagram Page for Natoya Goule-Toppin