When was the last time you used your brain to have fun?
Now, this may sound like a trick question as, 'brain' and 'fun' in the same line sounds weird! I know but follow the One Stop Jamaica crew….to 42 Elizabeth Avenue the lot which houses Jamaica's first escape rooms, Puzzle It Jamaica. We were fortunate enough to meet the co-founder of this recreational center, Jabari Ennis who was more than willing to satisfy our curiosity about his escape rooms. The following was our conversation with Mr. Ennis…
How long has Puzzle It Jamaica been in operation?
We had a soft opening in June 2016. Technically, almost two and a half years ago but the official launch was in November 2016.
So of all the entertainment business ideas, why did you decide to launch Puzzle It Jamaica?
At the time, me and Yanique Levy (one of the co-owners), we were going to an event – it was a pre-wedding event and they decided to take us to an escape game in Florida…It was 2016 and not many of them were around and we went and had a great time. (During the game), we learned about the other people that were in the group with us because you know the goal is meeting people that were going to be at the wedding and it was a great way to really know others very quickly and know them very well.
So I said, 'we should do this in Jamaica', and the idea just never left. You know some ideas, you don't do it, we actually followed through and that's how it started. We realised that Jamaica didn't have anything like this and that was the main reason why I figured – you know, people always looking for something to do in Jamaica…You know, people always going to parties, you can go to the movies and more parties if you were trying to mix it up.
Parties to Movies and back…I know the routine all too well. Now for my readers who aren't so familiar with escape rooms. Describe the type of recreational activities offered at Puzzle It Jamaica.
Puzzle It is an interactive concept where players race against the clock to escape from a room. The room is themed and arranged with fun puzzles based on the theme for players to solve and successfully escape. The players are assisted with clues and have a great time challenging themselves. I want the idea of using your brain to entertain yourself to become a thing for Jamaica. Puzzle It is here to prove that we can have fun and stimulate our critical thinking skills at the same time.
Stimulating our critical thinking skills…Why is that so important to you?
 It is important to me because a lot of times, not just the kids but the adults, we kind of get complacent in terms of having critical thinking skills. And to me, lack of critical thinking is the reason why we have a lot of problems in Jamaica today; from the government all the way down, even in our schools….(while you're) in the (escape) room, you will have a problem that you may need to solve when you go home today…so if you can solve those types of problems (during the game), you might make better decisions in life. I don't wanna make it sound so cliché, 'make the world a better place' but you know.
Now of all the locations, why did you open these escape rooms in the hustle and bustle of Kingston?
That is a hard question. We wanted to put it in Mobay and Ochi (Ocho Rios). We were looking at the tourist area because escape rooms are not known in the Caribbean very well. It's a foreign concept that came from Japan and then it started in Europe and it got popular recently in America…(then) we decided that we were going to try and not focus so much on the tourist (demographic) because then we would have to continue to find new people who are coming off boats and hotels.
We wanted to give Jamaicans the experience and not the same people coming from Japan and Europe. I knew it would be a harder task but I knew that Jamaicans in general when they catch on to something, they really grab it and run with it.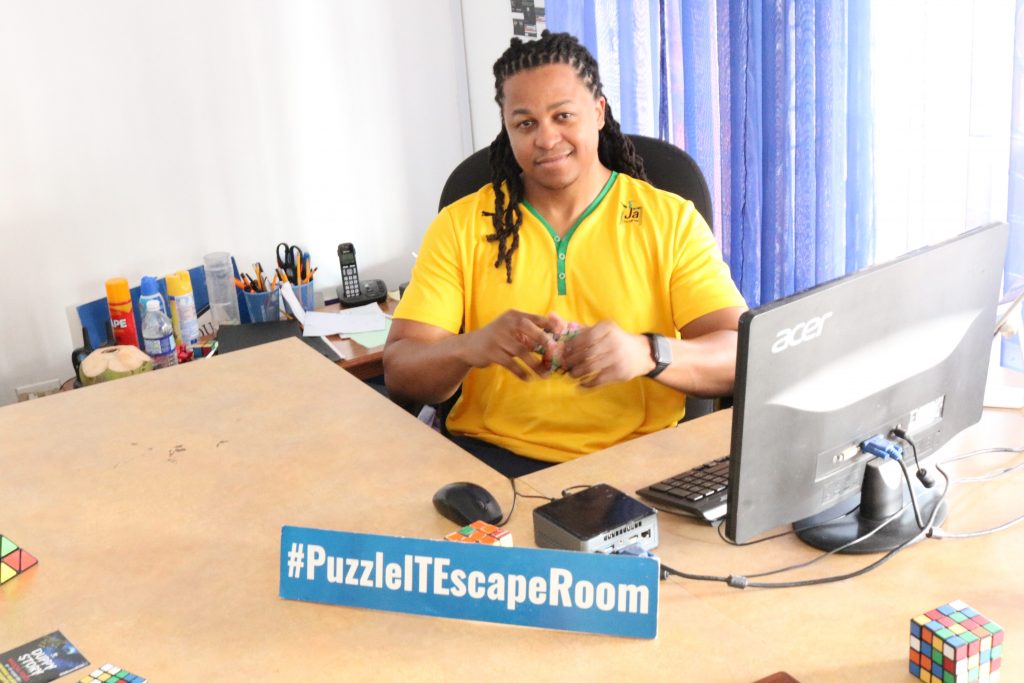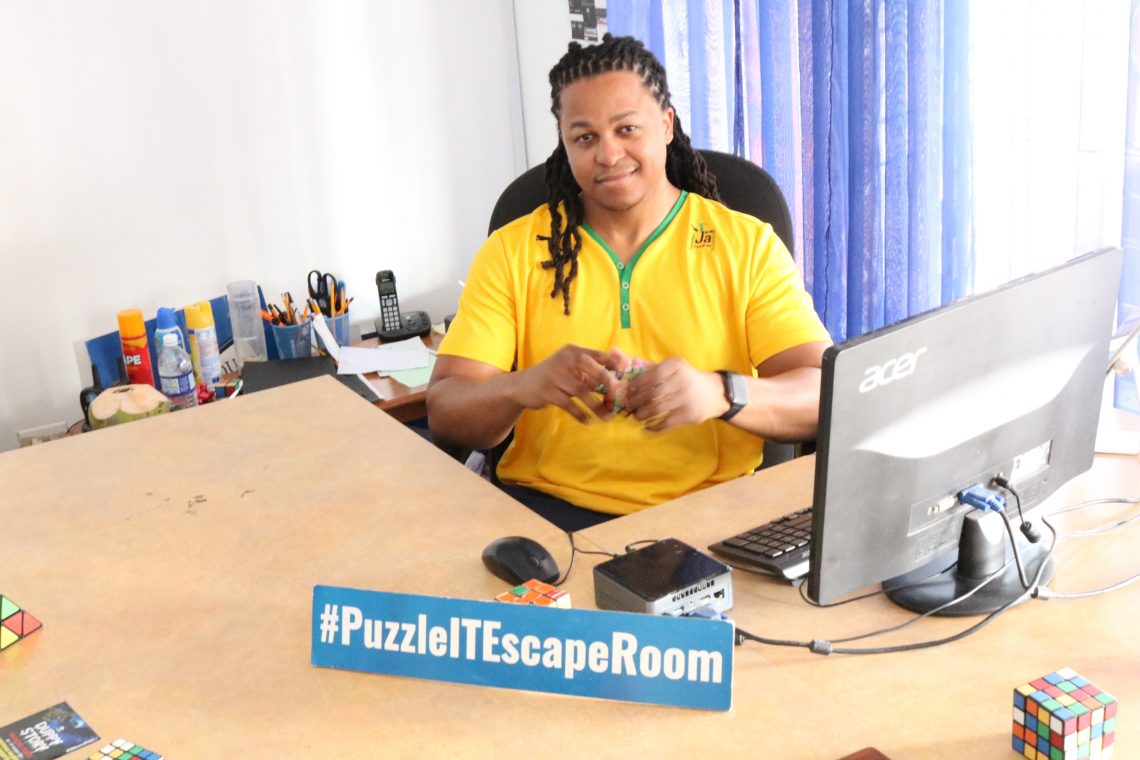 Who can play at Puzzle It Jamaica?
 Everybody. I would not say we target anyone. We definitely go high and low, far and wide. We look for corporate groups – schools, sports clubs, businesses, families, any and everybody that would be interested in it. We don't have an age range; we don't have a specific demographic.
Even a baby?
Yes, we have had babies in the room. Let's say a family wants to go and play and they have a babysitter or if the parents are willing to bring the child in with them and supervise the child.
It's a family thing and it's rated E for everybody….we definitely try to accommodate (persons with disabilities) as well.
And it's a team effort. How many people can play a puzzle game at a time?
It's one room at a time with many puzzles in there and it depends on which room you play. There is a 30-minute room, (Framed) that you can have up to 6 people in there at a time and we have two 60-minute rooms (Rum Hangover and Ward 21) that can accommodate 8 people at a time. Sometimes people squeeze in their friends and the room has 8 or 9 persons but the official limit is 8 people for the big room, and 6 people for the small room at a time.
Everyone wants to know, how affordable is it to play at Puzzle It Jamaica?
For the 30 and 60-minute rooms, the cost is JA$1,000 and JA$2,000 respectively per person and children under 7 (years old) play for free.
How do you keep your puzzles fresh so that players will want to return?
Good question. The plan is that we are changing our rooms periodically. We started off with only two rooms; we started off with Framed and Rum Hangover. As we went along, within a year we open up the third room, Ward 21. Our plan now is to keep it fresh. It is not as frequent as new movies in a theatre but at the same time, there is gonna be a new theme periodically that people can come and play again.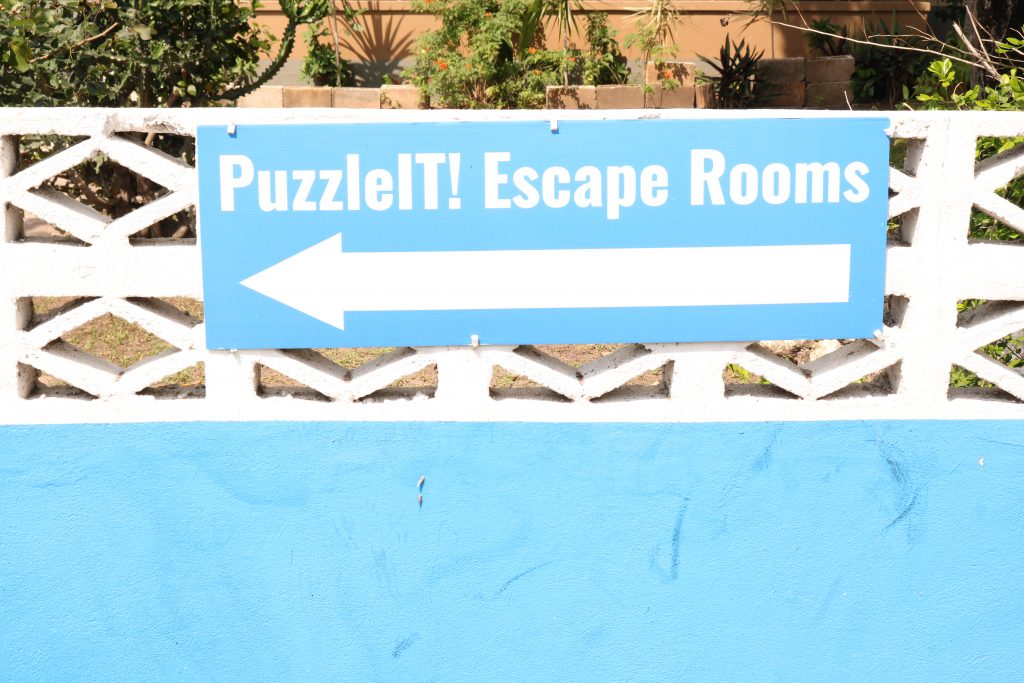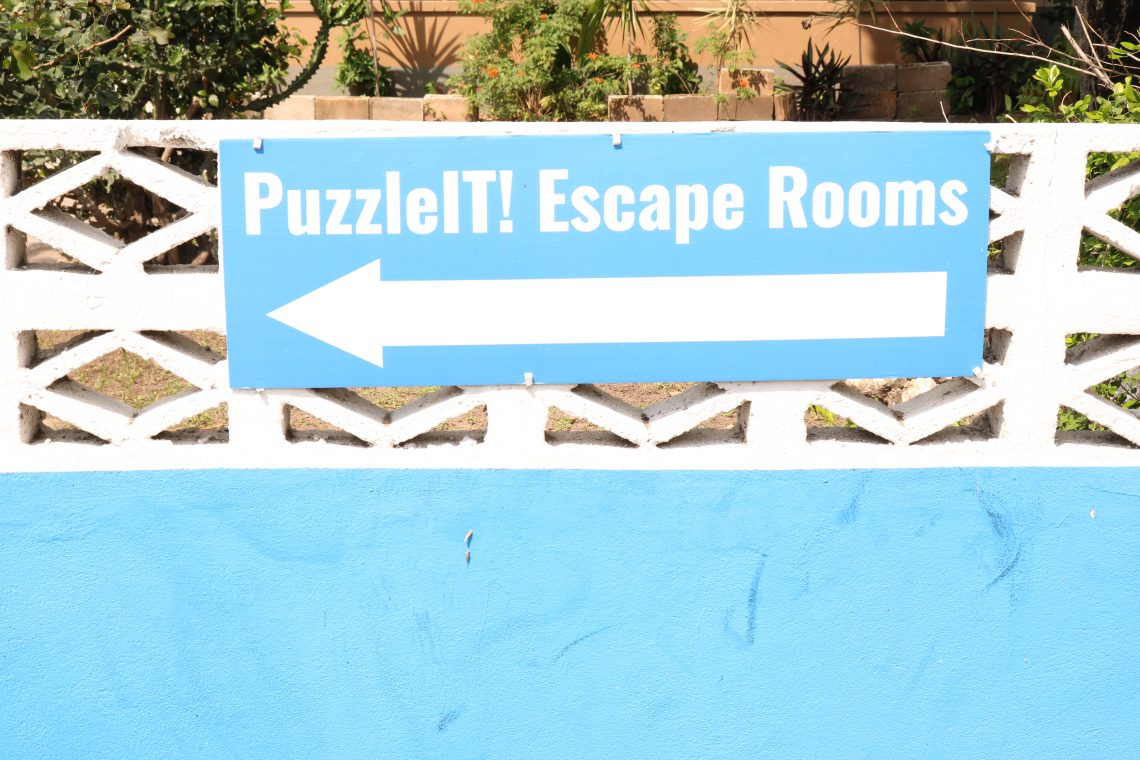 If players escape the puzzle, what do they win?
 Pride and bragging rights (chuckling). One of the silent investors…well he is one of the designers of the room, my brother, he and I went to a conference in 2016 to learn about all of this. We went over to Amsterdam and they taught us how to make escape games repeatable and successful. One of the things is you don't want to give too many material rewards for escaping because that takes away from the actual fact that you escape.
And finally, for Jamaicans living overseas who want to experience 'authentic Jamaica' when they visit the island, why should they come to Puzzle It?
We have tried to structure each one of our games around Jamaican reality.  Rum Hangover, it's Jamaican. Ward 21…Some people think I was talking about the dance group – we are talking about the ward up by UWI Hospital. And we make sure each theme has a very Jamaican feel to it and then there are even sound effects; people in the room talking to you and talking about stuff in Patois, it is much localized. So if you come here, you gonna feel like you're having a Jamaican experience but it's still an escape experience.
Thank you for answering my questions Jabari and I can't wait to solve my puzzle!
NB. The One Stop Jamaica team registered to play Rum Hangover…will we escape in time?
Check out part two of our two-part feature on Puzzle It Jamaica to find out.
And check out their Facebook and Instagram pages.
About "One Stop Jamaica"
Why vacation anywhere else? Jamaicans.com and our sister blog, Livewellja.comare taking you on a journey around the island; making stops at the best hotels, restaurants, and entertainment spots in Jamaica to remind you why this small, Caribbean territory can be described as an island paradise. If you would love to be featured, please contact us.