Our oven-baked breadfruit recipe is quick and easy for those who do not have the ability to roast a breadfruit outdoor. Even though it may not have that smoked taste it is still a delicious side dish or appetizer with Ackee & Saltfish or Callaloo.
INGREDIENTS:
1 Mature Whole Breadfruit
1 Teaspoon vegetable or coconut oil.
Alumni foil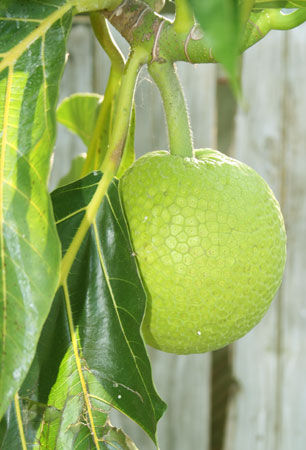 METHOD:
Preheat your over to 425F

Rub the outside of breadfruit with the oil

Wrap the breadfruit completely with the foil wrap

Bake for approx. 1 hour

Use a skewer to check if cooked.

When cooked use potholder to

remove the foil wrap, then

hold and peel off the skin.

Cut in half.

Cut out the 'heart' (the uneatable portion in the middle with seed).

Cut breadfruit into pegs and serve.