The annual Penn Relays Carnival at Franklin Field at the University of Pennsylvania began with chilly temperature, rain, and clouds. But that did not stop the athletes from Jamaica, both high schools, and in colleges from shining. The event closed on April 28th with sunny 80-degree weather.
The 124th staging at University of Pennsylvania campus was a dogfight. With the likes of Calabar high school, St Elizabeth Technical (STETHS), Jamaica College, and Kingston College the struggle for dominance in track and between American and Caribbean athletes was in high gear.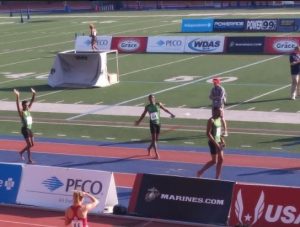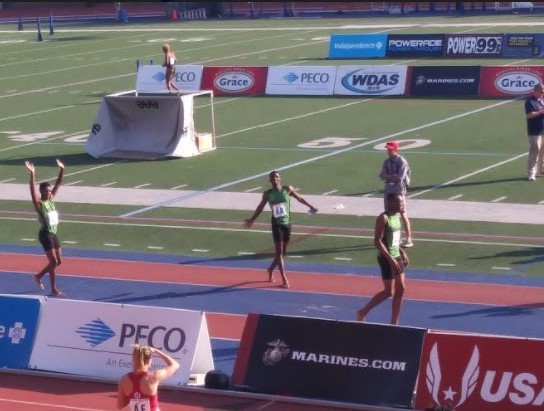 There were teams from the Caribbean and Africa, including from South Africa, Namibia, St. Vincent, St. Croix Education, Virgin Islands, Barbados, Guyana, Turks & Caicos, Trinidad, and the Bahamas.
former Edwin Allen student Shannon Kalawan, now representing Saint Augustine University, topped the College Women's 400m Hurdles Championship in 57.30. Candice McLeod of UWI was second in 57.78
The women's 4x100m Championship of America Invitational, the Auburn University Tigers led by the quartet of three Jamaicans Renee Shaw, Jonielle Smith, Dominique Bullock, and Natalliah Whyte took home the gold with their time of 44.14.  For the high school girls 4x800m Championship of America, Holmwood Tech extended their historic dominance for a record 11th time winning in 8:48:33. This set the stage throughout the three-day carnival for a tremendous championship.
High School Girls 4×400. St Catherine HS 3:57.31- Bellfield 4:03.62- Holmwood Tech 3:39.82
Jamaican high schools delivered jaw-dropping series of relay running. Hydel High School with the ace   quarter-miler Shiann Salmon on anchor won the 4x400m Championship of America for the high school girl's in3:36.38.Holmwood Tech. finished second in 3:36.60 with Bullis taking third in 3:41.51. Hydel won the same event at Champs in 3:35.15.
Jamaica's Calabar is now the winningest Jamaican boys' school at the Relays, with 15 championships over the last 40 years. St. Elizabeth Tech and St. Jago has won 11 each, Kingston College and Camperdown 10 apiece.
In the Championships of America girl's 4x100m relay Edwin Allen high school, with rising star Kevona Davis, retained its fifth-straight and seventh overall title with a time of 44.79.
According to dyestat.com Calabar ran the greatest set of relays in high school history as they swept all three relays, the 4×100, 4×400 and 4×800. The quartet of Rosean Young, Christopher Taylor, Tyreke Wilson, and De'Jour Russell, won the 4x100m in 39.51. Their winning time at Champs was 39.43. Kingston College, was second posting the second-fastest time in the Penn Relays history, in 40.13, and Jamaica College, 40.47, finished third . Five Jamaican teams in the final including Papine, 40.86, and St Jago, 40.88 seconds, post under 41.seconds.
Jamaican high schools dominated the Championship of America 4x400m relay final. Calabar won the race in record-breaking style. With impressive splits by Malik James King 47.6, Anthony Denver 45.5, Shamar chambers 45.82 and anchor Christopher Taylor who a blistering run 44.84, they had the large crowd in a frenzy as they stopped the clock at an amazing 3:03.79 – the fastest time ever by a schoolboy team in the event. Christopher Taylor wins Athlete of the Meet at Penn Relays after a record run.
They erased their own one-year-old record by over six seconds, took five seconds of the national record, the high school world record of 3:05.04 they set in February. Petersfield, with ace quarter miler Antonio Watson (PB 64.56) finished second in 3:09.50, ahead of Kingston College, 3:09.69. Jamaica College was fourth in 3:10.29; Holmwood fifth in 3:11.35; Edwin Allen sixth in 3:13.37, and Rhodes Hall eight in 3:22.44
In the 4x800m Calabar obliterated the old record of 7:30.67, set in 2009 by Ablemerie out of Virginia, with a new mark of 7:26.09. St Elizabeth Technical finished second in 7:27.54 –and Jamaica College was third in 7:32.32.
In the field events, Kia Chang of Jamaica's Calabar won the discus title with 64.79m. (212-6). He surprised defending champion, Roje Stona of St Jago, who was second with 63.39m  while Phillip Barnett of Excelsior (61.90m) finished third.
High School Boys' Discus Throw
Lushane Wilson of St. Jago captured his second high jump title with a clearance of 2.16m (7-1). Kingston College's Wayne Pinnock, set a record in the boy's long jump winning with 7.88 meters to erase former Calabar athlete Maurice Wignall's 7.68m, set in 1994. Calabar's Alexander Thompson was second with 7.47m. Cornwall College's Owayne Evans captured the triple jump, with a mark of 15.25m, as Malik Cunningham of Jamaica College was second with 15.14m.
Discus Throw Girls
Shanice Love Florida State 56.10m (184-0)
Girls' Triple Jump Championship
Lotavia Brown of Edwin Allen won the High School Girls' Triple Jump Championship with a leap of 13.16m. She beat her teammate Ackelia Smith 13.10m
Girls' High Jump Championship
Janique Burger of Edwin Allen wins her 2nd straight High School Girls' High Jump Championship title with 1.82m. Lamara Distin of Vere was 2nd with 1.75m and Shantae Foreman of Excelsior 1.71m
Women's Long Jump
Tissanna Hickling of GC Foster College won the College Women's Long Jump Championship. Her winning mark was 6.46m.
Shot Put Rasheeda Downer Kingston College (East Kingston, JAM) 19.27m (63-2.5)
C.J. Licata Gill St. Bernard's (Gladstone, NJ) 19.24m (63-1.25)
Courtney Lawrence Petersfield (Westmoreland, JAM) 19.08m (62-7)