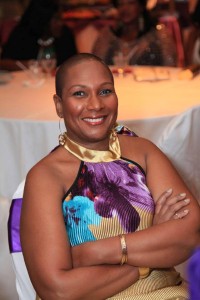 This week on People Profile: Faith Simpson​ (Breast cancer survivor).
Most people diagnosed with breast cancer will live for many years.
Overall, the five-year relative survival rate for breast cancer is 89 percent and the 10-year relative survival rate is 82 percent. It is important to keep in mind survival rates vary depending on each person's specific diagnosis and treatment. For example, the five-year relative survival for stage II breast cancer is 92 percent. With recent advances in treatment and early detection, survival rates have significantly improved.
Survivors face many challenges, however, many people who are employed at the time of their breast cancer diagnosis return to work after treatment.
Dr. C
This week on People profile we have as our guest Faith Simpson a breast cancer survivor: Welcome to People Profile Faith……..
Faith Simpson
Thank you very much for having me Dr C. I have been following People Profile and never dream that I would have been invited to share my journey. So it is indeed a pleasure to be speaking with you.
Dr. C
Yes absolutely, it's been a while since we last spoke (Faith and I went to the same high school back in our island of Jamaica). Faith I know your struggle has been difficult but I have not traveled in "your shoe". Could you please share with us your experience with breast cancer……..
Faith Simpson
I was diagnosed with Stage II breast cancer on February 14, 2002 (what a great Valentine's Day gift!) at the age of uuhhmm (whisper 38 – I'm forever 16) lol. A lump was detected and I immediately went to my primary care doctor who was alarmed at the test result. I was scheduled the following day to see an oncologist and a surgeon. The plan of treatment was three months of chemotherapy to shrink the tumors (yes, two tumors 2-3 cm each), surgery, 3 more months of chemotherapy followed by 6 weeks of radiation then five years on Tamoxifen.
Dr. C
Wow! That must have been a shocker?
How did you feel when you first received the news?
Faith Simpson
Confused, why me? How am I going to manage being out of work with an 18 year old and 6 year old? The first person I told after I got the diagnosis was my best friend Rocke Evans, he cried and I had to reassure him he was not going to lose his best friend. My spirit was only lifted when I heard I would receive a tummy tuck and breast augmentation from it lololol (my slight rainbow).
Dr. C
I know that the thought of cancer would drive fear even to the strongest person. Tell me about your treatment process. Any obstacles? How did you overcome these obstacles especially from a psychological perspective?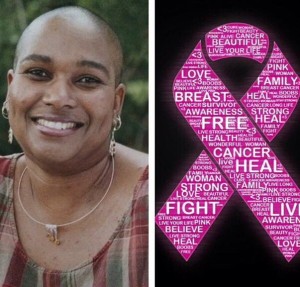 Faith Simpson
My first round of chemotherapy started on March 1. The obstacles I faced during chemo were keeping my white blood cell count at a certain level as I couldn't receive chemo if it was too low. Having small, rolling, deep veins was another challenge (plus me fraid a needle) and I had to be fitted with a port. Coming from the island of Jamaica where the "big C" was viewed as a sure death sentence I was scared.
In reality, because the chemo drugs attack your immune system, you suffer from vomiting and diarrhea which results in weight loss. The worst things about chemotherapy are: your food and water taste like rusted iron (hence you don't eat). Your nails turn black and become brittle, your foot bottom peels and frequent mouth and head sores. Brushing your teeth with only baking soda as regular toothpaste was too harsh.
My 6 year old daughter was not pleased with my bald head and told me when I took her to school to leave her at the gate and she would walk in and I was not to come out of the car to pick her up in the evenings, she would watch from the door and let the teacher know when I was outside. Since then I have grown back my hair and shaved it again…looking cute now huh? lol
The mastectomy was easier to deal with than the chemotherapy.
Radiation left my chest burnt and dry (cold compresses of aloe didn't help as I thought it would), my body fatigued, Ensure became my meal of choice.
I had to wear the prosthetic which was very uncomfortable for six months before I did my reconstructive surgery. There were 6 weeks of physical therapy, three times a week after the reconstruction. The reconstructive process took a year to be completed.
The strangest thing was I found strength I never knew I had. During my diagnosis and treatment I never shed a tear until one day at home in my sleep I awoke crying. Why? I felt my mother's caring hands rubbing my feet the way she used to whenever I was sick (rubbing them with rum)…RIP ma…. Another obstacle was medical insurance, as after all my treatments I had almost tapped out on my lifetime health coverage of US $500K. I also had to explain the appearance of my nails at the manicure and pedicure saloon.
To date I do annual mammograms, follow-ups with my oncologist and radiologist.
Dr. C
$500k in medical insurance??? That's a lot! Thankfully you had insurance. Is there a family history of breast cancer?
Faith Simpson
I was fortunate to have had medical insurance provided by my job. There is no family history of breast cancer, hence the confusion and disbelief.
Dr. C
Outside of the medical environment, did you have a supportive network? If not, how did you overcome any form of support or lack thereof?
Faith Simpson
I had a supportive network of family, friends, and coworkers. My biggest supporters were my three sisters who went with me to each doctor's visit, took me grocery shopping, brought me cornmeal porridge every day. Coworkers who donated sick time to me so I would be paid while I was recovering.
Then there was a male friend – I was told not to call his name… lololol– whom I met the same month I was diagnosed who either took me to my chemo treatments or picked me up when my sisters' schedule wouldn't allow them to. He was very inquisitive and wanted to know the process so he'd sit and watch the preparation process and watch me drift off and then return to pick me up an hour later. Sometimes he would arrange for other friends to meet on a Friday night to hang out. He also encouraged my return to school to complete my BBA. This same friend at the prayer dinner, when everyone was asked to give words of encouragement said, "Faith, never ask why me? Ask why not me?" Of all the words of encouragement made that night, that one is the only one I remember verbatim. BTW…this nameless friend needs to assist me with the repayment of my student loans! Lolololol…
The teachers at my daughter's school provided emotional support for her and helped her with transportation to and from school.
The day I went in for surgery I had friends (Leonie Beadle, Clarice McKenzie, Jenieve Watson, Gwen Powell-Grant​ , Candice Davis) who took time off from work. My sister Valrie Simpson​ brought sandwiches for everyone. The nurses at Broward General were kind. Valrie would not allow Dr. Guarneri to proceed with surgery until we prayed– she even included all the nurses, doctors, the porter, anyone who had touched me or my chart.
Dr. C
That was very nice of your friends Faith. It showed that you were well supported, especially with that so called "nameless" friend lololol. Were there any programs or services offered to you that would help with the treatment process?
Faith Simpson
I went to Gilda's Club in downtown Fort Lauderdale which offers free programs to cancer patients. They had Tai Chi, Reiki, cooking classes, potluck dinners, and breakfast for spouses, games for kids. The Benevolent Ministry at Calvary Chapel Fort Lauderdale sent members of that ministry to pray for me. The American Cancer Society provided free prosthetic and information on how to cope, etc.
I participate every year in the Susan G. Komen Walk/Run for a Cure held the 3rd Saturday in October at Bayfront Park in Miami.
Dr. C
Yes, I am planning on participating this October as well. I know the challenges of a breast cancer survivor must be difficult. What are some of the challenges you faced as a breast cancer survivor?
Faith Simpson
The challenges I face as a breast cancer survivor are systemic lupus which makes me fatigued all the time and in constant pain but I smile through it. The medications I take on a daily basis – I incorporate natural remedies. Keeping track of all the doctor visits and lab work …. Uugh!!
Dr. C
I can imagine that you must engage in self-discipline to properly manage your life with its many challenges. Could you share with us Faith, a time when things didn't go the way you wanted—
faith Simpson
The loss of my hair was hard for me. I remember at the age of 12 I told my mother that I wanted to have locks. Her reply "over my dead body". Needless to say, when my mother passed in July, 1999 two weeks after her funeral I locked my hair. Three years later I lost all my hair; was my mother punishing me? I later embraced my baldness – bald IS beautiful – I embraced that other side of my African heritage.
Dr. C
On a scale of 1 to 10 how happy are you in your recovery?
Faith Simpson
How about 100! lol – glad to be alive to see my children grown, son still being a Mama's boy at 30 lolol, daughter entering her 3rd year in college and being independent, and my adorable grandson entering 3rd grade.
Dr. C
Oh yes, the real love of your life…grandson Jesiah! Lol. What is the single most important advice you would like to share to other newly diagnosed breast cancer patient?
Faith Simpson
Look at life with a positive attitude; make the most of life no matter how long the journey will be. Don't be afraid to pray, ask for help. Surround yourself with only positive-minded people.
Dr. C
Now that diet is essentially a mainstay in your life. Giving up certain food is a must. What is the one food you wouldn't want to give up?
Faith Simpson
Curry lobster, curry goat, curry shrimp, roti, roast breadfruit, takari, rundown, sweet potato pudding wid hole heap a hell pon top, goat head soup, teriyaki salmon, quinoa salad, ackee and salt fish, mango chutney wid hole heap a peppa…. Uuhhmm, sorry, you said one food? lolololol….
Dr. C
Wow! I can see that math wasn't one of your favorite subject! Lolololol….If you could have a conversation with God what would you say to him?
Faith Simpson
Thank you God for all the mighty things you have done. The experiences you gave me made me a better person. Thank you for always being by my side.
Dr. C
What a wonderful God we serve! Faith Simpson, It was a privilege having you on People Profile. We know your struggles continue and so we wish you all the very best in your pursuits.
Faith Simpson
Dr. C it was my pleasure being on People Profile and I would like to thank you and your team on the wonderful work that you are doing and I look forward to your weekly post.