The Poet Laureate of Jamaica, Lorna Goodison, has received the prestigious 2018 Windham-Campbell Prize awarded by Yale University. She was among a group of eight writers to win the honor, which is given for literary achievement or promise and includes a prize of US$165,000 to each individual to support their writing. Upon receiving the award, Goodison said it would give her the time and space to continue writing. She also said she was honored to win the prize and gave thanks on "behalf of me and my people." Goodison's work includes fiction, non-fiction, and poetry. Among her writings are I Am Becoming My Mother; From Harvey River; Turn Thanks; To Us, All Flowers Are Roses; and Controlling the Silver. Her most recent book of publication is her Collected Poems, which was released in 2017.
Goodison was recognized for her achievement in a tweet from Andrew Holness, Jamaica's Prime Minister, who wrote,"Congrats to Lorna Goodison, Jamaica's first woman Poet Laureate, on being one of the winners of the prestigious Windham-Campbell Prize." The prize is one of most generous literary awards in the world and will be conferred on September 12, 2018.
In addition to Goodison, the other prize winners include, in drama, Lucas Hnath (United States) and Suzan-Lori Parks (United States); in non-fiction, Sarah Bakewell (United Kingdom) and Olivia Laing (United Kingdom); in fiction, John Keene (United States) and Jennifer Nansubuga Makumbi (Uganda/United Kingdom); and in poetry, Cathy Park Hong (United States).
The Donald Windham Sandy M. Campbell Literature Prizes is an American literary award which offers prizes in four categories: fiction, nonfiction, poetry and drama.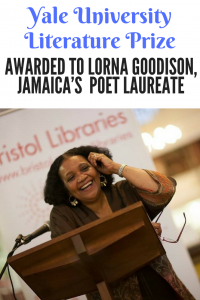 Photo Source: Lorna Goodison