This week we have a conversation with the Upstate cats a fresh, innovative, music group from upstate New York. Their sound is soulful hip hop infused with feel good Dancehall Reggae rhythm and vibes along with a smooth glaze of R&B. Here is our conversation with Upstate cats.
Q: How did you guys meet and when was Upstate Cats was formed? How did you come up with the name?
We have known each other since we were teenagers. We have always been creating music separately as we were growing up so when we put it together it was just a natural fit. The Upstate Cats are a music group composed of artists, musicians, and producers. Upstate Cats the music group are fronted by Mr Upstate and The Almighty Schizo(pronounced Skit-so). The music group itself was officially formed last year but the production team has existed since 2005 and has featured on many highly recognized projects. Whenever someone says they're from NY everybody assumes New York City, not realizing New York is a state composed of so much more. We come from a city in Upstate NY called Rochester. On the entertainment side of things the influential names that came from where we're from are R&B Songstress Tweet, model Tyson Beckford, Oscar winning actor Philip Seymour Hoffman, and many others. Our city is also known for groundbreaking businesses such as Kodak, Bausch & Lomb, Western Union, and French's Mustard to name a few. The Cats part of our name was influenced from the fact that we are independent thinkers that can hold our own but are very powerful as a unit just as cats are individually and in their prides (lions,tigers,etc). Also no matter what we go through we always find a way to land on our feet. Therefore we are The Upstate Cats, and now it's our turn!
Q: How are you connected to Jamaica, the Caribbean and reggae?
Schizo: I was born in Kingston 11 Jamaica W.I and Reggae music was my soul       food.
Mr. Upstate: I was born and raised in Rochester, NY. I grew up with very close friends that I consider family who are Jamaican. So I've grown up loving porridge for breakfast, oxtail, rice and pea, you name it I'm on it lol.
Q: What was your first gig and what was the experience like for each of you?
Our first gig was actually pretty funny to us. We performed at a club in Queens that was hosted by a popular radio station. Performance wise we felt we didn't give our best because we had a very hectic schedule the night before and got very little sleep. This caused us to have zero energy on stage. Ironically people were coming up to us after the performance saying how much they liked our sound and felt how real we came across lyrically. That let us know right there that if people were feeling us based on what was a mediocre performance for us, then we need to give it to the people strong from now on no matter how many people are watching or how tired we feel.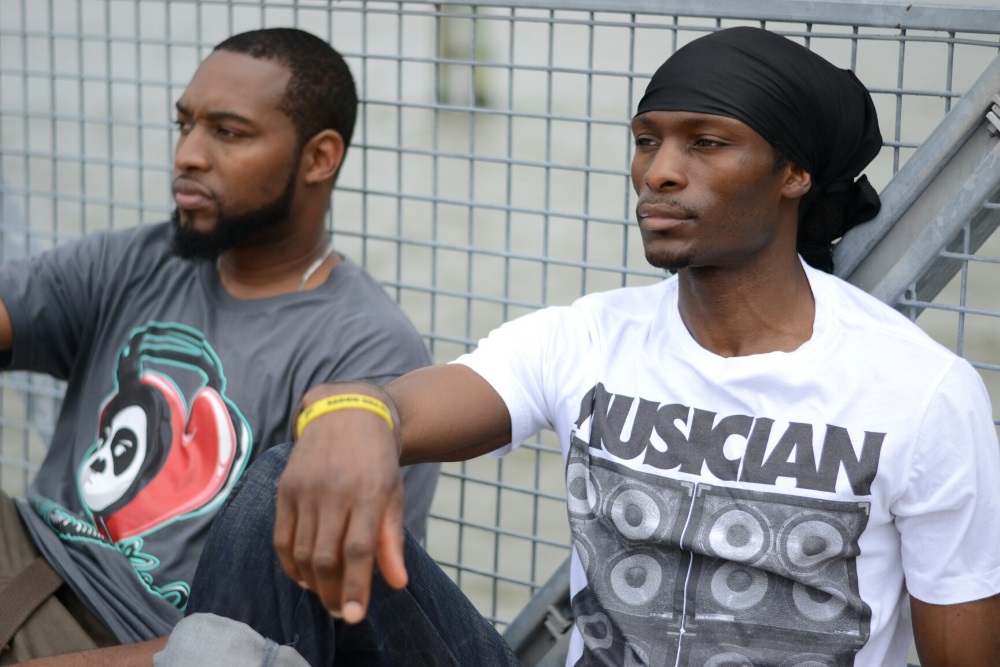 Q: How would you describe the style of reggae music you do?
The Upstate Cat sound is feel good Dancehall vibes from the 90's/early 2000s mixed with feel good Hip Hop and R&B and beautifully put together with today's music production.
Q: Tell us about your new single "Rolex wind"? Who wrote the song? What was your inspiration behind the song?
Schizo: Rolex Wind is yesterday's Hip Hop and Reggae vibe with today's flavor.
A feel good experience reintroduced to today's music lover. Mr. Upstate and myself (Schizo) wrote the song. Today's Dancehall (and Hip-Hop) is too harsh and offensive towards women and lacks lyrical substance in general. Reggae is one of the few styles of music that doesn't go out of style. Feeling good vibrations never gets old so it remains timeless. Henceforth Rolex, quality at it's best. Every woman loves to wind and have a good time when they go out, and Rolex Wind gives them permission to be sexy while being appreciated through our lyrics.
Q: Tell us about the upcoming album?
The album is going to be unlike anything anybody's ever heard. Our unique sound along with solid production should really please the ears that are ready to receive it. When you listen to the album you will be able to play it pretty much anywhere and in front of anybody because of how versatile our sound can be. The sound isn't too far to the left where it leaves people scratching their heads, but it will be very innovative. We understand we are leading a sound that will be new to most who hear it, so we want to give something new but familiar at the same time by touching on some of the sounds and vocal delivery of yesterday when music was in a better place overall.
Q: Any planned tours or performances this year?
Yes, shows are constantly be added to our calendar. We're in the middle of trying to lock a tour in now. We definitely would love to appear on someone else's tour as well, even if we opened the show. When we hit the stage we HIT THE STAGE no matter where we appear on the line up. Next stop for us is the New York Jamaica Jerk Festival in Queens New York. We will be performing on the Western Union Cultural stage.
Q: Who is the main songwriter in the group?
We write our songs together. We have a unique chemistry to where sometimes we don't need to be in the same place physically. We've written songs over the phone and through texts before. One of us may come up with a certain topic for a song but when the writing flows it flows from both of us.
Q: What are your thoughts on the direction reggae music is going?
It's a little too harsh, vulgar and violent. Good music is there and most of the artists are very talented. Many of them are doing what they think will sell or get themselves noticed by using the shock factor and push the envelope just to get a response out of people. Good, pure, honest, music will always catch people no matter how simple the song.
Q: What singers or reggae groups do you guys admire?
Bob Marley, The Stylistics, KRS one, A Tribe called Quest, The Black Eye Peas,Beethoven, Mozart, Jay-Z, Notorious BIG, Spragga Benz, Mad Cobra (the listgoes on and on…)
Q: Where do you see the band in 5 years from now?
 We're working hard to continue pushing our music until it becomes a household name! The Upstate Cats in general are a movement much more than it is music. We are moving strong in a few areas so with all that is in store we hope to have our vision realized to the fullest.
Q: Complete this. Growing up my hero was…
Schizo:  My Dad, … then Superman and Bruce Lee
Mr. Upstate: Definitely my Dad and still is. He has shown me what being a man is both professionally and personally.
Q: Thanks for the interview. Any final thoughts?
Yes. We just want all viewers and readers to be sure to follow and keep showing  love to The Upstate Cats. Stay up with us at www.ucmusiconline.com and at www.vpalmusic.com. The world is in a funny place right now and sometimes what is needed to get the culture through is a good song or songs. Well there's no time like the present for this need and we are fully capable and ready to lead the revolution back to a good place again. Long story short…get the Upstate experience and let The Upstate Cats be your soundtrack! Hooooooooooooooo!!