In this installment of Our Stories, dancer Alkaline describes a brutal lashing that changed his life….For many people, Jamaica is pictured as an island paradise – white sandy beaches, a beautiful and vivacious culture, rich and wholesome food, and attractive people. And while that image is not far from the truth, if the lens is focused on the inspirational stories of ordinary Jamaicans, you'd find a sharper, richer and truer image of the Jamaican experience…this is Our Stories!
Meet Nicholas "Alkaline" Spencer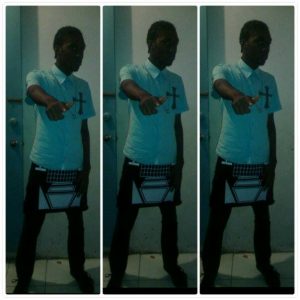 The 21-year-old dancer said one of his most vivid childhood memories is getting some proper thrashing from a security guard for trespassing on a private property. The young member of Team Lifeline Dance Crew, who was 14 years old at the time, recalled accompanying his mischievous friends on an unauthorized tour of an industrial processing plant in Kingston.
When he was exiting the private premises, he heard the sound of shattered glass followed by the screeching sound of an alarm. Double trouble!
Within minutes a security guard appeared forcing an abrupt end to their youthful escapade.
When I sat down with the skilful entertainer, he explained why, from that day, he stays away from idle company.
1. How did the glass break?
One of mi friend dem see wa computer in the office so him fling a stone and mash it. The alarm go off. When the alarm go off, one security did ova deh so we run go down a river, a swim fi little while.
Him (the security guard) come down dere wid him gun and ask,
'who mash out the glass? Unnu go pay the penalty'.
Him point out one (culprit) and den him point out the next yout'. Him ask the next two for mi and dem point pan mi inna di water so mi come out.
Him tell dem fi lie down pan di ground and start whip dem.
Him do di same to me. Him whip me, whip me hard wid it. Mi feel some pain when mi a go home.
2. So, did you protest?
No. Because if mi run, him would a shoot me with him gun. So mi just pay the penalty. From dat day mi dedicate miself seh mi nah follow no bad company.
3. Did your parents find out?
Yes. She (My mother) did find out but mi tell har dat a di last day she go hear bout dem tings.
4. I'm glad you learnt your lesson. Let's shift focus, how would you describe Alkaline, the dancer?
Well, me is a kind of flavour dancer…the nowaday movement wa yuh see Ding Dong a do.
5. Do you create dance moves?
Mi create whole heap a dance moves but mi nuh memba fi name dem. One name spider monkey.
6. Have any of your dance moves become popular?
No dem nuh go out yet.
7. Who is your dance mentor?
Mi teacher wa name Bukam. Him motivate mi inna di dancing. Mi wa tek it (dancing) to the world. Help mi mother. Mi wa be one a dem dancer wa travel.
8. What is your message to young persons who engage in vandalism?
To all young persons, vandalism is wrong it only a go mek things worst.
That's true Alkaline and thanks for sharing your story!
Follow Dancer Alkaline on Facebook
Our Stories is a feature which sheds light on real, social issues in Jamaica through the inspirational stories of Jamaicans with lived experiences. Are you a Jamaican with a story to share? Contact us [email protected]