In this installment of Our Stories, music producer Acheevha shares why he has not seen his family in 10 years ….For many people, Jamaica is pictured as an island paradise – white sandy beaches, a beautiful and vivacious culture, rich and wholesome food, and attractive people. And while that image is not far from the truth, if the lens is focused on the inspirational stories of ordinary Jamaicans, you'd find a sharper, richer and truer image of the Jamaican experience…this is Our Stories!
Meet Stanhope "Acheevha" Cooper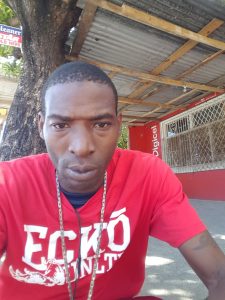 In 2007, the Canadian government ordered him to return to Jamaica after living in the North American country for 15 years. The music producer said he expected the deportation order because he has been charged multiple times for minor offences.
Stanhope left the island in 1992 with his family after they were granted Canadian immigration status. However, the daring life of meddling with illegal weapons and driving luxury cars resulted in his unfavourable record of multiple arrests and incarceration.
When I sat down with the music producer who now resides in White Horses, St. Thomas, he said he prays for the day when he is reunited with his family.
1.Did you fight the deportation order in any way?
I just packed my things and me and my mom drove to the airport. It was the first time I was really experiencing that…. I'll be away from my parents and not understanding what it would be like. When I got to the airport, I went to the immigration counter, I was half-an-hour late. It was 9:30 and I should have been there at 9:00. The immigration officer said he was not expecting me because a lot of persons would not want to be deported or turn themselves in. But I've been through programmes (while incarcerated)…which urged me to change my views on life as a youngster. The situations I found myself in were not the situations I wanted to be in….so I was compliant (with the deportation order).
2.So let's back track, were you incarcerated before you got that letter?
Yes. I was arrested and charged for (illegal) possession (of a weapon). It was on a greater level…armed robbery but we didn't physically harm someone. After going through the process of reintegration, when you go into the psychological assessment and the cognitive skills classes (while incarcerated), you learn that you might not physically hurt somebody but by you scaring somebody, for some persons they might be traumatized for life. Your words or the sight of a weapon might mentally scar someone for life.
3.How did you settle in Jamaica?
I have family here in St. Thomas. That is one of the reasons why my reintegration process was a lot easier.
4. Now your family in Canada, how do you stay in touch with them?
We have constant communication and we still have a close bond but I haven't seen them.
5. When you say your family is in Canada, who is there?
My mom, my sisters and my brother. I'm the eldest.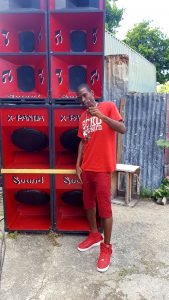 6. I hope you get an opportunity to see your immediate family soon. Now let's talk about your music career, what is your specialty?
I'm a studio engineer. I create rhythms, instrumentals. I write songs and I try to perform songs sometimes. I started writing poetry before I started to write songs and I realised the music industry is a (lucrative) business. I realised I have talent and I'd like to be a part of the business because survival is at the foremost end of life.
 7. Has your work ever been broadcasted?
Not as yet. Artistes have voiced on my rhythms. I continue to progress and they (artistes I've worked with) keep me going. I have a positive outlook in everything I do.
 8. So what do you hope to achieve in your music career?
I look to see myself working within a registered company. I would like to have my own studio. I'm still in Jamaica now but if I have to travel I would like to be where my family is because that is my network.
9. Finally, what is your message to Jamaican deportees who feel lost?
Give yourself a chance because that's what life is all about. I try to keep myself around people who are positive. I can't explain other people's situations but I think I would try to survive in all situations because we were born to survive.
That's right and thanks for sharing your story Acheevha!
Follow Acheevha on Facebook.
Our Stories is a feature which shares the other side of Jamaican entertainers: their innermost thoughts, inspirations and personal stories. Are you a Jamaican entertainer with a story to share? Contact us [email protected].