In this installment of Our Stories, reggae artiste, Kerry Starr explains why she returned home after leaving at age 21….For many people, Jamaica is pictured as an island paradise – white sandy beaches, a beautiful and vivacious culture, rich and wholesome food, and attractive people. And while that image is not far from the truth, if the lens is focused on the inspirational stories of ordinary Jamaicans, you'd find a sharper, richer and truer image of the Jamaican experience…this is Our Stories!
Meet Kerry-Ann "Kerry Starr" Morgan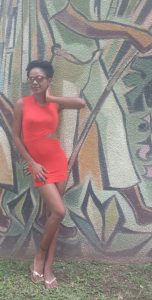 She started her adult life at age 21 and for many people that is an ideal age to venture on your own.  However, the former singer of the Groundation music group said she fled from her home because she feared being victimized by an area don. Without her mother's approval, Kerry rented an apartment on the other side of town and tried to make ends meet with her fledgling music career.
However, when I sat down with the recording artiste, she revealed that hard times forced her to return home couple years after.
1.What particular incident in your home community influenced your decision to leave?
In the area at the time, there was this guy who saying that, 'you not sleeping with anyone of us. What you doing? We going to rape you when you come in'
I got scared and I told my mother, 'hey I'm leaving'. After years I had to move in with her.
2. Why?
Because after touring and stuff like that…the job ended and I had to move in back to regain strength, just a crutch to lean on.
3. So why do you regret leaving home at 21 years old?
I could have owned a nice house already if I had my mother's care. If I stayed a lot of things would have worked out better but time will tell and you have to go through some of these experiences to really know yourself. (Looking back) I would have stayed and made a different situation but you know it's the ghetto and you have the fear of something bad happening to you…sometimes the first thing is to run away.
4. How did you regain strength when you returned home?
I started the artiste thing. I started the solo thing long before but that is when I started to put it into gear when my mother told me that,
'I know you are talented, you can do this. This is where you are at now but this is not where you will be 5 years from now…it's a growing process, start somewhere and know that you will be at a next level and a next level.'
Even though daddy was the person for the music, he died in 2005 so all that time it was her…her motivation.
5. Now tell me, who is Kerry Starr today?
I love life. I'm very talented, very creative. The biggest things about me are my family and my music. (Music) it teaches me about myself.
6. You are a Reggae and Dancehall artiste, why?
I fuse them. I will have a Reggae song but I write it like a Dancehall song. (The song is recorded) on a reggae rhythm but how I write it's like for a younger audience. Reggae doesn't have to stay old. Why we think seh it's an old genre? No! How you write your song, how you approach it, you can go from being a Tanya Stephens to a Lady Saw to a Marcia Griffiths to a Jazmine Sullivan…why do we have to stay old? Let's bring the music to a younger audience.
7. What do you write about to appeal to a younger audience?
Partying, having fun, weed. Just vibing and just being yourself and loving life.
8. Describe your most memorable performance as an entertainer.
I've had so many with Groundation. I've performed on Summer Jam, at the Apollo, in Amsterdam….you know the courtyard they use to have back in the days for the fights to death? I've performed in those back in Europe. A lot of different places, a lot of different achievements but it's still young for me. I'm not near where I want to be….I'm not pleased easily with myself because I have a lot in me and I have far to go.
9. As a female artiste, what are some challenges you face in the music industry?
Being taken seriously…I use to be a dancer so some people don't know I can sing. Some people want to put you in a bracket… Kerry-Ann Morgan aka Kerry Starr is already a brand out there representing Jamaica at huge festivals. I must have been doing something right to be doing that. I want them to see that.
10. Now what is your message to young adults venturing on their own?
Get to know yourself and from that, know the persons who you should be around. Be a good judge of character. If people show you that they are not real, don't expect a miracle.
 Great message and thanks for sharing your story Kerry Starr!
Check out Kerry Starr's Cupid
Follow Kerry Starr on Facebook and Instagram.
Our Stories is a feature which shares the other side of Jamaican entertainers: their innermost thoughts, inspirations and personal stories. Are you a Jamaican entertainer with a story to share? Contact us [email protected]