In this installment of Our Stories, Jamaican style enthusiast, T'Ka Walters explains why fashion designing is her destiny. For many people, Jamaica is pictured as an island paradise – white sandy beaches, a beautiful and vivacious culture, rich and wholesome food, and attractive people. And while that image is not far from the truth, if the lens is focused on the inspirational stories of ordinary Jamaicans, you'd find a sharper, richer and truer image of the Jamaican experience…this is Our Stories!
Meet T'Ka Walters- CEO of Alyssa Chalayne Designs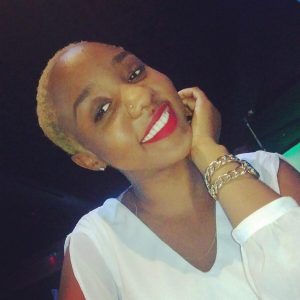 In 2013, T'Ka debut her first, monochromatic fashion line, Pink Instinct at the Montego Bay Community College in St. James. The daring, style influencer and fourth-year fashion designing student said her monochromatic, pink fashion line that was inspired by the flamingo landed her second placing in her final year class and a fresh batch of customers who were eager to allow her to work magic on their wardrobe. That was the start of T'Ka's exciting career in the local, fashion industry.
1.Amazing! Why did you decide to produce a monochromatic fashion line?
I did a monochromatic fashion line based on my love for the Flamingo because you know the Flamingo has a lot of shades of pink so I said, 'you know what, I want to do a line to represent that'. Also, pink really stands out and it's a tribute to the breast cancer survivors. For Pink Instinct, I had 23 pieces of clothing ranging from swimsuits to casual wear to formal wear; casual and formal wear for men, just a variety of clothing.
2. Why fashion designing?
From I was young, I wanted to do something practical. I wanted to stay true to myself so I decided if it wasn't fashion designing, I would pursue cosmetology because I really like making people feel good about themselves and comfortable in their own skin. I realized that I really like creating outfits to compliment the figure, whether male or female.
3. What is different about brand Alyssa Chalayne Designs?
Alyssa Chalayne is all about diversity, creativity, definitely a head-turner. It was created to make bold statements. It's created for assertive women who aren't afraid to showcase their figure and to wear clothing that is outstanding and definitely draws attention. I think Alyssa Chalayne is for bold and confident females.
4. Since 2013, how many fashion collections have you completed?
So far, I have done 4 fashion lines…my very first fashion line was Pink Instinct at Montego Bay Community College then I did 'Buns and Bikinis', that's an all swimsuit line and then I did, 'While Wi Jammin', and that was basically swimsuits with the use of Jamaica colours only and then my latest line is 'Daring Denim'. Daring Denim is about using traditional denim to create all type of designs you can think about. In that line, I did recycled denim, where you use old denim to make new, trendy outfits. I did a little bleach, a little rip, patchwork….
5.How long does it take you to put together a fashion line?
A fashion line can take anywhere from 2 months to like 4 months.
6. Do you work on a piece every day?
I wouldn't say every day but I would say every other day or every two days I'm sewing something and if I start in the morning, most likely I can finish in the evening.
7.Who supports Alyssa Chalayne? Who are your customers?
My customers are basically young, hip and trendy persons but I'm trying to create a brand that speaks to everyone. (Currently) my (Jamaican) customers are mostly in Kingston but I still have my Montego Bay customers. I have customers from the United States, mostly New York, customers in Canada and I get inquiries from people in the U.K. Right now, I am thinking about expanding Alyssa Chalayne, making it a brand for his and her because right now it's all about pairing.
8. So are you talking about another fashion line?
Yes, definitely soon…I'm not sure when but soon.
Sounds exciting T'Ka and thanks for sharing your story! I look forward to the release of your fifth fashion line!
Holiday parties are right around the corner, explore Alyssa Chalayne Designs on Facebook and Instagram to make a bold statement this season!
Our Stories is a feature which shares the other side of Jamaican entrepreneurs: their innermost thoughts, inspirations, and personal stories. Are you a Jamaican with a story to share? Contact us [email protected].