Since Jamaican shaper Patrick Mitchell started shaping surfboards over ten years ago, it has been his commitment to create custom surfboards using only the best materials and products available.
Realizing that there were many good surfers in the Caribbean who could not get quality equipment to ride, he decided to start Quashi Surfboards and create a strong base where few had gone before…Quashi is now the official board sponsor for the Jamaican National Team, Jamnesia Surf Club, and the Jamaica Surfing Association.
Quashi Surfboards are tested and ridden in various conditions by team riders in places like California, Hawaii, Jamaica, Mexico, Costa Rica, Panama, Indonesia, Barbados and Africa. QUASHI SURFBOARDS, JAMAICAN BUILT…TESTED ALL OVER THE WORLD.
Marcia:Patrick and Billy Mystic, how did you guys get started in the business of surfboarding in Jamaica. Are you both Jamaicans?
Patrick:I was born in California from Jamaican parents. Mom is from Newell, in Saint Elizabeth and Dad comes from Comfort Castle, Portland. When I was young, I would stay at my grandparents house mostly in Newell and run the beach at Pedro and Treasure Beach, then return for schooling to California. As I grew, I came to miss the beach, as in California I lived about 45 minutes from the sea, so from there my quest came to be on the ocean all the while. I saw surfing there and on a trip to Hawaii and from there I was hooked. Not familiar with waves in Jamaica as the beaches I was used to were calm, I found myself traveling to Mexico and Hawaii for surf. I then moved to Hawaii for some time, in the meantime traveling back to Jamaica and then to Costa Rica Surfing then took over and I ended up traveling all over the world in search of the ideal surfing destinations and it wasn't until I was back in Jamaica one summer and was reasoning with Billy about the potential of Jamaican surf did I realize what a treasure I had right in my own backyard.
Billy:I was born at Saint Joseph's Hospital in Vinyard Town Kingston, Jamaica W.I. on February 25, 1960. I used to body board on old pieces of fishing canoe at "Cable Hut Beach" where I lived in 8 Miles Bull Bay, Saint Andrew, Jamaica. I used to watch surfing at Boston Beach in Portland where I used to body board also. One day in the summer of 1974 I met Terrence Muschett, a Jamaican surfer who had migrated to New Jersey and was on the Island for a surfing vacation. He let me try one of his boards and I stood up on my first wave. From there, I never looked back.
Marcia:Is there a Jamaica Surfers' Association?
Billy: Yes, since 1999.
Marcia: What are the various types of surfboards?
Patrick:There are various types of surfboards for the changing surf conditions, as well as various types of surfers. For those who want to surf aggressively and really challenge the waves, most people will ride a shorter and narrower board. The longboard was the original surfboard and it was used mostly in smaller surf to glide up and down the waves with a smooth aesthetic look and feel. The surf in Jamaica tends to be fast and steep thus most surfers choose a shortboard with a pulled in nose (top of the board) that allows for riding in steep waves and quick snappy maneuvers. As a surfboard shaper, my job is to find the right board for the surfer and the waves he/she will be riding and carve out the board to their liking. Since starting Quashi surfboards, I have made boards for surfers in Jamaica, USA, Mexico, Costa Rica, Panama, Indonesia and Hawaii. Each of these boards are made with slight variations as each location will have a different wave set up and the boards all need to be made for the varying conditions.
Marcia: I realize that you, Patrick and Billy Mystic represent two different teams, how so? And why not the same team?
Billy: I am a founding member and 3 time past president of the Jamaica Surfing Association (JSA). The JSA selects the Jamaica National Surfing Team.
Patrick: I am sponsoring a specific team of surfers in Jamaica – Team Quashi. As for Quashi surfboards, it is important to have surfers representing the brand and riding the boards, getting the needed publicity to expose the brand and show it in action. I have selected the top surfers in Jamaica to represent Quashi in the Caribbean as well as a group of surfers in the US. Since my focus is to support Jamaica and it's surfing, I too support the JSA members with boards and help out any way I can. My intention is to come back to Jamaica and help build the sport and boost the economy of the country thru water sports and tourism as well as enjoy the beautiful waters of Jamaica.
Marcia:How are team members selected?
Billy: The JSA holds a three contest series; the National Qualifying Series (NQS) where surfer's points from their best 2 results are calculated to select the top 4 open men, women and juniors for the national team.
Patrick: I choose the Quashi team based on the NQS results as well as the exposure level the surfer is willing to work at. The rider must be surfing well and consistent, as well as be visible to others as a standout surfer. I do not feel that all the members must be competitive but must have a true love for the sport and a willingness to help others to do the same.
Marcia:Do you compete on an international level?
Patrick: Personally, I have not competed in years as the business keeps me busy but a few years ago I competed on longboards in the US. I work with a US team manager now who has competed a lot and helps to select the team in the US. Billy acts as the Team Manager and attends the contests as well as helps to run the local Jamaican contests. He can tell you more about the international contests the country has taken part in.
Billy:Yes, the Jamaica National team takes part in regional and international team events such as the World Surfing Games which was last held in Durban, South Africa and the Pan American Surfing Games, held in Ecuador last month.
Patrick:It is a great thing for the country as it helps to put Jamaica on the surfing map. Icah Wimot placed 13th out of 40 some odd surfers at the Pan American Games in Ecuador. The various countries could not believe it! Here is a place most don't even think has waves to surf on and out of the blue comes a youth who beats them up in the water competively! Many surfers do not know of the surfing potential the Island has to offer, I didn't and I grew there! So the support for the team and these contests is crucial to the development of the sport and the country as others get to see what Jamaica has to offer.
Marcia:How recognized is this sport in Jamaica? Do you get a lot of sponsors and exposure? Is the Jamaica Tourist Board promoting this sport? Where do you see this sport heading?
Billy: Surfing is just beginning to get recognized in Jamaica. We are recognized by The Jamaica Olympic Association, The Sports Development Foundation and Ministry of Sports. The Jamaica Tourist Board is currently doing a study on the potential of Jamaica's surf tourism potential which the JSA is facilitating by providing data and technical assistance. We hope to have surfing fully recognized as a national sport with increased participation by local enthusiasts and with regular participation in all regional and international events with a full team of athletes as well as a vibrant surf tourism industry.
Patrick:As the surfboard sponsor for Jamaica, I see it as a necessary thing to help sponsor the Jamaican team with whatever one can because for Jamaica to really reach the full potential it has, the team will need to be entering contests all over the Caribbean, Africa, Australia and US especially as that is a base for the surfing industry. It is difficult to grow as a team when one cannot get to the events or have the needed equipment. That is why I sponsor with the boards. The surfing industry in the US alone is a multi-billion dollar industry so for Jamaica to compete, we need to support them with full force to be able to let surfers know of what we have and influence them to come to Jamaica and help bring those dollars into the country.
Marcia: Billy Mystic and Patrick, who are some of the people who influence you?
Billy:My influences have been Haile Selassie (spiritual faith & guidance),my parents (raised me),Terrence Muschett (taught me to surf), Gerry Lopez (first surf idol).
Patrick: I would have to say, Jah – God Almighty, my family and youth influence me most. Surf wise, Tom Carroll, Joel Tudor, and Wendel who I worked with in Hawaii at Hawaiian Island Creations – He pushed me to shape and do my own thing.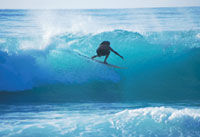 Marcia: What are your pet peeves?
Billy:Closed minded people who lack vision and practicality, liars, thieves and flat spells (no surf).
Patrick:Those who speak as truth but never even did the research to find out for themselves and freeloaders who want but refuse to even know why they deserve it.
Marcia:Patrick and Billy, where are some of the best places you've ever ridden?
Billy:Jamaica and Puerto Rico.
Patrick: Jamaica, Hawaii, Lombok -Indonesia, and Costa Rica
Marcia:Are the waves challenging enough in the Caribbean Sea?
Billy:YES.
Patrick: I second that! I have surfed all over and took a beating once or twice in JA.
Marcia:What are some of the dangers you face when you surf?
Patrick:The reef if you're surfing on one, undertow and hunger as you may forget to eat if the surf is good… run get out there.
Billy:Sharks, sea urchins, fire coral, jelly fish, sun burn and fatigue.
Marcia: What would you say to anyone wanting to become a surfer in Jamaica?
Billy:Go for it !!!!
Patrick:Yes man, nothing to it but to do it… remember, the earth is mostly made up of water, ya know!
Marcia:Can you get the materials needed to surf in Jamaica? Are the boards made locally?
Billy:No. All surfing equipment and accessories have to be imported. There are NO surf shops in Jamaica.
Patrick:That is one of the things Billy and I are trying to change. I make the boards in California now and Air Jamaica cargo has helped tremendously in getting them to Jamaica. Most of the surfing products have to be bought and shipped. In time we are looking to start producing boards and other surfing products on the Island.
Marcia: When you're not surfing what are you doing?
Billy: Wishing I was.
Patrick:Shaping surfboards and working.
Marcia:What is your philosophy, Patrick and Billy Mystic?
Billy:Better to take off late and get launched than to not take off at all.
Patrick:That one could take a while but I will end with this – There are many surfers who surf well or at least have the potential to but do not have the means or the chance to be seen and noticed. Let's realize what we have and be proud. Support Jamaica, it's surfers and the growing surfing industry. Respect and Jah bless.
We wish you continued success and best wishes for the future of surfing in Jamaica. Happy Riding, guys!
For more information contact Patrick Mitchell of Quashi Surfboards at: (760)732-0517 or visit their site at http://www.quashi.com