Jamaican Canadian entrepreneur Sabrina McDonald left her 9-to-5 job in banking and finance to start a business that ultimately became known as City Eats in Kelowna, British Columbia. She was inspired to create her company because she could no longer ignore health issues like diabetes and hypertension that plagued so many people she knew in the Black community, including her own family members.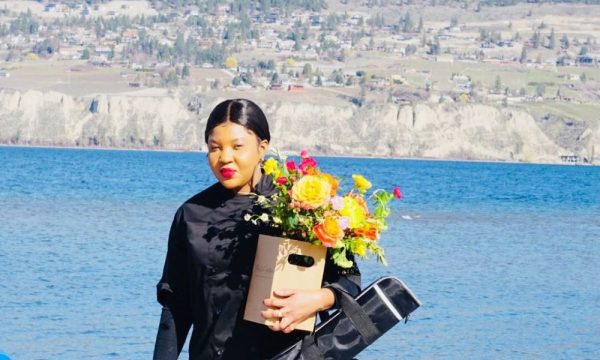 In The Beginning
McDonald's background in food stems from her childhood in Spice Grove, St Elizabeth, where she often supervised her younger brothers and sisters while her parents worked; her father worked on the family's farm, and her mother was a market vendor and shopkeeper. McDonald attended the Hampton School for Girls which inspired her to become a financial advisor. In 2016, She traveled to Canada to study business at Okanagan College, and after earning her degree, she took a job at a bank. Wanting to connect with her family during the COVID-19 pandemic, McDonald shared meal prep videos on social media, and when a friend encouraged her to start a cooking business, she left her bank job and invested all of her savings in renting a commercial kitchen to prepare foods she would sell on UberEats. After a time, it became difficult to support this endeavor, and she was forced to close her business. Thinking of herself as a failure, she experienced periods of shame and depression, which led her to connect more with her church. McDonald shared that it was during a church service that God gave her the idea for City Eats.
Healthy Products For Healthy Outcomes
McDonald started her company in 2022, making low-sodium Jamaican seasonings. She recognized that many people living in the Caribbean are susceptible to lifestyle illnesses like high blood pressure and diabetes, and she wanted to offer products that would help them change how they care for themselves and improve their health. She has worked hard to educate her customers about reading labels to discover nutrient facts and ingredients that can help them make good decisions about what they eat. She tested her first batch of seasonings at a farmers market in April 2022 and received positive feedback from customers, and in August 2022, McDonald's City Eats launched signature brand seasonings – all-purpose, fish, chicken, jerk dry, meat, and seafood – with ingredients sourced from Jamaica. In 2023, she added curry powder and chicken dry seasonings to her brand products, all of which are made in Kelowna and shipped to customers throughout Canada and the United States.
From Perceived Failure to Fulfilling Purpose
Today, City Eats is the largest authentic Jamaican seasoning brand in Canada, and she has earned praise on social media from celebrities, including Olympic champion Usain Bolt and dancehall artist Konshens. With the success of her seasoning business, McDonald has also realized that she did not "fail at life" and that what she experienced was "just God writing my story." She said that she also realized that everything in life has a purpose. That purpose may not be obvious until things start to manifest, so she advises anyone starting out as an entrepreneur to "never let fear cripple you."
Future Plans
McDonald now intends to start a foundation that will provide aid to international students in Canada via scholarships. She also plans to give back to the "bread basket parish" in Jamaica. She is glad to have a platform from which she can make an impact on society and help people. She is particularly committed to helping international students in Canada. McDonald noted that she was de-registered from her university classes at times because her tuition was three times that paid by domestic students, and she lacked the funds to pay for her schooling. These experiences from her own life have inspired her to provide aid and support for students now.
Photo – CityEatsCa