There is much more to Jamaica's food scene beyond Jerked Chicken and Escoveitch Fish.  "Out of Many, One People" is not just our national motto but also the best way of understanding the island's approach to food. Thanks to settlers such as the Jews, Indians, Chinese, Syrians, Spanish, and of course, Africans & Europeans (among others) our food is truly anything but stereotypical.
These highlighted restaurants have earned a special place in our hearts and have landed on this list (in no particular order) as result of their quality products, attention to detail, courteous staff and ultimately their exceptionally yummy menu.
Deli Works, Sovereign Centre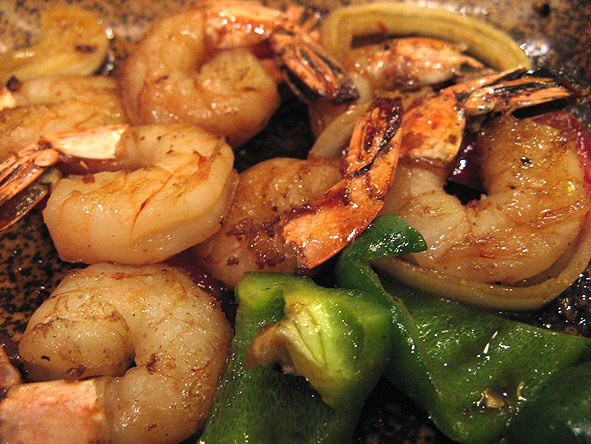 It's all in the bun.
That's a big part of what makes Deli Works line of specialty burgers, well…… special. The mid-level diner which shares space with the Sovereign Centre branch of Café Blue is the only burger joint yet to be uncovered in Kingston that uses an exclusively made artisanal bun. And if you don't think it makes a difference, then you simply aren't a "burger-meister."
But of course, the critical question returns: the beef. Well, at Deli Works, the beef is also supremely moist and juicy (best had medium well) and spiffed up with a range of embellishments that runs from blue cheese and mushrooms, pineapples and even shrimp. Size matters, of course and those with a hearty appetite won't be disappointed by the Deli Works burgers, but you should also leave room for their mouth-watering flan.
And Deli Works has great treats beyond the bun. Everything from classic Jamaican entrees (oxtail and beans, stew peas – that's kidney beans to the uninitiated) to wraps and conventional comfort food. All in a sleekly appointed urban diner setting that affords you the opportunity to gaze at passers-by in the busy mall, if you're lucky enough to snag a window seat.
Whether or not, Deli Works is the casual dining date that you won't soon forget.
Deliworks
Shop 1A Sovereign Centre
Kingston 6
Jamaica, W.I.
Tel: 876-927-4706/ 876-978-3968/ 876-977-6492
Satellite Map // Detailed Landscape Map
Café Blue, Irish Town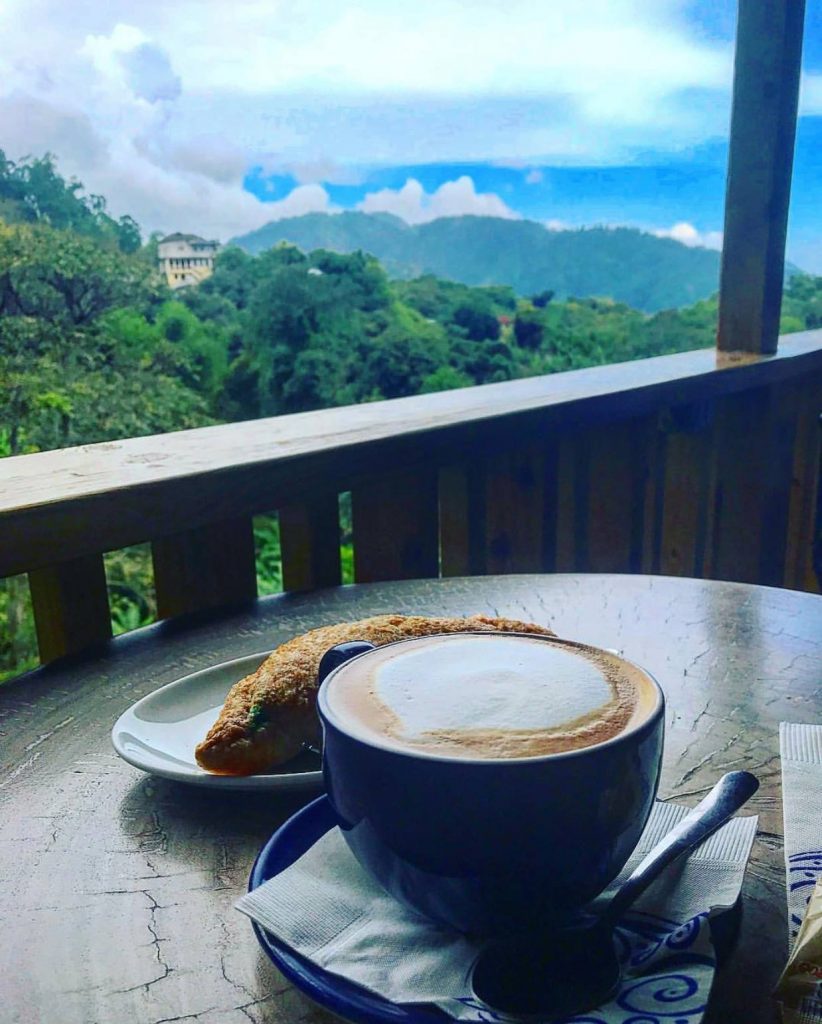 The phrase "getting there is half the fun" takes on new meaning in reference to coffeehouse Cafe Blue.
Those with acrophobia can well stick to the chain's other branch in one of Kingston's towny shopping centres – a space it shares with Deli Works, another of our featured spots.
But for the true "Blue Mountain coffee" experience, one is best advised to go further. The winding but picturesque road keeps pace with the Hope River for a few miles, gently snaking upward. The peak, at 7400-plus feet, the highest in the Anglo-Caribbean remains an imposing presence out of the right hand window.
Just past Gordon Town, sits Café Blue, where the Jamaican tradition of friendly welcomes meets modern barista machinery and techniques. The fare is standard coffeehouse, but there will be some local variations, especially to the breakfast menu.
The decor is clean and comforting, and service is attentive yet unobtrusive, and the fresh mountain air and "artist-ready" views make for an even more pleasant experience.
Worth the trip!
Café Blue
Irish Town – Gordon Town
Kingston & St. Andrew
Jamaica W.I.
Tel: 876-944-8918
Fax: 876-944-8917
http://www.jamaicacafeblue.com/
Satellite Map // Landscape Map
Shelly's Restaurant, Premiere Plaza
You won't find Shelly's Restaurant in any travel brochure or local guides but rest assure it's very rewarding to seek out this hidden treasure.
Most noteworthy landmark in the vicinity is the broadcast station RETV – from there you should have no problem spotting this restaurant snuggly located at the far left of Premiere Plaza on Constant Spring Road, Kingston.
For starters the natural fruit juice selection is top of the line at this eatery and I highly recommend the rich yet refreshing ginger pineapple juice… it's a must have with any meal!
From the island's national dish ackee & saltfish with boiled green bananas to oxtail with rice & peas this tiny yet popular local lunch joint offers up an unpretentious menu with hearty portions. Alongside the stereotypical local fares chop suey and fried rice dishes are a big hit at Shelly's Restaurant thanks to the island's considerable Chinese influence.
Given the compact dinning quarters at Shelly's Restaurant, whether it's by the inside seating or the porch accommodation, everyone organically becomes friends and is treated like family.
So for some honest, humble Jamaican food with local charm, it doesn't get much better than Shelly's Restaurant.
Shelly's Restaurant
Shop 31 Premier Plaza
Kingston 10
Jamaica, W.I.
Tel: 876-929-0041 
Satellite Map // Landscape Map
Raffaele's Gourmet Pizzeria, Orchid Village
Quietly tucked away in the Orchid Village this pizzeria is like a mini-oasis in the middle of Kingston.
Along with providing indoor dining Raffaele's offers an outdoor area divided into two sections: covered patio seating and al fresco dining… and how could you forget the nearby pond with its little cascading waterfall.
Of course most of the traditional topping are available but you'll want to explore the more exotic and novel selections such as Jerked Chicken, Callaloo and Ackee & Saltfish (Jamaica's National Dish).
Their prices are surprisingly competitive with Soup the Day costing about US$4 and a Seafood Pizza running you about US$15 plus their fair selection of House Wines is just under US$5 per glass.
Conveniently located smack in the middle of the city, boasting polite wait staff and quaint ambiance, Raffaele's offers a dining experience that's a nice escape from the hustle and bustle of Kingston.
Raffaele's Gourmet Pizzeria
Shop # 5 Orchid Village
20 Barbican Road
Kingston 6
Jamaica, W.I.
Tel: 876-970-0505
Cel: 876-279-7277
Satellite Map // Landscape Map
Caffé da Vinci, Courtyard at The Marketplace
Opening late last year December this elegant Italian restaurant immediately demanded everyone's attention with its vast menu and inviting décor.
Caffé da Vinci doesn't skimp on the portions either… their special starter cheese platter is almost a meal in and of itself as it comes with super huge green & red olives, cold cuts and ham wrapped garlic sticks and not to be out done their succulent leg of lamb that can only be compared in size to a "Brontosaurus steak" of Flintstones fame.
It's definitely something you have to experience for yourself… I mean, it's the type of place you would go in the day to eat and lounge around with friends then return with that special someone at night to pop the big question. *wink wink*
Courtyard at The Marketplace
67 Constant Spring Road
Kingston 10
Jamaica, W.I.
Tel: 876-906-9051
http://www.caffedavincija.com/
Map & Directions on Caffé da Vinci Site
NOTABLE MENTIONS
About The Author:
Therese Morris, Founder & Owner of Flavour du Jour a Jamaican based culinary arts company. Therese has a passion for Caribbean food fusion. She hopes to educate Jamaica and Jamaicans about our rich culinary heritage. Flavour du Jour is passionate in presenting the best of Jamaica alongside the gastronomic novelties from the rest of the world. Drop her a line at [email protected] and let her know how you enjoyed these & other eateries on our beautiful island. Find out more about us at www.flavourdujour.info and www.facebook.com/flavourdujour
This article first appeared on the GotSaga.com Travel Website.