In 2004, after my wife and I got married, our love story was published on this site. Ever since then I have had all my friends and family visiting the site to read this,  and many other lovely articles. This is the site I revisit to remember just how I felt back then and to check my love thermometer…now very febrile.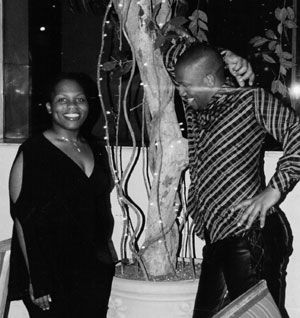 It is two thirty on the morning of the tenth of January, and it is our 6th Wedding Anniversary. I am sitting here on a chair with my computer propped up on the edge of the bed. The love of my life and our son are sound asleep at an exact ninety-degree angle to each other on the king-sized bed in our hotel room…YES!, we came back to Jamaica Grande to celebrate our 6th Wedding Anniversary and the six best years of my life. As I listen to their somewhat musical expression of sleep, I remember that six years to this date I was only hours away from tying the knot. Where did the time go? We have been married six years today? This is where we met three years prior to getting married. I just finished reading my first article again and I am filled with so much excitement, about the prospects for the next chapter of our lives together.
As I reflect on the past six years with my 'love' and now my 'quatty wut a man,' affectionately called this by his great grandaunt, I suddenly thought that even though I have heard many 'things' about marriage: the good, that encouraged me, the bad, that concerned me and the ugly, that worried me, I have to say, God has been really good to us in our first six years. We are blessed to have each other, our son, health, strength and love.
A couple of the things I wondered, or probably worried about when I was preparing to get married was, what will I do to ensure that the excitement and interest last and what will the phenomenon or vibe be in our home. As the ole Jamaican saying goes, 'Si mi an come live wid mi a two different sinting.'  First off, it seems as if those long phone conversations and high phone bills during courtship paid off because we seem to have a good grasp of how each other processes and thinks. My best friend was always teasing me about how my cell phone was a permanent fixture by my ear. Incidentally he is getting married on the 20th February 2010 and I will be his best man, as he was mine.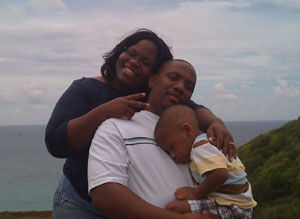 Keeping the excitement in our marriage has been fun for us and not a chore at all. I think some people get married saying for 'better or for worse' but really mean for better. My wife and I realized that life and love is not about things but rather about us and our relationship. We are thankful for things, but we don't get carried away or anxious about the acquisition of them. What we do make a big deal about is how we relate to each other. We do get anxious about losing our connection with each other and we endeavor to fix quickly whatever goes awry. We have been working on and developing what I call a 'home culture' which is essentially the way we function and relate to each other and our son. As my wife says, 'home is the one place you should want to run to'. So we strive to make it so. We are interested in building 'marriage equity.' Sometimes when I get all raunchy in my conversations and actions she threatens that she is going trade me in, and I tell her that there is too much equity, so she can't.
Looking at my marriage against the backdrop of my parents' forty-three (43) years, watching five of my siblings who are already married and my best friend who is about to get married, I have to acknowledge that they are all making it work, in their own way.  With this in mind I have put together my own simple philosophy and it is that the success of a marriage is dependent on each spouse's ability to deal with each other's 'crap'.  We each have crap, but if we realize our own, then we can surely be humble when dealing with our mates. This concept is one of the simple, but guiding philosophies of our relationship over the past six years. This Valentine's Day we celebrate our love, our true love and commitment to each other, as we continue to build the equity in our marriage
As I reflect on the past six years of our marriage and the last nine years of knowing each other we realize that we are indeed blessed and therefore wish for all the couples out there, the best equity-building marriage this Valentine's Day, this year, and for many more years to come.
Thanks again to Jamaicans.com for allowing me a second chance to share.