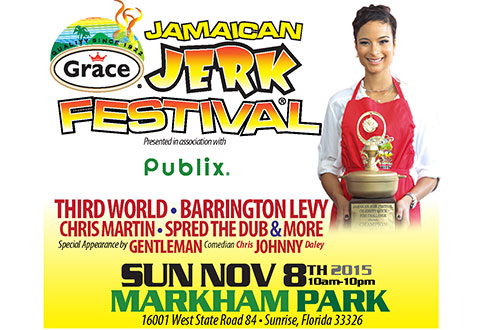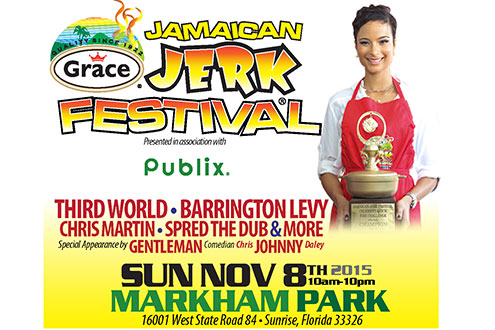 Win a pair of tickets to the  Grace Jamaican Jerk Festival South Florida on November 8th, 2015.  Enjoy a day filled with food, family and fun at South Florida's largest Caribbean food festival! Live performances by Third World, Barrington Levy, Christopher Martin, Spred the Dub Band and Chris Johnny Daley comedian.
This Contest Has Ended. Winners Will Be Notified
GIVEAWAY TERMS AND CONDITIONS
The "Win Tickets to the Grace Jamaican Jerk Festival South Florida" is sponsored by the Grace Jamaican Jerk Festival South Florida  ("Sponsor"). This contest is governed by these official rules ("Official Rules"). By participating in the contest, each entrant agrees to abide by these Official Rules, including all eligibility requirements, and understands that the results of the contest, as determined by Sponsor and its agents, are final in all respects. The contest is subject to all federal, state and local laws and regulations and is void where prohibited by law.
ELIGIBILITY
The Contest is open to legal residents of their respective countries where not prohibited by law, who are eighteen (18) years of age or older at the time of entry who have Internet access and a valid e-mail account prior to the beginning of the Contest Period. Sponsor has the right to verify the eligibility of each entrant.
GIVEAWAY PERIOD
The Giveaway begins at noon EST on October 27th, 2015 and ends at November 3rd, 2015, Midnight EST. ("Giveaway Period"). All entries (submissions) must be received on or before the time stated during that submission period. Sponsor reserves the right to extend or shorten the contest at their sole discretion.
HOW TO ENTER
You can enter on the Giveaway page. Entrants must fill out all required fields. After submitting the required information on the entry form, the entrant will receive one (1) entry into the drawing.
WINNER SELECTION
All eligible entries received during the Submission Period will gathered into a database at the end of the Submission Period. A winner (0r winners) will be chosen at random. The winners will be announced on or about November 4th, 2015 on or about noon EST. Announcement and instructions for prize will be sent to the e-mail address supplied on the potential prize winner's entry form. Each entrant is responsible for monitoring his/her e-mail account for prize notification and receipt or other communications related to this sweepstakes. If a potential prize winner cannot be reached by Administrator (or Sponsor) within 24 hours, using the contact information provided at the time of entry, or if the prize is returned as undeliverable, that potential prize winner shall forfeit the prize. If a potential winner fails to comply with these official rules, that potential winner will be disqualified. Prizes may not be awarded if an insufficient number of eligible entries are received.
PRIZES:
A pair of tickets to the Grace Jamaican Jerk Festival South Florida  on November 3rd, 2015. Terms and conditions may apply. Incidental expenses and all other costs and expenses which are not specifically listed as part of a prize in these Official Rules and which may be associated with the award, acceptance, receipt and use of all or any portion of the awarded prize are solely the responsibility of the respective prize winner. ALL FEDERAL, STATE AND LOCAL TAXES ASSOCIATED WITH THE RECEIPT OR USE OF ANY PRIZE IS SOLELY THE RESPONSIBILITY OF THE WINNER.