Chrisette Michelle

Chrisette Michele Payne, Grammy award-winning American R&B singer, soul singer and songwriter was born in the US to a Jamaican parent. She is known professionally as Chrisette Michele and has been featured on several Hip Hop albums such as Kingdom Come with Jay Z and Kanye West's Still Dreaming.
Biggie Smalls or The Notorious B.I. G.

American rapper, the late Christopher George Latore Wallace, was born to a Jamaican preschool teacher and Jamaican politician. He was popularly known the monikers The Notorious B.I.G or Biggie Smalls.
Uncle Luke

Rapper Luther Campbell, who goes by the stage name Uncle Luke, was born in the US but has a Jamaican father. Uncle Luke is known for songs like 'It's your Birthday' and 'Bust A Nut'.
Mya

R&B and Hip Hop singer Mya, correctly named Mya Marie Harris, was born to a Jamaican father and Italian mother in the US. Mya is known for singing Shall we Dance, Case of the Ex and My Love is Like…Woo.
Slick Rick

Ricky Walters, more popularly known by his stage name Slick Rick, is an English born rapper with Jamaican parents.  He is known for La Di Da Di and Children's Story – two of the songs which follow his narrative style of rapping.
UNCONFIRMED 
Alicia Keys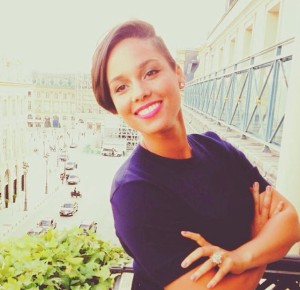 Alicia Cook, popularly known as Alicia Keys, was born to a Jamaican father and Irish-Italian mother. The R&B singer is most famously known for producing hits such as Fallin, No One and Girl on Fire.