Scotch bonnet peppers have received a wealth of attention from chefs and nutritionists to the scientific community. Often referred to as Bonny peppers, they're also known as Caribbean red peppers. They are said to resemble a Scottish tam o' shanter cap, hence their name.
Individuals should exercise caution when using them. Scotch bonnet peppers have a heat rating range of 100,000 to 350,000 Scoville units, while the average jalapeno pepper rates 2,500 to 8,000 on the Scoville scale. Its flavor has been described as smokey to fruit-like and can be used in multiple dishes. The peppers are rich in a variety of vitamins and minerals, along with antioxidants.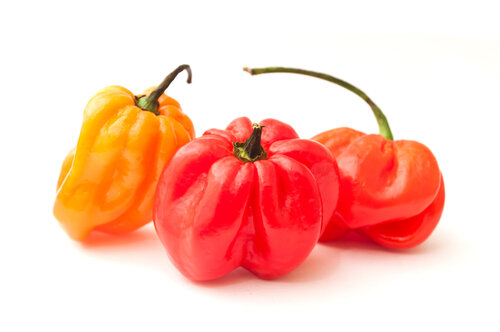 Anti-inflammatory
Inflammation is a component of multiple diseases and conditions. The pepper's anti-inflammatory properties work to calm inflammatory responses in the body.
Asthma, Lung Congestion
Early clinical studies have indicated that consuming Scotch bonnet peppers can be effective for easing the symptoms of asthma, COPD and lung congestion. The downside is that many individuals experienced increased coughing as bronchial tubes relax and inflammation abates.
Cancer Suppressor
The capsaicin in Scotch bonnet peppers is being studied as a cancer suppressant. Studies have revealed that it reduces the growth of cancerous cells in prostate, breast, bladder and pancreatic cancer without affecting healthy cells.
Heart Health
Scotch bonnet peppers have been shown in studies to reduce the early onset symptoms of cardiovascular disease that includes hypertension and thickening of the arteries.
Pain Relief
The capsaicin contained in Scotch bonnet peppers is beneficial for mitigating pain. Many over-the-counter pain relievers contain varying levels of capsaicin. Those pain-relieving properties can ease pain resulting from diabetic neuropathy, rheumatoid arthritis, osteoarthritis, headaches, and muscle sprains and strains.
Reducing Body Fat
Researchers have discovered that the capsaicin found in Scotch bonnet peppers aid in weight loss in two ways. The peppers reduce appetite so people eat less and they increase metabolism, enabling the body to burn stored fat.
Photo – Deposit Photos