Reggae Sumfest 2023 was an absolute blast, and if you weren't there, you definitely missed out on some epic moments! From electrifying performances to unexpected twists, this premier Reggae and Dancehall music festival had it all. Jamaicans and music enthusiasts alike flocked to the Catherine Hall Entertainment Complex to witness their favorite artists deliver show-stopping acts that left the crowd in awe. While you might have caught some of the headline-worthy moments already, I bet you missed these seven unforgettable incidents that made this year's festival truly one for the books.
Valiant's Money Dash
If you were lucky enough to be in the VVIP section during Valiant's performance, you might have found yourself showered with Jamaican banknotes! The Dancehall newcomer declared that he's living his best life, reveling in newfound wealth and success, and wanted to share the love with his fans by throwing money into the crowd. Talk about a generous act!
Tommy Lee's Prison Revelation
Dancehall artist Tommy Lee got candid during his Festival Night one set, reflecting on his time behind bars. He opened up about the challenging experience of prison life, including the restrictive schedule and harsh treatment. But amidst it all, he revealed that the time behind bars transformed him for the better. Overcoming drug addiction, embracing family, and personal growth were just some of the positive changes he shared with the crowd.
King Jammy's Lifetime Club Membership
The legendary Dancehall producer, King Jammy, received the Caribbean Airlines Lifetime Club membership award as a tribute to his monumental contributions to the music industry. Now, he can enjoy exclusive air travel perks for the rest of his life!
 Tears Flowing During Freddie McGregor's Performance
Reggae veteran Freddie McGregor took the stage with his sons, Stephen Di Genius and Chino, in a heartfelt and touching performance. Overwhelmed with emotions, Freddie revealed how challenging it was for him to deliver the set due to his health issues. Having suffered a stroke in 2022, his left limbs were severely affected, but his determination and passion shone through, leaving the crowd teary-eyed and inspired. The Dancehall Living Legend award from Jamaican brand Red Stripe was a fitting tribute to his enduring legacy.
Minister Marion Hall's Second Reggae Sumfest Crowning
Minister Marion Hall, formerly known as the Queen of the Dancehall, stole the show with her soul-stirring gospel worship set. And that wasn't all; she also received the prestigious Dancehall Living Legend award from Red Stripe, adding another crown to her Sumfest achievements. Her performance and recognition brought an incredible close to Reggae Sumfest on Sunday, 23 July.
Bayka's Arrest
Drama was not in short supply at Reggae Sumfest 2023! Dancehall artist Bayka ignored warnings about using profane language during his performance and found himself in a tight spot. The police arrested him moments after he exited the stage, sending a strong message about maintaining decency and respect during the festival. It's proof that rules are not to be taken lightly!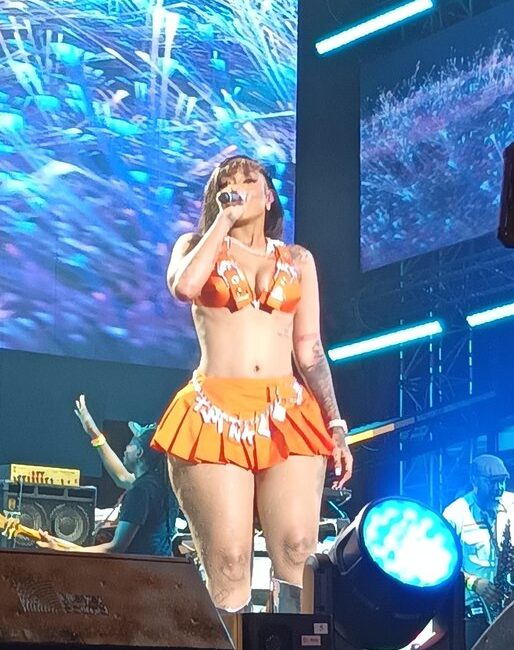 Jada Kingdom's Abrupt Exit
The sensational Jamaican female singer, Jada Kingdom, left the audience in awe not once but twice! Her daring and eye-catching outfit set off a wave of excitement, and just when the audience thought they were at the height of her performance, she made a surprising exit. Confusion reigned on stage, but the ever-charming emcee Jade saved the day by acknowledging her and D'yani's performance before introducing the next act.
Reggae Sumfest 2023 was an unforgettable rollercoaster of emotions, surprises, and incredible talent. It's moments like these that make Jamaican music festivals so special. If you were there, we hope you savored every second of these dramatic highlights. And if you missed it, well, there's always next year to look forward to.