OMI (Omar Samuel Pasley) he was born a great singer! Hailing from Clarendon, Jamaica, OMI is last of the four children of Kenroy and Rachel
Pasley. As a child growing up, he sang at every occasion that provided an audience – the church, school concerts or any other community
gathering. Much to the delight of his onlookers, OMI would rise to the occasion once he got the opportunity.
OMI is being groomed in all aspects of the music business under the direction of Kingston, Jamaica based Oufah Media & Production, spearheaded by Specialist, who is also producing his CD. He is currently in the studio laying tracks for his not-yet-titled debut album, of his self-penned songs, for which the intro singles "Standing On All Threes" and "Cheerleader" will be released shortly. Already on the scene is his "Firecracker" song,
teasing music fans on YouTube.  Here is our conversation with OMI.
Q: Tell us about your background and how did you get started?
I was born in May Pen, Clarendon to Kenroy and Rachel Pasley. My father was a musician and he passed away when I was at age 9 leaving me to carry on his legacy. My love for music grew even more when I realized that I had the ability to write and by the age of 14 I had people singing along to my catchy melodies. I recorded many demo tracks but got my real break when I met Mr. Clifton 'Specialist' Dillon who selected and produced my now hit singles "Cheerleader" and "All Three's". He has been my business partner and father figure ever since.
Q: You have a very unique sound. How would you describe your sound? What do you call this genre?
I call it a "Fusion" because it comprises the different genres indigenous to our Jamaican culture. I like to experiment with ska and mento, merging them with reggae, dancehall and pop gives me that distinguished sound which I think makes my music stand out among what is currently being offered in the industry, especially internationally.
Q: Tell how about your song "Cheerleader"? Did you write the song?
The lyrics to the song "Cheerleader" came to me about two years ago in a round about kind of way. I penned the lyrics myself and got more ideas from my manager Clifton 'Specialist' Dillon who produced the track and decided to add more colour by including drums by Sly Dunbar, horns by Dean Frazier and Lamont 'Monty' Savory with Guitars.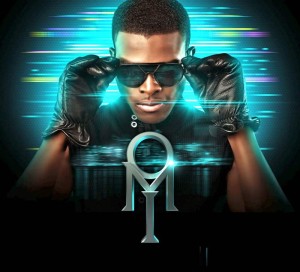 Q: What was your inspiration to write the song?
I write my songs based off my experiences and the experiences of others. A lot had been happening with me and my motives of inspiration came from my "best friend". She is very special and how I feel about her is what I have described in the track. This special little lady has always been very supportive no matter how dull it looks she always knows how to put the shine back in there… so she's me "cheerleader".
Q: What is the best compliment you have gotten about the "Cheerleader" song?
I never knew this song has so much impact until I saw the various cover versions available on youtube. That was mind blowing! Even kids have caught on, I don't know if it's the melody or the lyrics but something about it is making people sing. The best compliment I've received by far is from a fan that stopped me one day after doing an interview and said she really just wanted to take the time out to thank me for "such beautiful song you made my day" she mentioned how much the song meant to her and how it played an important part in her relationship. That's good stuff, never thought a simple song could make a difference. If I touched one life I did good.
Q: We loved the video for "Cheerleader". Where was it filmed and who is the beautiful lady featured in the video?
Video Director, Tim Cash and the Far From Earth Production team filmed the video in Bend in Oregon. The leading lady is Talent and Model – Nicola Mintiens from the US.
Q: How many singles do you have out there? When can we expect your album to be released?
I currently have three singles out "Cheerleader" and "All Threes" and the most recent -"Fireworks". The album is due to be released in 2013.
Q: You sing R&B, Ska, Rocksteady, pop, Reggae and everything in between. What genres do you like best?
I like the "Doowap" period when Motown and Ska emerged but, as Mr. Dillon would say "analog meets digital" which gives you my 'Fusion' style.
Q: I know it is early in your career but what is your proudest moment so far?
My proudest moment was the look my mom had on her face when she heard my song on the radio for the first time.
Q: What other projects are you working on right now?
We are currently working on some more new singles, promoting the ones already released and in the same breath the selection process for the album is undergo. We also have two new videos to shoot "Fireworks" and another, currently scoping the location for them at least for one of them. We will be using Tim and his crew because he did a wonderful job with the first 2.
Q: If you were stuck on a desert island and given the choice of 2 albums to put on your ipod which artist would it be?
Bob Marley and John Legend
Q: A movie I never get tired of watching is…
Pirates Of The Caribbean 1…2 and 3
Q: My Mother always told me
The same thing my father always told me "Ambition beats condition".
Thanks for your time. Do you any closing thoughts?
My closing thought is thanks to each and everyone supporting Omi and remember… "I am a fan of my fans"
Learn More About OMI:
Facebook:
http://www.facebook.com/omishangrecords
Twitter:
http://twitter.com/Omimusiconline
soundcloud account:
http://soundcloud.com/omimusiconline
Youtube
http://www.youtube.com/omishangrecords