Melanie Schwapp was born in Kingston, Jamaica. Two short migrations at two key stages of her life opened Melanie's eyes to the cultural and social discriminations in society, and thus began her quest for understanding through writing. At the age of five she moved to England with her family, where she was awakened to the nature of color prejudice, and then during her late teens and early twenties she attended the University of South Carolina, where the subtle traits of discrimination cemented her interest in the social repercussions of theses prejudices. Although Melanie has written recreationally all her life, her first published work was a children's book, "Lally-May's Farm Suss" in 2005 in which she revives a Jamaican myth and several cultural aspects through the eyes of a child. Her second publication was the novel "Dew Angels" in 2011 where she explores the hidden aspect of prejudice and other social handicaps in Jamaican society. Melanie resides in Kingston with her husband and three children.
How long i have been writing?
I have been writing from the time I learned to hold a pencil – I have always been more comfortable writing about my feelings and observations than verbalizing them.
What inspires me to write?
I am inspired to write by emotion – when something moves me, humors me, or a memory stirs deep emotion in me, I love to write about it.
What do you enjoy writing most, fiction or non-fiction ?
I definitely enjoy writing fiction. Although a lot of my writing is motivated by real events, the creative challenge of expanding the story and drawing emotion and a connection from my readers is a thrill for me.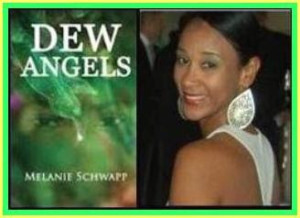 What is your latest book?
My last book '"Dew Angels' was inspired by experiences with color prejudice and teenage struggles with self acceptance. As a child, my family had a brief period of living in Britain, and it was here that I had my first encounter with prejudice. With my innocence removed and my eyes opened to the reality of discrimination, I returned to Jamaica and saw that prejudice existed right there on my own front step. 'Dew Angels' was an exploration of the phenomena of prejudice within families and communities, and the crippling effect it had on society.
What are the most frequent comments from your readers?
My readers often tell me how much they could relate to the experiences of Nola in the novel, and that the characters became so real to them that they felt as if they were personally acquainted with them all.
Your two favourite books are…
It's hard to pinpoint just two favorite books, but I'll go with 'Sula' by Toni Morrison and 'Good Grief' by Lolly Winston.
Your favourite authors…
My favorite authors are Toni Morrison and Chimamanda Ngozi Adichie
What advice would you give new writers?
I just spoke to a friend who wants to write a novel on a life experience, and I told her what I tell everyone who wants to write – Write everything from the heart, walk away, read it, then edit with the brain. Do not write and edit yourself at the same time!
Your dream vacation is…
Turkey! – the history, the culture, the food…I'm in like Flynn!
What is your guilty pleasure?
House decor and garden design magazines – they give me so much inspiration for my work in landscaping.
Any final thoughts?
11) People say that life doesn't come with a handbook, but I disagree – handbooks exist as every book ever written. Books are about sharing – experiences, thoughts, survival, passions, and invariably it is these keys in other people's experiences that can help us to cope with life's challenges, or to simply just give us comfort in knowing that we are not alone.
MELANIE SCHWAPP MEDIA LINKS