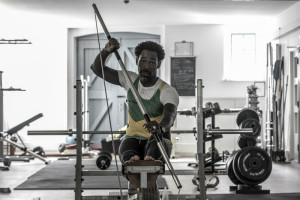 Meet Tony 'The Kayaksman' Greyson-Newman, a kayaker driven by his dream to represent Team Jamaica at the Rio 2016 Olympics and also to compete internationally on the sprint kayaking circuit beyond then. Born in London to Jamaican parents Tony has trained hard to compete at club, regional and soon to be international level in this sport.
Q: When did you start kayaking?
Jan 2013, the start of obstacles and triumphs.
Q: Can you explain the kayaking to us?
It's a great sport and past time (and I would say that!) Often confused with rowing and canoeing, a kayak, originally used by the Inuit, is a boat you sit in and is propelled, using a paddle with a blade at each end. In Olympic sprint kayaking, competitors' race in kayaks made for 1, 2 or 4 people, on flat water over distances of 200 metres, 500 metres or 1000 metres
Q: What did you think of the sports when you first saw it?
These athletes are so powerful…how am I going to do this…I can't even swim good…I must be nuts!'
Q: You have been moving rapidly up the sprint kayaking rating. Do you think anything in your Jamaican descent made you excel in this sport?
I think we have an ability to get on with it even when it's difficult. I guess I first saw this in my mum, dad and my elders growing up. It wasn't easy for them, but they did what they had to do to get the job done, so I am doing the same. Excelling in any sport requires that!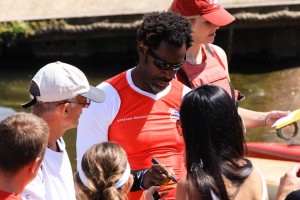 Q: Why did you choose to represent Jamaica and not Britain?
Well, the opportunity to compete for TeamGB did not arise for me. But the opportunity to represent Team Jamaica, promote the sport and pave the way for others did. I am blessed!
Q: Tell us about your efforts to expose Jamaicans to the sport? Is there a governing body in Jamaica? Does anyone there participate the sport?
I've been liaising with Leon McNeil who is the President of the Jamaican Canoe and Kayaking Federation and Kingston Canoe and Kayaking Club. These are both brand new and share the same location at Kingston Rowing Club, Kingston Harbour.
Recently I showed some young rowers from the rowing club some basic sprint kayaking techniques. Even though all we had was my paddle, they were very excited and I'm looking forward to our first sprint kayak training camp later this year. We are in need of some more kayaks and paddles though and I am doing what I can to get some there. Until then…a me one!
Q: What are some of the challenges you see getting the sport to Jamaica?
Like many sports, funding/equipment is always the first base. Sprint Kayaking is an exciting sport and once we have this, I see the sport growing, together with many of the sports we are now competing in.
Q: Is kayaking an expensive sport? How are you currently supporting your efforts financially to represent Jamaica? Do you have major sponsorship?
Kayaking is not expensive for individuals. The club will provided the vessels, paddles, buoyancy aid and water to practice on. Kayaks vary in price though, so it can be expensive for the club! I am supporting my efforts financially to represent Jamaica and also, I am based and train at Richmond Canoe Club in the UK and lucky to have use of their equipment and facilities.
I am very excited to have the support and backing of my sponsor, JTs Coconut Essence, who give me an ample supply of coconut water and produce for training, which is invaluable as part of my nutritional needs. I am looking for other sponsors and contributors too, who see the opportunity and potential to invest not just in me, but Jamaican Sprint Kayaking, and do what Puma has done for athletics maybe.
Q. What is your motto?
I have so many affirmations, which I have learnt from others. My favourite now though is 'Dream big, take small steps towards it daily and enjoy the journey'
Q. Which living person do you most admire?
There is no one person really, I admire the good in all people and a person's will not to give up! But if I had to choose, it would be my wife
Q. If you could be anywhere in the world right now, where would you choose to be?
I'm doing this interview in the UK right now ……Jamaica of course!!
Q. What 2 personal qualities are most important to you?
Honesty and kindness…
Q. Thank you for this interview. Do you have any closing thoughts?
Thank you for this interview. Wishing you all every success in your pursuits!