If you know anything at all about West-Indian Caribbean culture you already know that Jamaican Black Cake is a must have at Christmas time.  If you didn't know before now, a Caribbean Christmas dinner invite will almost certainly net you a slice of the most alcoholic cake you will ever eat. 
A cousin of the British Plum Pudding this decadent, expensive treat is made using an array of wine-soaked dried fruits, eggs, butter, brown sugar, and other natural ingredients. As with all recipes, there are slight variations across cultures but the base ingredients and the preparations are almost identical. After baking, the cake is 'wined' (I opt for a combo of wine and premium overproof rum) with another helping or 2 of port wine, before serving.  This means that you  MUST bake your cake at least a few days before Christmas to allow proper time for 'wining'. Some folks opt for icing/frosting the cake. Other enjoy it as is.
If you are not an experienced baker, this is not a cake for experiments.  It requires a good deal of costly ingredients, time, and technique.  As I have learned, shortcuts, like boiling and blending the fruits and beating the eggs whole, WILL ruin the texture and flavor of your cake. There is a reason I don't bake them.
The following recipe is the same 6-generation old recipe my mother uses to prepare the cakes we sell at Sian's Cooking. It is a fairly authentic representation of a Jamaican Black Cake. In the last year or so mincemeat has become increasingly hard to find. If you cannot find it, it is fine to do without.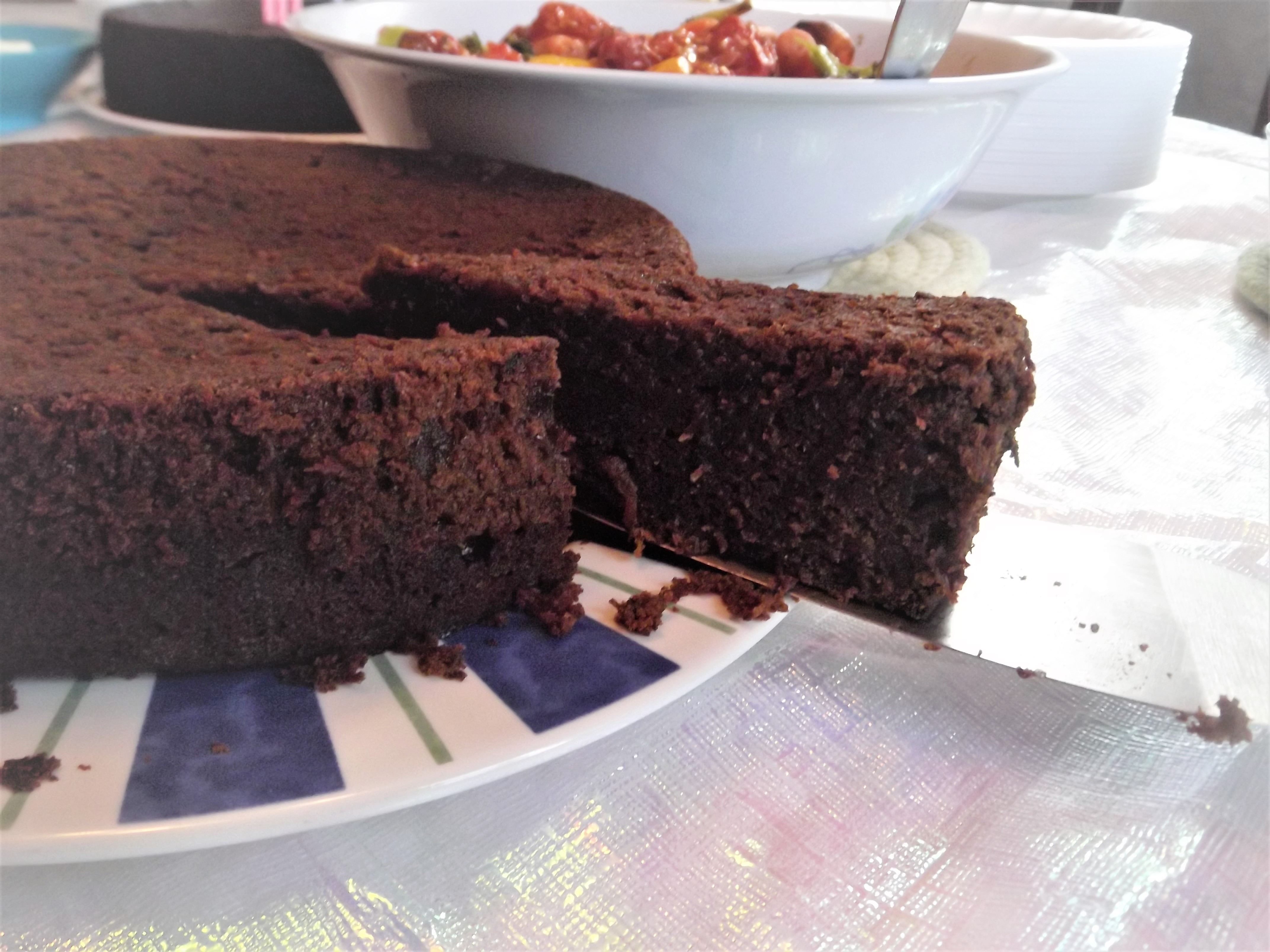 Ingredients
*2 lb. wine soaked fruits* see notes
1 C. dark rum
1 C. Port wine
1 lb. dark brown sugar
½ C. molasses
1 lb. butter
12 eggs, separated
1 14 – 16 oz. jar Mincemeat
2 tsp vanilla
2 C. flour
4 tsp baking powder
2 tsp cinnamon.
Instructions
Combine fruits with rum and wine in blender or food processor and grind into a paste. If using a blender, you may need to divide into 2 or 3 batches.
Preheat oven to 300° Using a mixer cream butter, sugar, molasses and egg yolks together. In a separate glass bowl, beat egg whites until foamy. Fold (slowly beat in) egg whites into butter mixture. After egg whites are fully combined, add fruits 1 cup at a time until completely mixed in. add mincemeat to mixture. Slowly add dry ingredients to mixture. Mix should be dark brown. If not add ¼ C. molasses or ½ tsp of browning, if available.  Butter and flour 3 – 9" cake pans you may line the buttered pans with parchment paper instead of flouring. Pour batter into cake pans. Fill almost to the top. Cakes will not rise very much. Bake for 1 hour. After 1 hour increase temperature to 350° and bake for another 30 minutes. After 30 minutes insert toothpick or clean knife into the center of the cake and remove. If knife comes out clean. Remove cakes from oven and place on cooling racks. Sprinkle hot cakes with wine or rum. Cool for about 2 hours and sprinkle with rum again. Cover cakes and allow to cool overnight (at least 8 hours) before icing or serving.
Notes
Fruits can be any combination of prunes, raisins, currants, cherries, and candied citrus peel. Use at least 3 for best flavor
For best results soak fruits in port wine (in a tightly sealed container) for at least 30 days
If using unsoaked fruits; boil fruits in a 750 ml bottle port wine for 30 minutes. Cool 45 minutes before blending.  Use this method as a last resort. Cake will be more dense and less sweet.
 Storing
Cakes can be kept frozen for up to 1 year or securely covered at room temperature for up to 1 month. To keep cakes without freezing.  Cover cakes securely (a cake server will NOT do) Sprinkle each cake with ¼ C. rum or port wine every 5 days to retain moisture.
To freeze cake sprinkle with rum or port wine a 3rd time then wrap a layer of parchment paper and 2 layers of plastic wrap to prevent freezer burn and odors. Leave at room temperature for 24 hours before serving.