From Kingston, Jamaica, for two decades, Nancy and Bassilios Hado have been serving Middle Eastern flavours, paying tribute daily to their rich culinary heritage steeped in pride and authenticity from Lebanon through their family-owned restaurant Chez Maria.
Over the years, the restaurant has become one of Kingston's favourite eateries that serves authentic Meditteranean cuisine all under the watchful eye of family matriarch Maria.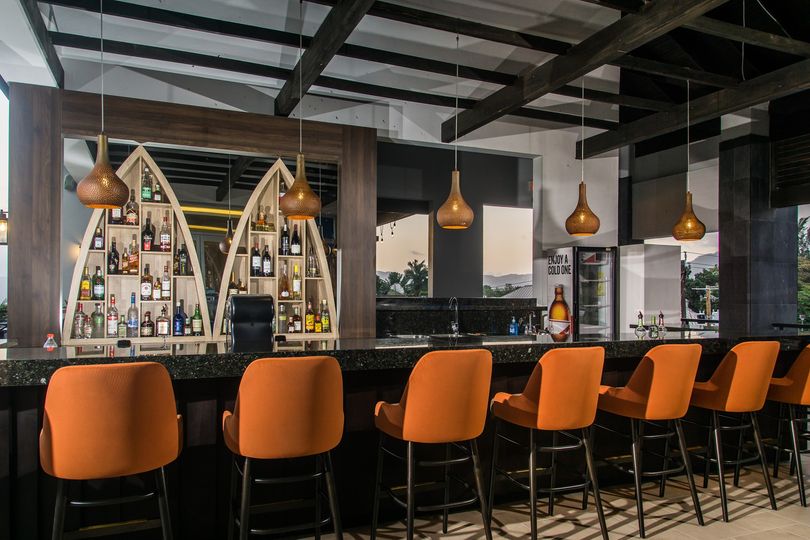 The menu at Chez Maria is influenced mainly by Lebanon and, Italy. With a dietary foundation including legumes, plant-based foods such as whole grains, vegetables, fruits, nuts, seeds, herbs, and spices, this powerful combination makes any meal there a reminder of the proud culinary heritage the region has to offer. 
Though many thousands of miles away from its origins, the culinary flame of the motherland is kept burning at Chez Maria through good, hearty food with a nod to its undeniably abundant history. Having relocated to Progressive Shopping Centre on Barbican Road, Chez Maria's new place has set out a prominent claim in helping to redefine eating out in one of the Caribbean's most diverse capitals.
We exit the elevator,  step into a penthouse of culinary luxury with the option of indoor or open-air dining. It's easy to see why they chose this place as the breathtaking 360-degree views of the bustling Kingston cityscape are surely the envy of all.
We're here to try the Lebanese cuisine and find many families enjoying the sunset in a safe, socially distant, open-air environment while enjoying the view.
The interior is just as breathtaking as the 360-degree view
The interior is just as breathtaking as Chez Maria's interior designer Peta Gaye Shoucair, a highly regarded New York-based interior designer with Lebanese roots, (and tirelessly built by the owner, Bassilios Hado's team) transport us to a different world.
We ask ourselves, are we even in Jamaica? 
Chez Maria has become prominent with epicureans because the food is consistently exceptional and the service is excellent, providing a dining experience that is far above average.
Try the varied mix of Lebanese and Italian cuisine
What to eat there? We suggest starting with the Chez Maria Mezze platter ( four to eight pieces of beef kibbeh, chicken kibbeh, beef sambousik, and cheese rolls)  or one of the many wraps such as a shish tawook or beef shwarma to experience its authenticity. For an entree go for one of the many Italian dishes from oven-baked pizza or spaghetti bolognese to seafood pasta with chunks of calamari, lobster, and shrimp served in a creamy alfredo sauce.
End the meal with traditional Turskish coffee and a date mamoul.
The most adventurous dish on the menu is the kibbeh Nayeh, a plate of blended, fresh raw meat, (yes we said raw!) mixed with cracked wheat and spices, served with olive oil and a kick of hot scotch bonnet pepper!
Chez Maria is located at Progressive Shopping Centre, Shop 20, 24-28 Barbican Rd, Kingston. Follow them on IG and Facebook at @chezmariajm