Chinese Jamaican visual artist Jeana Lindo has been selected as the May 2023 artist in residence for Noche De Arte showcase at the Intercontinental Hotel in Miami, Florida. Lindo's work will be on display at the luxury hotel every day of May 2023 and she will host an audience live at the exhibition on select days throughout the month.
Noche de Arte is presented in partnership with Greater Miami Convention and Visitors Bureau and the InterContinental Miami Hotel, with support from the Miami-Dade County Department of Cultural Affairs.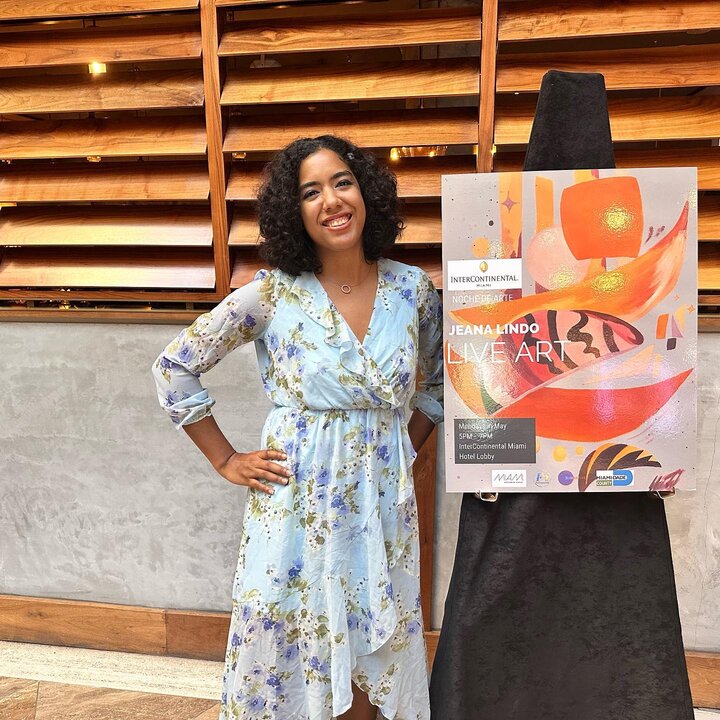 Grateful for Creative Space
In a Facebook post, Lindo expressed her gratitude for the support she has been receiving so far and invited her online community to join her at the luxurious hotel for "something new" on the 8 May, 15 May and 22 May.
I
Former Resident of Kingston, Jamaica
In a statement about the featured Jamaican artist, Noche de Arte stated that Lindo's "passion for vibrant colors and Caribbean identity permeates her work. Jeana enjoys mixed media and collage, and her favorite medium is watercolor".
Lindo was born in the United States, and spent a number of year living and working in Kingston, Jamaica before returning to the United States to further her career pursuits.
Award-winning Visual Artist and Vlogger
She has demonstrated her love for the arts from she was a teenager which led her to complete a BFA in Photography at the Parsons School of Design in 2017. Jeana's work has been exhibited widely in Jamaica and the US, she has traveled extensively from the beginning of her career and participated in community arts projects in several nations.
In 2019, she was one of 20 vloggers selected by the European Union to use visual storytelling to demonstrate how the lives of Jamaicans have been impacted by the EU's partnership with Jamaica. This project allowed her to sharpen her visual storytelling skills as it involved professional training in Brussels, Belgium with experienced visual storytellers.
Jeana Lindo is a former Jamaicans.com contributor whose works continue to be on display on the website.
Photo – Jeana Lindo