Five Jamaican American women were included in a group of Black women attorneys from Florida who were sworn in at the United States Supreme Court. The swearing-in allows these attorneys to appear before the high court in Washington DC. The Jamaican Americans included Judge Maxine Williams; attorney Alison Smith, Circuit Judge Maxine Cheesman, Judge Maxine Williams, Circuit Judge Cymonie Rowe, and attorney Lisa Quarrie. Supreme Court Justice Ketanji Brown Jackson, the first Black woman to serve on the Supreme Court, attended the swearing-in ceremony.
Following the ceremony, which took place during February, Black History Month, 2023, the attorneys were photographed under the portrait of the late Justice Thurgood Marshall, the first Black individual to sit on the US Supreme Court, and the portrait of Justice Ruth Bader Ginsburg, who was well known for her support and advocacy for women's equality.
Attorney Alison Smith, who was raised in St. Elizabeth and Manchester in Jamaica, is the first Black woman elected to serve as president of the Broward County Bar Association, an organization that has existed for almost 100 years. Smith explained that the swearing-in followed an extensive application process that began a year earlier and involved considerable paperwork and background checks.
Judge Maxine A.M. Williams was appointed to serve as a general magistrate in Palm Beach County's 15th judicial circuit in 2006. She earned a BA in English literature at the University of Florida and a law degree from the University's Fredric G. Levin College of Law. Before joining the Circuit Court, she was an attorney at the Legal Aid Society of Palm Beach County, Inc. Williams' legal experience includes work as an assistant public defender in the Office of the Public Defender for the 15th judicial circuit. As a general magistrate, she has had assignments in the family, juvenile, and mental health divisions and has also served as an administrative magistrate for the 15th Circuit.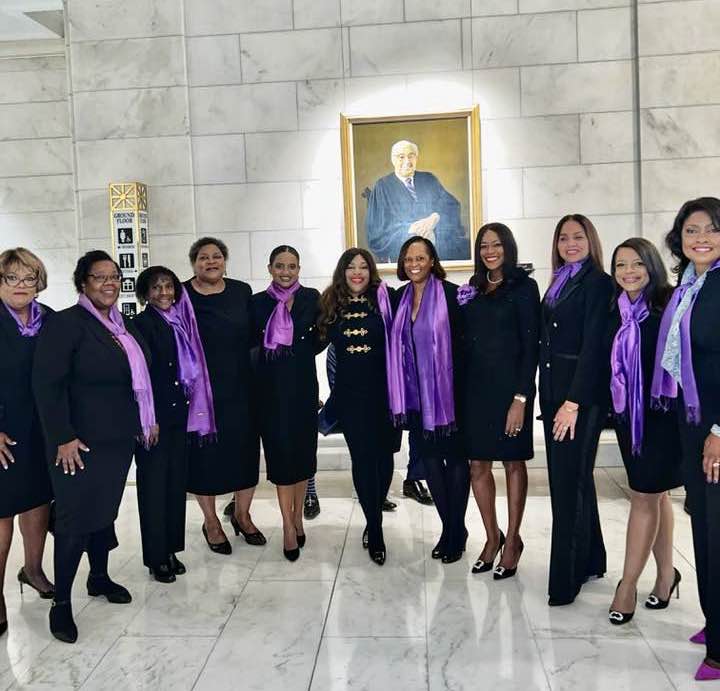 Fifteenth Judicial Circuit Judge Maxine Cheesman was born and raised in Jamaica, moving to Florida with her family after graduating with a BS in chemistry from the University of the West Indies. She earned an MS in organic chemistry at the University of Miami and worked for 15 years as a director and scientist at the South Florida Water Management District. She also worked for 12 years as a chemist and hydrogeologist with Miami-Dade County's Department of Environmental Resources Management. She earned her law degree from Nova Southeastern University's Shepard Broad Law Center in 2004. She was a founding partner at the Law Offices of Cheesman and Varner and worked as a sole practitioner at her own firm later on. Her special areas of focus were real property, fair housing, bankruptcy, foreclosure, probate, family, construction, and contract law. As a circuit court judge, she has presided in the Family and Probate divisions.
Circuit Judge Cymonie Rowe, a judge in the 15th judicial circuit in Palm Beach County, was appointed by Governor Rick Scott in 2016. She earned a B.S.C. in broadcast journalism and psychology from the University of Miami and a J.D. from the Shepard Broad Law Center at Nova Southeastern University. Before her appointment to the circuit court, she was a senior trial attorney with Liberty Mutual and practiced as an attorney with the firm of Green, Ackerman, and Frost. She has presided over the Civil Division of the circuit court and was presented with the 2018 Florida Bar Judge of the Year Award from the Florida Bar. She was honored in 2021 as Jurist of the Year by the Charles S. Barnard Inns of Court and by the Palm Beach County Florida Association of Women Lawyers.
Attorney Lisa Quarrie has a history of working with utilities and renewables industry. She is experienced in the areas of electric utility, wind energy, mergers and acquisitions, renewable energy markets, and real estate and commercial transactions. She currently works with NextEra Energy Resources as director of mergers and acquisitions. Quarrie earned her law degree at Nova Southeastern University, graduating Cum Laude. Prior to her J.D., she received a BA, Magna Cum Laude, from Central State University. She also has a Master's Degree in Public Administration. Quarrie serves as Parliamentarian for the Reggae Girlz Foundation and is involved in pro bono activities that include serving on the Board of Directors of the Children's Home Society, as a Committee Member on the National Bar Association's Gertrude Rush Dinner Committee, and as Immediate Past-President of the F. Malcolm Cunningham, Sr., Bar Association.