Trisha Bailey, an entrepreneur whose net worth has been estimated at between $650 million and $700 million, has been honored by one of the most prestigious events recognizing the achievements of Black women. Bailey received the Woman of the Year Award for 2023 at the eighth staging of the prestigious Women on the Move! celebration sponsored by Onyx Magazine on March 10, 2023, at the Alfond Inn in Winter Park, Florida. The Onyx celebration honors trailblazing women who have a positive impact on their professions and communities through achievements in government, media, education, business, and nonprofit organizations. The International Woman of the Year for 2023 was Mercy Gilbert, the president of the Gilbert Media Group.
Trisha Bailey, 45, was born and raised in Jamaica in a house without electricity or running water and walked seven miles to school each day. When she was 13, she and her family moved to Hartford, Connecticut, in search of more opportunities. Bailey attended Weaver High School in Hartford where she was a member of the track team and then went on to the University of Connecticut in 1995 to run with the Huskies' track team.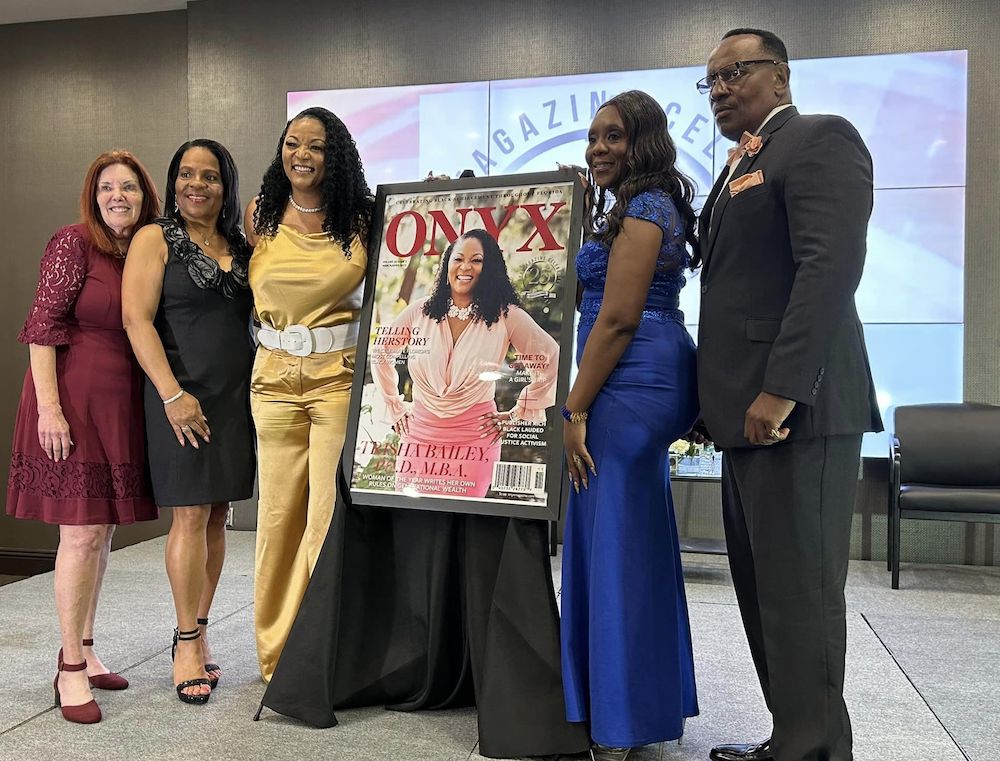 Bailey graduated from UConn in 1999 with a degree in human development and family relations. She then worked as a stockbroker in Hartford and started a recruiting firm. After earning an MBA and Ph.D. in management and organizational leadership from the University of Phoenix, she attained a pulmonary certificate from the University of Kentucky and a certificate in cardiology treatment from New York University. She made her impressive fortune chiefly in the medical equipment industry and then expanded her business interests to include domestic and global commercial real estate. She is known to be one of the richest Black women in the United States.
Bailey has shown her appreciation of the university for providing her "first opportunity in life" with a donation that will fund the new 80,000-square-foot Bailey Student Athlete Success Center, a facility dedicated to training and academic support. The donation acknowledges the way the university recognized talents that she did not know she had and took a chance on her. The Bailey Center will house track and field and cross country programs for men and women; rowing, swimming, and diving programs for women; and women's tennis and field hockey programs in addition to offices and space for academics, mental health, nutrition and conditioning activities, among other amenities. Construction was scheduled to start in the fall of 2023.
Additional honorees recognized by Onyx Magazine at the event included Vivian Bryant, President, Orlando Housing Authority; Dr. Patrice Cates-Lonberger, Physician; Dr. Pamela Cates-Smith, Physician, Orlando Health Physician Associates; Iranetta J. Dennis, Director Of Supplier Diversity, Central Florida Expressway Authority; Gail Thomas Dewitt, Funeral Director In Charge, Gail & Wynn's Mortuary; Tara L. Dorsey, Government Affairs Director; Ohme Entin, Chief Operating Officer, Orlando Health/Oh Orlando Regional Medical Center; Sandra M. Fatmi-Hall, CEO, United Foundation Of Central Florida, Inc.; Tammie Fields, News Anchor & Justice For All Host, Spectrum News 13; Olive Gaye, President, Gencare Resources Home Healthcare Agency; Dr. Terri Ann Verschell Graham, Campus President, Indian River State College; Kim Johnson, President & CEO, Florida Impact To End Hunger; Daralene Jones, Anchor/Reporter, WFTV-Channel 9; Sytia Necole Messer, Head Coach, University Of Central Florida Women's Basketball; Lyndell Mims, President, Mims Construction Company; Commissioner Gwen Myers, County Commissioner, Hillsborough County Government; Jojo O'Neal, Radio Personality, Star 94.5 Fm-Orlando's Only R&B; Dawn Ofodile, Regional Community Engagement Manager, Vystar Credit Union; Sherry Paramore, Vice President For Institutional Advancement, Bethune-Cookman University; Sharon Riley, Pastor, Agape Perfecting Praise And Worship Center; Tempress Gavin Solomon, President, Fla. State Coalition Of National Council Of Negro Women, Inc.; and Ethel Isaacs Williams, J.D., National President, The Links, Incorporated.