This week we have a conversation with Jamaican Chef Noel Cunningham. Born in Kingston, Jamaica. Chef Noel studied culinary at the prestigious Runaway Bay HEART Hotel & Training institute in Runaway Bay, St. Ann and also a past student of the Edith Dalton James High School in Kingston, Jamaica. He is the owner of Cuisine by Noel catering company, based in Canada.
Chef Noel Cunningham's culinary journey is filled with incredible learning experiences from Jamaica to Canada. His path to becoming one of Jamaica's foremost culinary extraordinaire and chef on the rise in Winnipeg, Manitoba is as authentic and inspiring as the dishes he prepares daily. Chef Noel Cunningham has been featured in numerous newspaper, magazine, radio and television programs both in Canada and Jamaica. Currently, Noel is a columnist at Cooking Sense Magazine,  "A Jamaican in the Kitchen." His articles can be seen every other Wednesday exploring, delving and showcasing Jamaican food.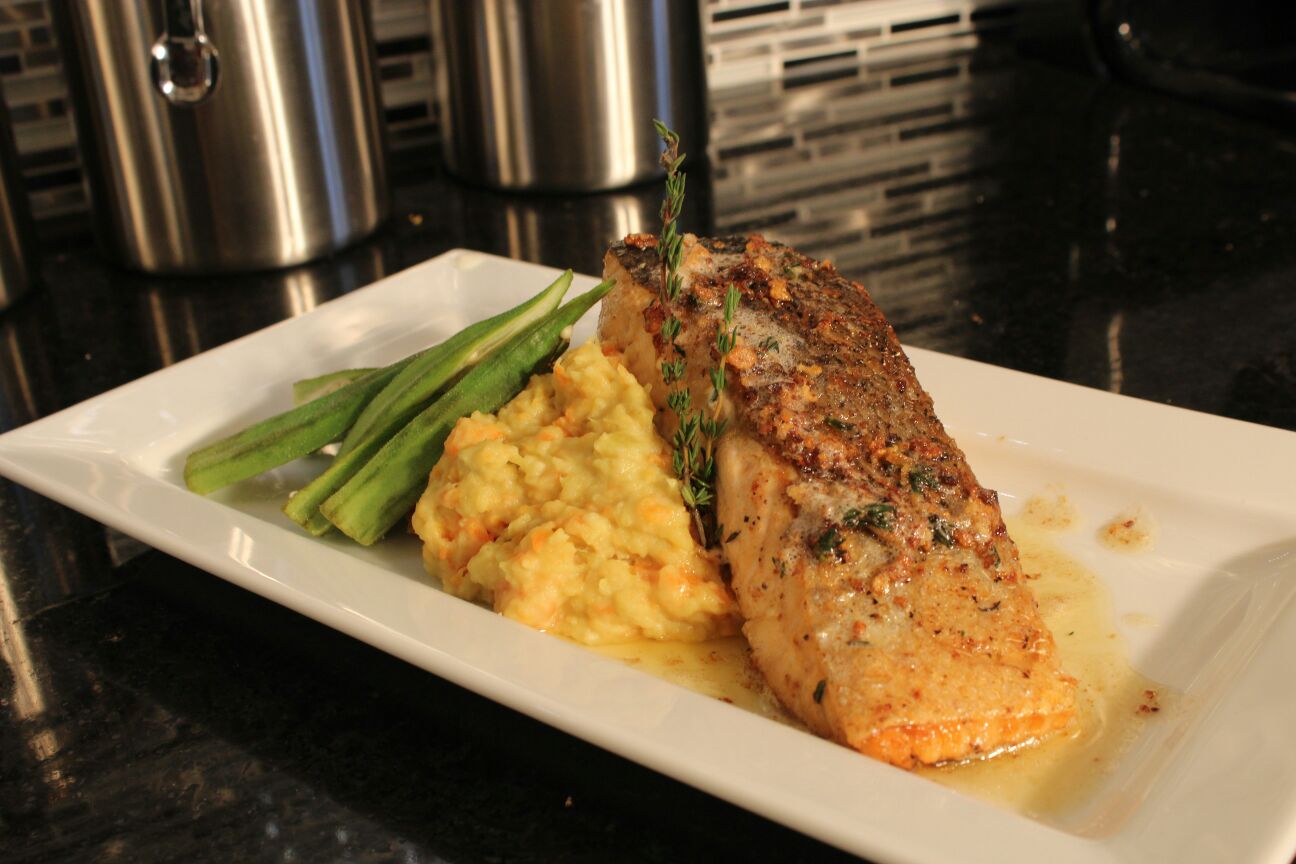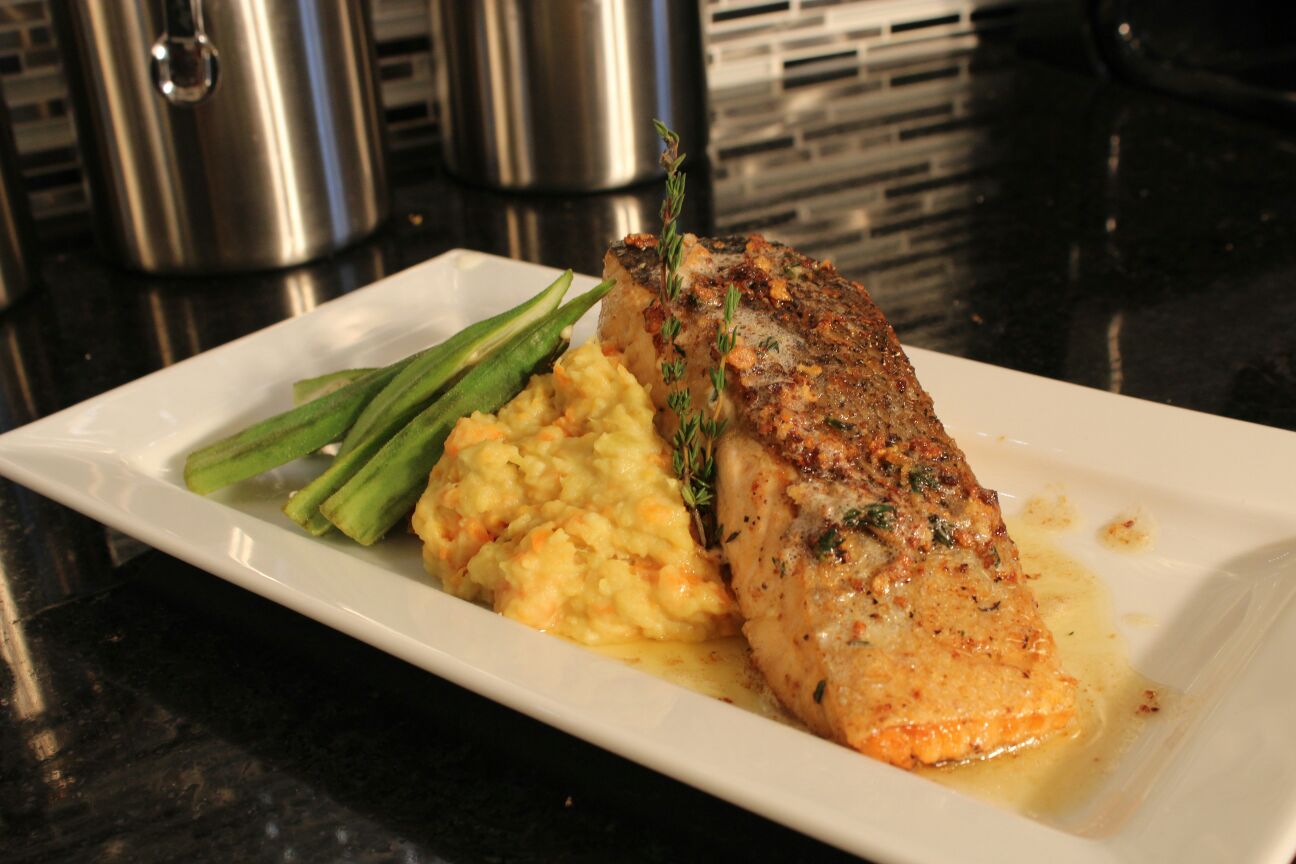 1. How would you define your cuisine?
My style of cuisine is a fusion of inventive interpretations combined with healthy, authentic and contemporary Caribbean cuisine. I like fusing traditional dishes with a dash of modern cooking style. Some old food though is too good to be changed, so I settle for its perfection.
2. Tell us some of the qualities that you feel a successful modern chef should have?
To be successful as a chef, you definitely need a good balance, be well rounded to work in every area of the kitchen from dish washing to kitchen manager. Passion is very important, without a great drive for this craft you will not survive no matter how good you can cook. Always be willing to learn new ideas, cooking style and techniques. And above all love and humility.
3. What would you cook at home if you were just making a laid-back dinner?
I'm always cooking on the job so once I'm home I always try to find something simple to prepare like a chicken alfredo, ackee and saltfish or porridge. Yes, I said porridge. lol
4. Tell us about your cookbook?
I'm currently in the process of putting together my first cookbook. "Cuisine by Noel".  The aim of this cookbook is for beginners who are interested in cooking and looking for that motivation, as well as the foodies who want to try something new. This cookbook will take you from a beginner to a novice to a budding chef. From having my website and social media pages, I have come across persons asking for recipes daily, so I've decided to put together some of my favourite dishes so that persons who are afraid to cook will be able to cook like a chef in the comfort of their own home. In this book you will come across authentic Jamaican dishes as well as international dishes fused with some Caribbean flavours, stories and more. It is set to be published soon.
5. Jamaican food sometimes is a challenge for outsiders to cook. What would you say to someone who's totally intimidated by the thought of cooking Jamaican food? How do you address this in the cook book?
Cooking Jamaican food is very simple and what makes our food so interesting is the different cultures that combined together that created our cuisine. From the Indians to the Africans, "Out of Many One Cuisine".  I will show my readers that Jamaican food is not just about spice (pepper) but also good flavours.
6. What are some emerging Caribbean food trends that you're noticing?
Currently I'm seeing molecular gastronomy taking over and lots of Caribbean chefs are now a part of this trend by using local produce to create these dishes Many chefs do not use the term molecular gastronomy to describe their style of cooking and prefer terms like "modern cuisine", or "new aged." Molecular gastronomy is combing physics and chemistry to transform the tastes and textures of food.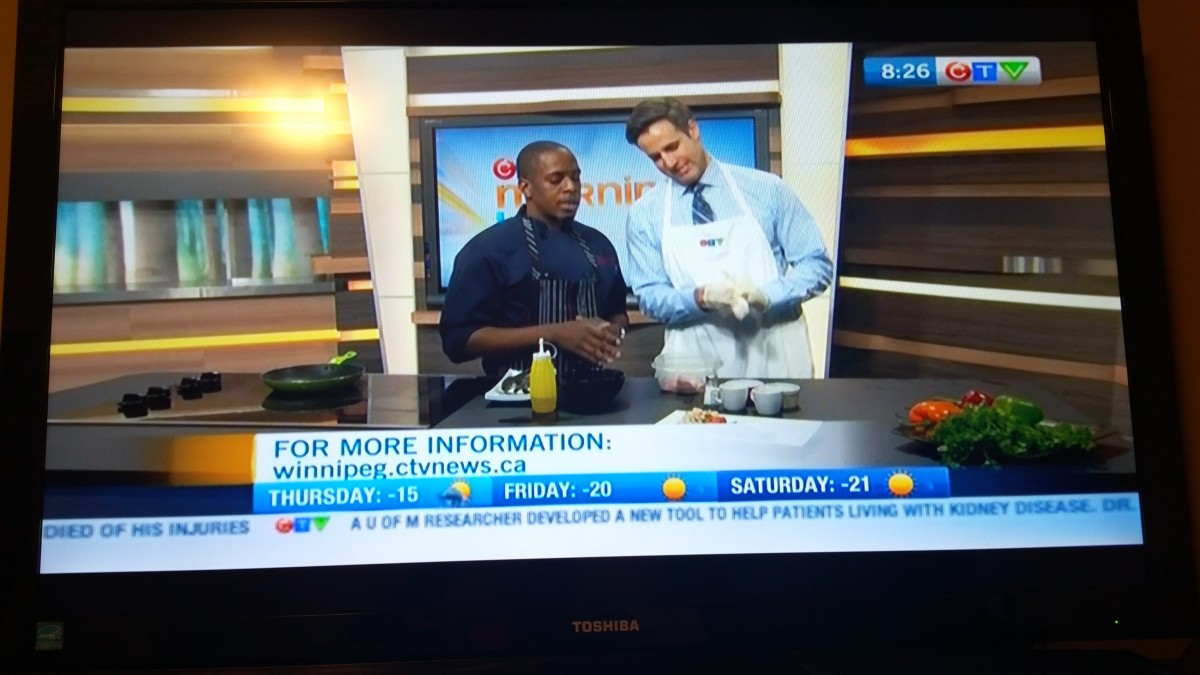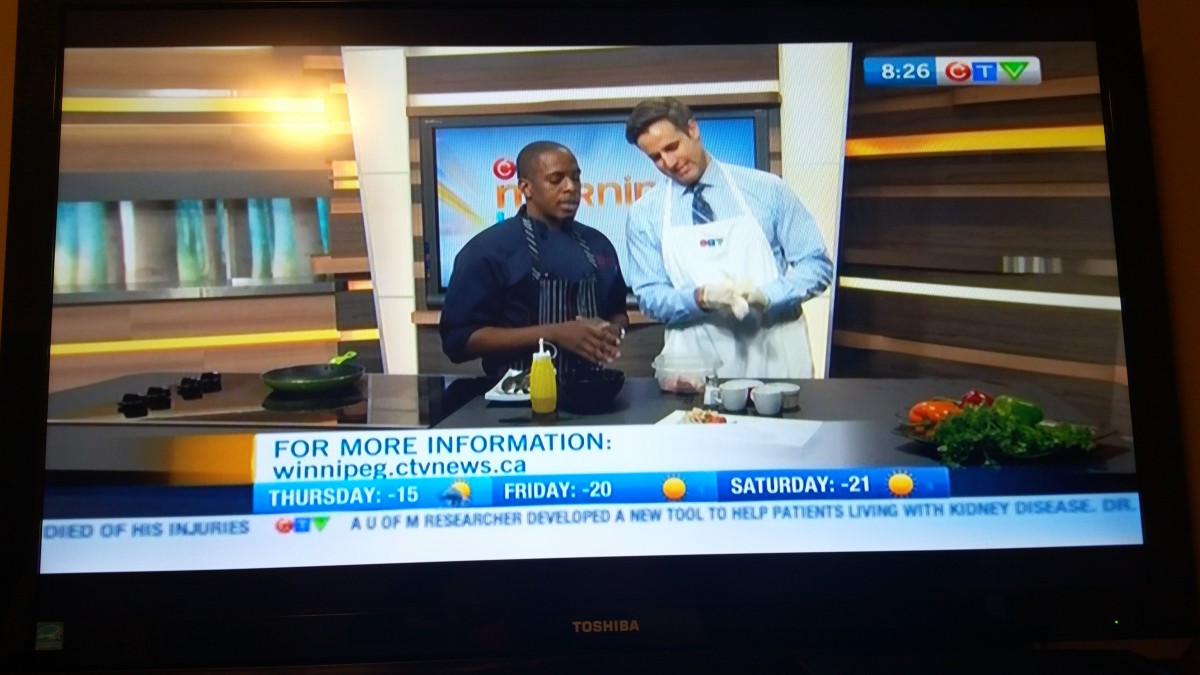 7. What's the one cooking tool that a chef should not be without?
A knife. A knife is a chef's best friend. A Chef's knife – I think it's really important because it's the first tool every chef should own. It doesn't have to be big but a good quality knife is very important.
8. What is your favourite show on Food Network?
My favourite Food Network show is Chopped Kitchen. I learned a lot from it interns of new ingredients and it also open up my eyes to ideas and how to manage pressure test. But my all-time favourite showing growing was Paula Deen. I love her bubbly personality, her captivating smile and she makes me just want to cook.
9. What inspires you when you are in the kitchen?
Pleasing my customers, just to see that smile on their faces and of course their kind words motivates me to do and be better.
10. What is your favorite Jamaican meal?
This is always a hard question because all of them are my favourites. But since I must choose I will definitely say oxtail with rice and peas. I would have this dish every day.
11. What is your favorite food indulgence?
When I think indulgence, I think guilty pleasure. My guilty pleasure would be cheesecake and peanut butter. 
12. What foods do you stay away from?
I stay away from pork. I never liked it as a child growing up and I still find it hard to eat so I stay away from it.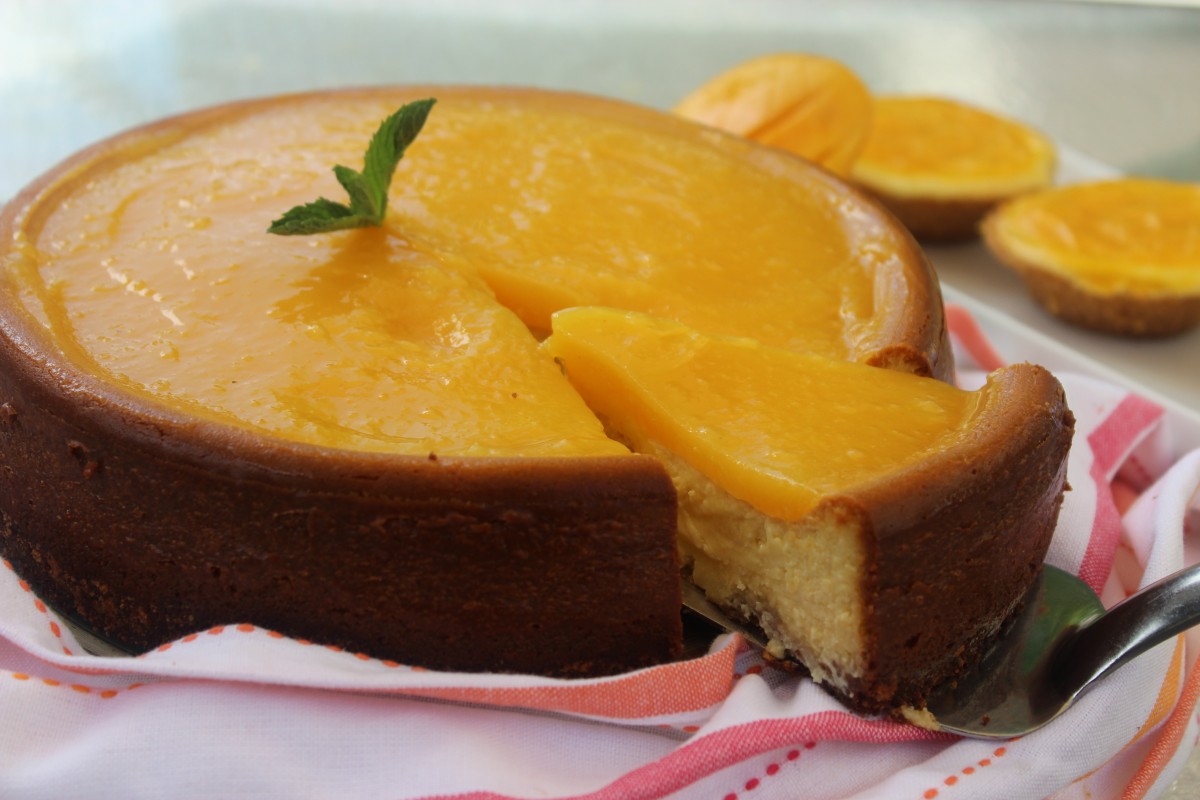 13. I find that Chefs who have studied the culinary arts tend to experiment with fusions. Tell us about some of your Jamaican fusion recipes?
I like fusion cuisine because it gives me the opportunity to introduce Jamaican food and flavours to the world with a flair, while introducing my Jamaicans to international dishes with home taste. Recently I have created a mango cheesecake for the Jamaica Gleaner. I've also used scotch bonnet pepper in pesto (Italian sauce) to add what I would call "Jamaicaness" to it. And I did a tun cornmeal au-gratin. That's our regular Jamaican tun cornmeal in a Pyrex dish topped with cheese and bread crumbs and put to bake until golden.
14. Where do you go for a night out with friends?
A night out with my friends is at a nice restaurant with good music and a bar.
15. If you were stuck on a deserted island, what is the one food you couldn't live without?
My porridge. Just let me have access to my porridge. I don't care what kind.
16. A movie you never get tired of watching….
I like comedy, action and good romantic movies. I also like the older stuff like Waiting to Exhale, The Body Guard, The Preachers Wife, Golden Girls, all of Tyler Perry's movies, and The Big Bang Theory.
17. Thanks for your time. Any closing words?
Thanks for this interview and I want to use this opportunity to thank all my social media followers. Thanks for the love and support. And to all the young persons who are aspiring to be a chef, I encourage you to do so but be prepared for all the sacrifices you have to make. "Doing the best at this moment puts you in the best place for the next moment". Oprah Winfrey.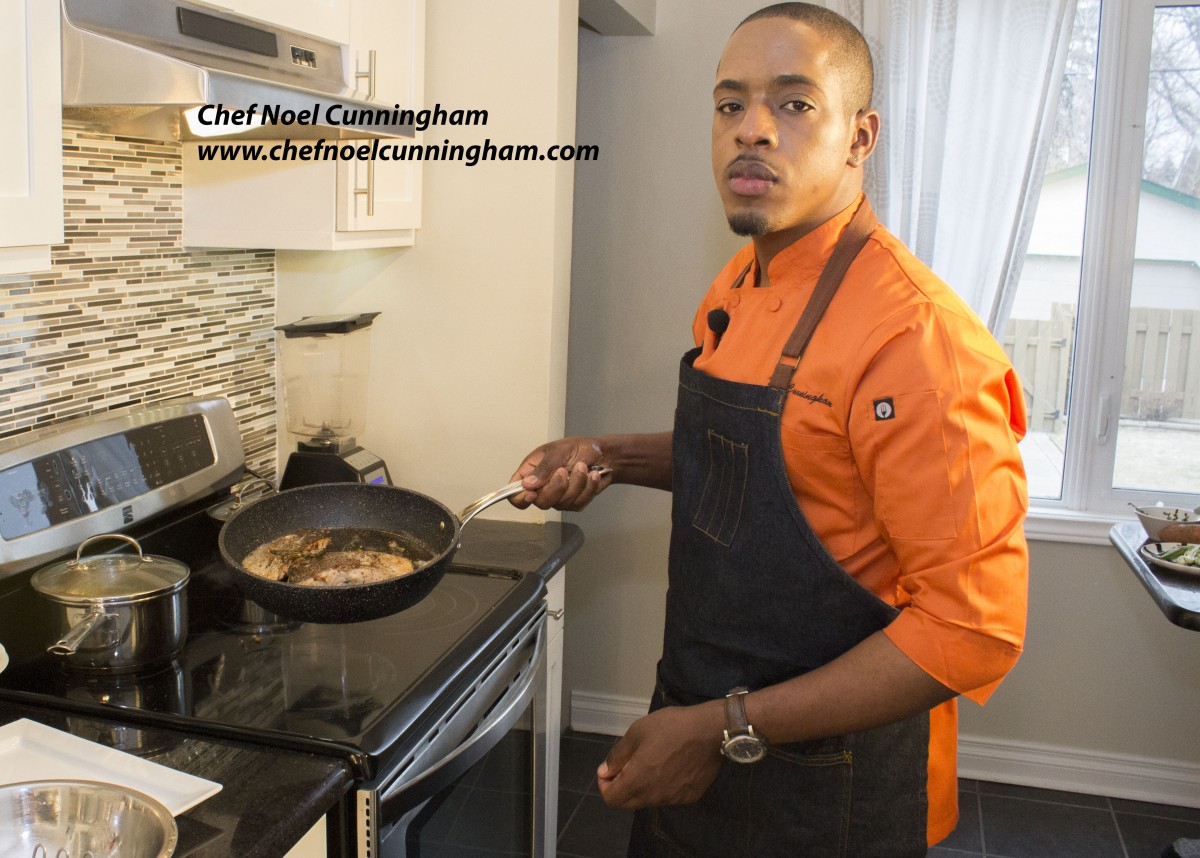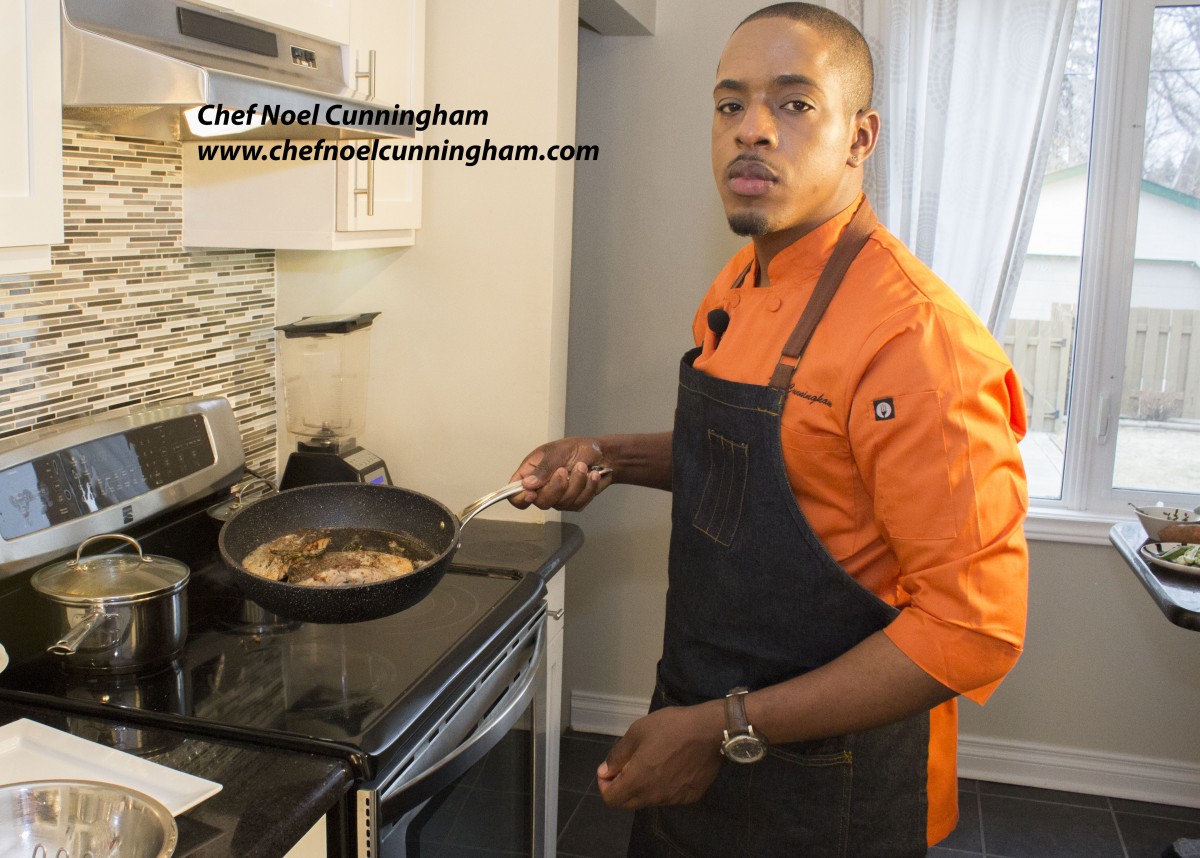 Be sure to visit Chef Noel Cunningham's website and follow him on Twitter, Instagram, and Facebook to check out some of his recipes.